With approximately 110 years of experience in creating grinding machines – primarily for the automotive industry – Cinetic Landis is fully confident in the strength of its operations. But the company does not simply use its expertise to lead the grinding machine market; this division of Paris-based Fives Group is focused on creating "the manufacturing systems of the future" by ensuring it develops machines and systems that are highly automated and customized to meet its clients' diverse needs.
"We excel in the development of grinding solutions for our customers," Chief Marketing Officer Dwight Myers explains. "It's not just the production of a machine – we find the best application for our customers, engineer it to their needs, develop a prototype, build a system, install it and then integrate it into our customer's manufacturing facility. Additionally, we're dedicated to being there whenever our customer needs us after installation to provide parts, service, repair and retool."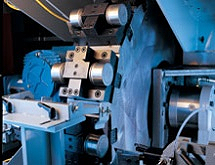 Cinetic Landis has three facilities in the United States, one in the United Kingdom and one in Italy to serve an increasingly global customer base, with continuous expansion in China, Brazil and other global markets. With customers not as focused on "long-term, high-volume manufacturing," Myers says, Cinetic Landis is developing systems with reduced footprints and increased flexibility, allowing customers to quickly change a machine's setup.
Reducing setup time is a key "part of our innovation going forward," Myers stresses, noting that Cinetic Landis prides itself on providing "the highest degree of flexibility" in the industry.
"What sets us apart is that we're not just about grinding solutions – we also excel in polishing," he says.
"Additionally, we create machines that can grind high-tech materials, not just steel and cast iron. Our machines can handle titanium, silicon carbides and other high-performance coatings and materials used in industries outside of the automotive market."
Staying Busy
The capabilities and operations of Cinetic Landis are so extensive that it created the GrinderCare aftermarket program last year. This promises a single source for the hardware, software, training, maintenance and technical support a customer needs, from application development to production launch to eventual remanufacturing. The company has technicians positioned regionally to launch and support new and remanufactured machines, in addition to the telephone technical support that it makes available to customers.
Through GrinderCare, Cinetic Landis provides comprehensive training on new machines, as well as review training for new employees and aftermarket training for customers who purchase a previously owned grinder. Additionally, to ensure customers' machines have the latest technology, GrinderCare provides remanufactured components and subsystems, control hardware and software up­grades, and tooling and application packages. GrinderCare not only is available for Cinetic Landis' own machines, the company notes, it also services legacy grinders produced by Gardner, Besly, Warner Swasey, Pratt & Whitney, Norton and Gold Crown.
With these capabilities, it is no surprise that in the last year Cinetic Landis has received global orders from customers in the aerospace, energy, medical, heavy equipment, mining, pumps and transportation industries, while it also continues to focus on pursuing business in other new markets.
In five years, Myers says, the plan is for no market segment to comprise more than 30 percent of the company's revenues. "We will bring in products from our sister companies in the Fives Group to facilitate our entrance into new markets," he says.
"We are very busy right now, and we're expanding our facilities and market presence to better serve our customers," Myers explains. "With our comprehensive capabilities, we sell a relationship as well as a service. Our goal is to sell solutions that remove risks from our customers' operations. We are focused on providing global service."
Cinetic Landis already excels in cylindrical and centerless  grinding machines and systems, he adds, but the company is adding to its capabilities by using machines to process flat parts from a sister company in Italy, and obtaining laser-welding capabilities from a sister company in France.
"We are already known for our innovation in technology, but the dedication from our parent company really helps us add to what we already do," Myers explains. "By working with all of Fives Group, we are providing customers with even more complete solutions."
'Even More Complete'
In 2008, Cinetic Landis built a new facility at its headquarters in Hagerstown, Md., and designed the plant to ensure continuous improvement, which remains a focus of the organization.
The company changed its processes to meet the requirements of lean manufacturing and a lean supply chain, and this has resulted in numerous benefits, Myers says.
"The newly designed operations have allowed us to reduce lead times, improve quality, produce fewer de­fects, respond more quickly and re­duce costs," he says.
​