Detecting success
Being an industry leader doesn't stop City Technology from striving to be better at what it does as continuous improvement is the key to its success
City Technology was founded in 1977 by four scientists working at London's City University who came up with an effective method of detecting oxygen to replace traditional methods. Over the following years, they set up a business within the university and began developing detection systems for other gases and the company slowly grew. In the 1990s the business had outgrown its premises at the university and moved to Portsmouth where there was an appropriate pool of skills to establish a strong workforce. In 2006, the US technology giant, Honeywell, acquired the business bringing a wealth of tools and knowledge to allow City Technology to become the leader it is today with a solid year on year growth.
Talking about what strengths enable City Technology to sit at the top of the industry, site leader, Rob Love explains: "Our biggest strength is the product. We have the broadest range of products in the market; we can serve every sector with sensors that can meet all demands." Manufacturing a range of over 300 electrochemical gas detectors for 28 different gases, the company purely supplies instrument OEMs in industrial safety, emissions monitoring, medical, domestic and automotive sectors. As a world leader in supplying life safety detectors, the company employs over 300 staff including PhD scientists and highly experienced mechanical design engineers to ensure that the best systems of gas detection are being developed.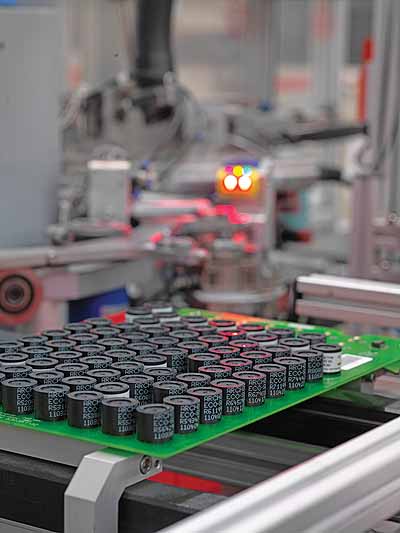 At the prestigious 2014 Best Factory Awards, the business won three awards including 'Best Electronics and Electrical Plant,' 'Innovation Award' and the coveted 'Factory of the Year Award'. These awards are testament to the total commitment the company has to innovation and continuous improvement. Discussing the awards Rob expresses: "We don't think we're the best, and are a long way from where we want to be. The award says that the things we are doing are the right things, and gives us the confidence that we're going in the right direction. Everyday we try to be better than we were yesterday, and tomorrow, better than today. We really believe in this, and I think this what came out in the awards."
As a part of Honeywell group the company employs the Honeywell Operating System in its manufacturing process. "It's similar in concept to Toyota's production system and is based on a six sigma foundation so its very much quality focused," Rob highlights. "It ensures that we've got the right structure, and the right people with the right skills in the right place to deliver and drive us forward as a company." From this system, everybody in the company knows what their role is and understands how it contributes to the company's overall strategy, and this brings about a process of change and improvement on a daily basis. "Over the last 12 months we have implemented over 7000 improvement ideas to ensure that we are staying true to continuous improvement."
To accompany a strong operation process, the manufacturing facilities are also subject to continuous improvement. Innovative electronic applications such as bar code scanning are used to ensure all steps are carried out in the right order and in the right way, making sure that quality standards are met. "We have redesigned the entire shop floor over the last two years, so every line is now single piece with opportunities to adapt them," says Rob. "We've also invested half a million pounds in small hole drilling applications over the last 12 months by employing laser and CNC drilling machines. This is a core competence to what we do as it allows us to look at the life of a sensor."
By always improving its manufacturing process, City Technology is able to continuously innovate its products. The most recent product, which won the company the 'Innovation Award', is the 4OxLL sensor, which, as Rob discusses: "Is the next generation of oxygen cell, with longer life and improved reliability and performance. It uses what we call VPD (Velocity Product Development), a Honeywell trademarked process that ensures we are launching good, strong and robust products." Under this system the company also hopes to launch a new range of next generation sensors across its portfolio.
With all the focus on improvement within the factory, Rob is keen to express that its growth would not be possible without the strong relationships it has with suppliers. "To enable that we are flexible and responsive to our own customers' needs, we need to be sure that our suppliers are able to do so too. The other critical issue is the fact that our suppliers need to have the same very high quality standards that we do. The products we make are going into life safety applications so we need to be able to rely on the components."
City Technology has got to where it is today because it remains committed to improving both its products and the way it manufactures those products, and this is evident in the company's plans for the future. Continuous improvement sits solidly in short-term plans, whilst a strategic vision for the long-term involves exploring new opportunities in emerging regions and applications to stimulate further expansion. Ultimately, the business is successful because it continuously strives to use its strong product and knowledge base to get better, and considering this City Technology looks set to enjoy further success in the future.
City Technology Ltd
Products: Manufacturer of gas sensors
Sites: Global presence
Employees: 300