Picking up the pace
From concept through to commissioning of automation products and robotic systems, CKF offers a complete solution to customers seeking to increase output, reduce operating costs and enhance product quality
Since its establishment in 1988, CKF Systems has successfully supported companies within the manufacturing industry with their aims to remain competitive and boost long-term sustainability. From robot palletising systems to food processing automation, the company has established a reputation over nearly 30 years as a leading solutions provider both in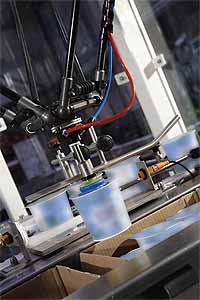 automation and robotic systems for those in the confectionery, frozen and chilled food, cosmetics, pharmaceutical, automotive, logistics, bakery and dry goods sectors.
"The original company 'Charlton Kings Fabrications' was formed in the late 1970s and specialised in high quality stainless steel fabrications primarily for food production and commercial kitchen applications. Through the formation of CKF Systems Limited in 1988, and subsequent diversification, the business now designs, manufactures and installs robot handling and automation systems across a diverse range of industries, with particular specialisation in the food, logistics and automotive sectors," comments Bryan Wheeler, Managing Director at CKF Systems Ltd.
Products available to customers include product handling and palletising systems, for which it offers turnkey robotic solutions from concept to implementation through the utilisation of the latest design systems and software. Within the robotic applications, customers can choose from bespoke robotic handling systems that are not only reliable but also easy to operate, as well as CKF-designed palletising and de-palletising systems, tooling concepts; case packing cells that are ready made, low cost and can operate without the requirement of highly skilled operators.
Within its conveying and palletising systems range, the company has spiral conveyors, stainless steel conveyors, automotive conveyor systems, centralised palletisation, robot palletising cell, layer palletisers, pallet and stillage handling, and stretch wrap machinery for pallet wrapping. Renowned for its design and manufacturing capabilities, CKF considers all site needs and customer requirements to deliver the best possible handling solution.
Over the last 12 months the ABB authorised value provider has experienced an increased demand for automation based projects in general across most sectors – particularly in respect of robot palletising and logistics based projects. The reasons for this growth are twofold: market developments that have resulted in uncertainty and customers sourcing effective means to remain competitive, and CKF's impeccable reputation for both engineering excellence and superior customer service on a global scale. Indeed, customers that work with CKF know that in addition to a practical approach and industry-leading experience, the company also boasts an expert team of passionate, creative and flexible employees who firmly retain CKF's fundamental belief in integrity and accountability.
"We retain a highly skilled team of engineers across all required disciplines and support this with full manufacturing and assembly capabilities. With the exception of a small number of support staff, all employees are qualified engineers, including the six-strong sales and proposals team. CKF retains the internal ability to service all aspects of our customer needs, from sales through to final installation and commissioning. This includes project engineering, electrical and mechanical design through the utilisation of the latest design packages, full controls and software capabilities; electrical and mechanical manufacturing facilities, assembly and test services, installation, commissioning and ongoing support," explains Bryan.
Working with customers via a collaborative approach, CKF believes that working as a team always produces better results; complementing this strength is its positive and pragmatic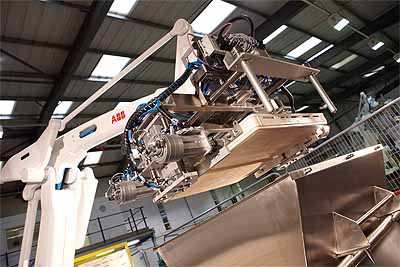 approach to work, which is balanced with honesty, a sense of humour and perspective. "By working closely with our customers to understand their needs, both operationally and commercially, we identify the best solution without being bound to a standard catalogue of equipment or services. We always go that extra step in providing support to our customers," highlights Bryan.
Always seeking to go above and beyond when it comes to customer requests, CKF's way of working is designed to secure the best possible solution from any challenge; these accumulated strengths ensure that clients are satisfied and come back to CKF time and again.
With industries in the UK currently dealing with the uncertainties of Brexit, potential labour shortages and the minimum wage, CKF anticipates demand will continue to grow as companies view these issues as potential drivers for investment into automation and robotic systems. In response to these opportunities, the company has recently purchased new premises that offer 25,000 square feet of office space and manufacturing facilities and is involved in an ongoing recruitment campaign, which includes the re-introduction of an apprenticeship scheme.
"We are starting to notice an increased level of interest in robot or automation based projects across most industry sectors, which appears to be driven by the realisation that this is the most effective means of remaining competitive in a complex market. The opportunities for growth are certainly there, however the main challenge presented to us going forward is the recruitment of suitable skills and experience across all disciplines," comments Bryan.
With very strong order books through to 2018, CKF anticipates continued success in the short-term as it focuses on flexibility and the establishment of a standard range of products, which will supplement its robot and automation based applications. "Due to the ever-changing demands of the industries served, supporting legislation and our desire to maintain a flexible approach such that we can adapt, we tend not to put too much emphasis on longer-term plans. For us, it is more about the present and the potential for the following year," Bryan concludes.
CKF Systems
Products: Leading solutions provider in automation and robotic systems