Clade Engineering Solutions – A1 Engineering Solutions Ltd
Cool thinking
In the last decade, A1 Engineering Solutions has successfully added another string to its bow, becoming a trusted manufacturer of refrigeration plant, specializing in the use of natural refrigerants
For 35 years and counting, A1 Engineering Solutions (A1) has consistently delivered quality refrigeration and building products and services. A true specialist in all areas of refrigeration, cooling, air conditioning, and building services, A1 offers a broad range of solutions to meet its customers' needs, whether it be for a commercial, retail or industrial application. With a particularly strong reputation within the convenience and supermarket sectors, A1 has come to be recognized as a partner that is synonymous with quality and value.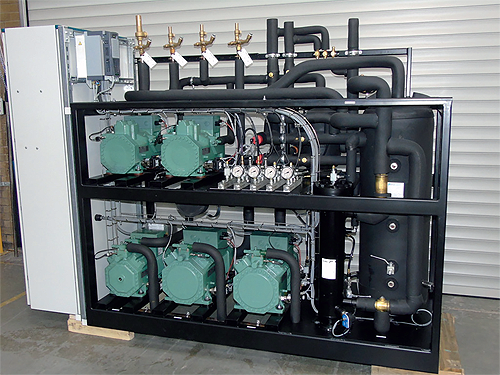 As MT Magazine discovers when speaking with A1's Managing Director Dean Frost, it has been in more recent times that the company has embarked on a new journey of engineering and manufacturing. "In the past, A1 has arguably been very typical of what one would define as a regional refrigeration company, carrying out installation and maintenance tasks for customers," he begins. "Around seven years ago, the business underwent a step change when myself and a group of colleagues were brought in to grow A1 into a national entity. We set out to achieve this by establishing A1 as an expert manufacturer of refrigeration equipment."
Rapid growth
Having already solidified a reputation for being a key supplier to the industries that it serves – especially the food retail sector, where its customers include UK majors such as Waitrose, Morrisons, Co-op and more latterly Aldi – A1 set about on the road to becoming a manufacturer of choice by focusing in on natural refrigeration solutions. "At present, industries use a lot of chemical refrigerants in their cooling systems, but there is legislation in place for these to be phased out entirely by 2030," Dean says. "For that reason, retailers are now on a shared journey towards replacing their existing systems with more environmentally friendly choices.
"For our part, we began by producing a piece of kit that uses hydrocarbons as the refrigerant, which was very successful amongst our food retail customers, particularly Waitrose. Those efforts enabled us to move onto developing refrigeration plant which has become the lynchpin of our natural refrigerant future, and that uses CO2 as the refrigerant. Now, in 2020, the strength of our solutions – coupled with the breadth of customers we are proud to serve – has resulted in A1 becoming one of the largest suppliers of natural refrigeration products in the UK."
Dean is keen to stress at this point that A1 has by no means lost sight of its roots, remaining committed to its pre-existing disciplines of installation and maintenance, however the addition of manufacturing capabilities has made for a more well-rounded, vertically-integrated company.
As A1 has found in the last few years, manufacturing refrigeration plant is a very labor intensive process. "The cycle really begins with the initial designs for our equipment, and once these have been signed off we can begin the process of manufacturing plant," Dean details. "We purchase all of the componentry we use – apart from the inter-connecting pipework and cables – from suppliers in the UK and Europe, and then commence with the assembly phase using specially designed lines with various designated work stations. What we end up with is a finished product, which then proceeds to a test chamber where it is pressure tested and subject to all the other necessary checks prior to shipping."
While the company currently boasts a 11,000-square foot manufacturing facility in which to produce plant, Dean understands that A1's rapid growth requires it to turn its attention to acquiring a larger building. "This is something that we are actively looking at, with the intention of having a facility in which we can increase the size of our production lines that we can look to move into during 2021," he confirms.
Increase in enquiries
In late February 2020, A1 made an important appearance at EuroShop 2020 – the world's largest retail trade fair – in Dusseldorf, Germany. It was here where the company displayed examples of its solutions, and in process garnered significant interest from attendees for its products, particularly from those based in Europe. Unfortunately, it was only a matter of weeks upon arriving back in the UK that Covid-19 became a serious issue for the country, leading to the lockdown and government-imposed restrictions that followed.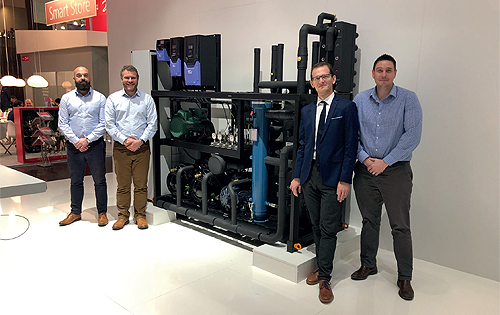 Understandably, the pandemic had an immediate impact on A1's activities, but as Dean goes on to explain, the company has adapted well to the challenges that have arisen. "Immediately, we put things into play so that all non-essential staff were able to work from home, and we placed approximately 15 per cent of our workforce onto the government's furlough scheme," he says. "In the meantime, our manufacturing trade was able to continue in order to meet pre-existing orders. We made it our top priority to obtain all of the required PPE and hand sanitizing products to keep our people safe, and the reduction in personnel on site allowed for a greater ability to meet social distancing guidelines. Our actions have not only allowed us to continue operating through the pandemic, but also avoid recording a single case within our factory, which is something we are extremely proud of."
Since the UK's lockdown restrictions were eased in the early summer, A1 has witnessed a noticeable pick up in the pace of enquiries from its customers – those in the food retail sector in particular – giving it a healthy order book that will take it through the end of 2020 and into 2021. "Despite the fact that Covid-19 has prevented us from increasing our sales to prospective customers in Europe in 2020, we are very confident that those opportunities will be reignited as we head into 2021," Dean enthuses. "Coupled with our strong domestic sales, we foresee our success in manufacturing continuing to grow significantly in the next decade.
"As far as future growth is concerned, we can clearly see that it will be based around facilitating our customers' carbon reduction efforts at the best possible cost. That is why it has to remain our mission to find the most cost effective ways of producing refrigeration plant that makes use of natural refrigerates, but also is able to harness things like recovered heat. During the compression process of any refrigerant, one generates a lot of heat which is typically expelled to atmosphere. What A1 has been doing is capturing said heat, and reintroducing it into stores for use in different heating systems. We are also now making exciting headway in combining refrigeration plant and heat pump technology, which will enable our products to heat stores even more efficiently, whilst still maintaining the refrigeration temperatures that our customers demand to keep their goods safe. We hope to be trialing a number of these new systems in stores and in partnership with some of our food retail customers in the coming months."
As Dean alluded to previously, A1 has absolutely no intention of abandoning any of the other services that it provides, and that have been instrumental in its success through the years. While there is an understandable push towards the manufacturing of more products and solutions going forward, this is very much a case of adding additional value for those customers that call A1 a trusted supplier. It is this spirit that will no doubt power the company through the next ten years and beyond.
Clade Engineering Solutions – A1 Engineering Solutions Ltd
Products: Refrigeration and building services
www.a1-es.co.uk