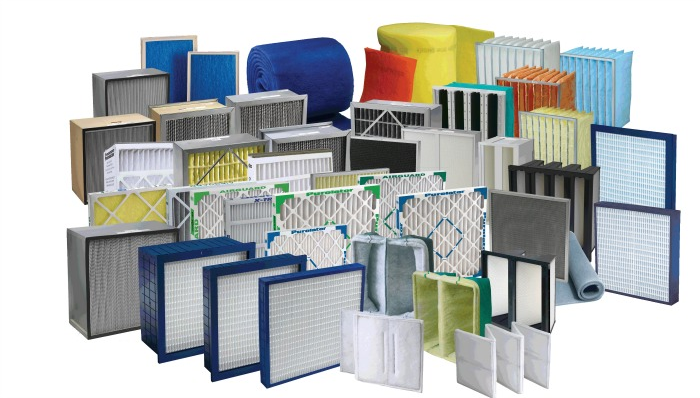 Clarcor Air Filtration Products
CLARCOR Air Filtration Products is one of the big players in the HVAC industry and the company attributes its standing to its employees, which it considers to be the heartbeat of the company. The company focuses on all aspects of creating a better working environment for its employees and is continuously looking to improve.
"Nothing happens without our manufacturing folks," President Doug Griffin says. "Our production people, shop floor people and customers are 1A and 1B on the CLARCOR list. We spend time focusing on the shop floor folks and the salespeople who are working with the customers. John [Sikes, vice president of operations] and I, and the leadership team spend a lot of time developing initiatives around improving their environment."
The Jeffersonville, Ind.-based company has been in the business of providing clean air to companies around the world for more than 60 years. CLARCOR offers a broad range of products with more than 100,000 SKUs, which are sold to its customers through distributors, and has a 98 percent on-time delivery rate. "We serve the HVAC industry that is a $1.5 billion market in the United States, which includes residential," Griffin says. "Our focus is on the commercial, industrial, clean room and agriculture side of the business. That represents a little more than a billion dollars' worth of market segments to pursue."
CLARCOR brands have a strong history and reputation behind them, having been in the market for more than 60 years. The company's products are known for their quality, dependability and reliability because they have been proven in the market. Its three brands are Airguard, Air Technologies Inc. (ATI) and Purolator.
The company recently began supplying filtration products for swine facilities. "Animal husbandry is an area that's been relatively new to us over the last several years and we are finding it exciting," Griffin notes. "We filter swine barns that require a very high level of filtration. CLARCOR Air's Pur Ag Air Filtration System takes bacteria and viruses out of the incoming air so the animals can survive until they are harvested. It's been an interesting marketing segment for us and an area of growth for us."
Employee Buy-In
CLARCOR employees take pride in their work and have a strong buy-in with the company because they are appreciated by management, Griffin says. Putting employees and their safety first is the foundation of CLARCOR Management Systems (CMS). "CMS is centered on the values and behaviors we are striving to create in our culture," Griffin explains. "Integrity, customer focus, continuous improvement and recognition are at the heartbeat of all John's projects and initiatives."
Employees are extensively trained when hired and each employee has a training record to ensure they are properly trained. No one is permitted to work in an area unless they have been fully trained in the operation. CLARCOR's average employee has worked for the company for more than 20 years. "We have great employees here," Sikes says. "We show them the way through our traditional kaizen events, which we do at least once a month with 10-12 employees.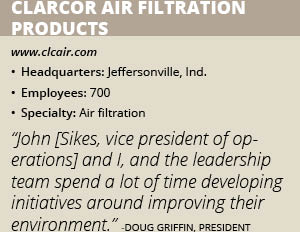 "The kaizen event teaches them a different way of thinking to look at waste reduction or improving velocity," he continues. "We teach them, give them the tools and then step back. They take that knowledge and apply it to their expertise of the products to make it better. It's their idea and not ours. It's just a different way of thinking using the lean tools in the factory."
In CLARCOR's largest plant of 300 employees, about 80 have participated in a kaizen event and they feel like they have "skin in the game" and input on how their areas look and operate, Sikes explains. "We will get to a point next year where a critical mass of people have been in the events and that's where engagement comes in and employee ownership. It's a lot easier to sustain change when it comes from people out on the floor. We give them the tools, they implement those tools and they own it. We support them throughout the process."
After the kaizen event, CLARCOR recognizes each employee for what they accomplished and celebrates their success. "It really goes far in recognizing the folks for buying into the process and showing off what they did," Sikes says. "That's how you get a lot of fast-growing support. Recognition is key in the process."
Satisfaction Guaranteed
About a year ago, CLARCOR started doing employee satisfaction surveys to figure out which areas they wanted leadership to improve on. "What we did at each plant was launch a satisfaction committee and it's made up of leadership, production line folks and personnel," Griffin says. "The team ranks items highest to lowest that they want to see made, and the committees attack them one at a time and report out what they accomplished."
Changes have included adding ice dispensers and microwaves or other convenience items up to very costly capital items, such as new machinery and facility improvements. "Folks are truly engaged and feel like their voice matters," Sikes says. "They can be part of the correction process. We also have a committee working on our benefits to make it more aligned with what people need. Anything is on the table and we find that to be exciting."
CLARCOR prides itself on promoting from within and began a new mentor program for its leadership that has been well received. "There is a totally different approach from a traditional supervisor and leadership to lean leaders," Sikes explains. "A traditional supervisor tells someone what to do and a lean leader is someone who is out there supporting the team and working for the people."
In each of its factories, CLARCOR created a value stream model with a team working on one product family and becoming the subject matter experts in those products. "It's as if you have multiple small teams working and dedicated staffing in the value steam," Sikes says. "We do value stream mapping to give us an indication of how much waste is in the value stream and how long it takes to make the product."
From there, the company's primary focus is to improve productivity, starting from the order through to payment. "My philosophy is to get paid for that product as fast as possible by increasing velocity in the value stream and that's something we measure," Sikes adds. "If we can shorten the lead time, our customer service is better and that's our focus. We have had a lot of success over the past 10 months of doing this and have a greater buy-in because of employee engagement."