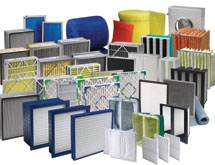 CLARCOR Air Filtration Products
CLARCOR Air Filtration Prod­ucts has been in the business of providing clean air to companies around the world for nearly 50 years. The Jeffersonville, Ind., company already has a presence in the global commercial and industrial market, but is looking to service a larger percentage as the market continues to grow.
"It's been our core business and it's a market that provides a lot of opportunity," President Doug Griffin says. "It's a significant size market and one that demands quality and dependable products." CLARCOR Air is one of only five leading air filtration suppliers domestically, he adds, which leaves a tremendous amount of market opportunity.
The company collects a majority of its revenue from the manufacturing industry and has become a trusted supplier among those clients it already serves, but Griffin says because the industry is so broad, the company has yet to reach every part of the market. "There is a lot of the market we don't enjoy today and we are anxious to pursue that going forward," he adds.
Always In Stock
CLARCOR Air has kept its reputation as a leading air filtration supplier because of its broad range of products, available supply of those products and its 98 percent on-time delivery rate, Vice President of Innovation and Product Engineering Monte Crabtree says.
The company manufactures more than 100,000 SKUs, which are sold to its customers through distributors.
"Our product development is geared toward improving value in the market, increasing service life and delivering energy savings," Crabtree says. "The No. 1 cost of operations – other than labor – is energy. That's an area we focus on, to reduce energy cost for customers through improved air handling."
The company will continue supporting its distribution network so its products are available and close to the end-customer, Crabtree explains. Products are not only convenient to access, but distributors and sales associates are knowledgeable about each product.
"We try to solve problems," Crabtree says. "We strive to understand what's going on in the application, and we try to find the best filter to meet the customer's needs." In the industrial industry, they are familiar with their air system products and what's working and what isn't."
Quality Performance
CLARCOR Air is not the type of company that operates at the status quo. It's constantly innovating and focusing on lean manufacturing, Vice President of Operations Stefan Polywka says. "We are working every day to continuously improve the things we do so that we are better than we were yesterday, he adds.
CLARCOR Air achieves lean manufacturing success by educating and encouraging leadership among its employees. Those working on the manufacturing floor are urged to innovate within their roles, Polywka says. "Our employees innovate within their roles, innovate new processes and procedures and constantly try to remove waste from everything we do," he adds. "Through education and leadership, we are only getting stronger."
Employees are put through a "rigorous" training program over their career, and as they fill the requirements of one position, they can move to other jobs, Polywka says. "We are in a phase right now of embarking on cross-training," he explains. "The vision there is to have facilities where we have a solid workforce that can turn their hand to any function within the four walls."
Industry Leader
CLARCOR Air began in 1993 after it acquired Airguard Industries Inc., a Louisville, Ky., business in operation since 1964, allowing the company to take advantage of business generated by the Environmental Protection Agency's passage of the Clean Air Act. In 1998, the company acquired Air Technologies, Inc., a producer of air filtration products for painting applications, and one year later purchased Purolator Products Air Filtration Company. Purolator products include a wide variety of air filters used in heating, ventilation and air conditioning systems.
CLARCOR Air consolidated its Indiana and Kentucky facilities in 2008 into one 610,000-square-foot manufacturing, distribution and office facility in Jeffersonvillle, Ind., which is now its company headquarters.
Today, CLARCOR Air is a leading manufacturer of HVAC filtration products for commercial, industrial and institutional applications. HVAC is the majority of the business, but it also services niche markets such as agriculture, for filtering viruses from swine barns, and power generation, for gas turbines. CLARCOR Air sells its products under the brand names Airguard®, Purolator™ and ATI.
The company's growth strategy is centered on providing customers with a full product offering, Griffin says. "We offer products that are designed and manufactured with dependable quality, products that are readily available so we can fulfill customer orders in an industry-leading fill rate percentage, and having an expanded distribution network so our products are easily accessible by the end-customer," he adds. "In summary, it's sticking to the core business and continuing to improve. That's what the market and our distributors expect from us."