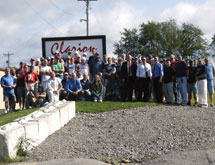 Clarion Bathware's experience in the bath product industry stretches back for nearly four decades. Today, the company uses the latest technology to create American-made bath units that have a combination of aesthetically pleasing design and value for the customer. Clarion Bathware is capable of building custom molds depending on customer specifications, and it has its own fleet of air-ride trailers so it can guarantee on-time delivery and safe handling of its bath products.
"We can manufacture products that customers need," says Lee Wentling, senior vice president of sales and marketing. "We can get new designs or molds ready and available in a matter of months."
A manufacturer of an extensive line of acrylic and gelcoat fiberglass bath products, Clarion Bathware does not sell direct to the public. It goes to market through plumbing wholesalers that stock Clarion's products and accommodate special orders.
"We have our own trucking company, a sister company called Clarion Transportation that helps us guarantee safe, timely delivery," Wentling says.
Market Driven
Clarion Bathware serves three distinct markets – manufactured housing, residential and assisted living/commercial. Property owners and trade professionals can contact locally based sales reps in the states where the company has representation, or they can contact the company's central sales department for large jobs.
"With our assisted living business, we ship product nationwide," President and CEO David Groner says. "Our residential and manufactured housing business is focused within 500 miles of Clarion, Pa."
"We deal with major national wholesale chains throughout the country," Wentling adds. "For assisted living, we focus on connecting with engineers and architects."
The company's product portfolio includes showers, shower pans, tub/shower combinations, whirlpools and soakers and walk-in tubs. Clarion Bathware is also well-known for its Independence line of more than 60 custom-crafted assisted living products and its Master Shower Collection of larger than standard showers.
One of the company's newer developments is its Quantum Series, featuring the new Clarion Bathware E-Z Pin System designed for fast, simple installation. The system saves contractors time and makes them more profitable.
"That stainless steel riveting system can be put together and taken apart as many times as needed," Groner says.
Target Zero
Clarion Bathware uses a manufacturing process that the company feels brings a level of quality and innovation that is unmatched. The company uses state-of-the-art modeling and mold-making processes to create custom molds to exact specification and an array of architectural requirements and designs. All products go through three inspection stations to ensure quality before shipping.
"We track everything, and that inspection process helps us make sure we fix problems before they become recurring," Groner says. "We also have 'Target Zero' programs in shipping, safety and production."
The company employs highly trained technicians who apply gelcoat to products, which helps ensure the longevity of the finish. In addition, all products receive multiple coats of fiberglass lamination to enhance strength and durability. As for Clarion Bathware's acrylic models, they are manufactured using a heated vacuum form process.
Constantly upgrading equipment, processes and policies, the company invests around $200,000 to $300,000 a year in equipment upgrades. Some of this is to improve productivity and quality, as with the heated vacuum form process investment. Others are due to changing regulations.
"OSHA changed combustible dust regulations, so we invested money in vacuum systems to be sure we are compliant," Groner says. "We also have consultants walk our plants to help us find areas to improve."
In the future, it is likely that Clarion Bathware will make investments in robotics. Although its work on the assisted living side always will require a bit more of a manual approach, its work around the E-Z Pin System could benefit from more automation.
"Robotics for trimming, grinding and jigging with the E-Z Pin System will be an investment area," Groner says.
In addition to products, Clarion Bathware strives to be service oriented through its own customer service department and a wide-reaching network of independent repair professionals. All Clarion Bathware products come with an exclusive three-year manufacturer's warranty.
In the years to come, Clarion Bathware will look to improve quality and equipment, establish and build relationships and expand market share. Although it expects the assisted living market to eventually slow down, the company is optimistic that the housing market will pick up.
Clarion Bathware plans to put a lot of attention toward its master shower line and introducing a new shower line that retains quality while removing some bells and whistles. That will allow Clarion to provide a high quality product with a lower price point.
"The quality of our products is the best in the industry according to our customers," Wentling says. "We will continue to be customer focused." mt