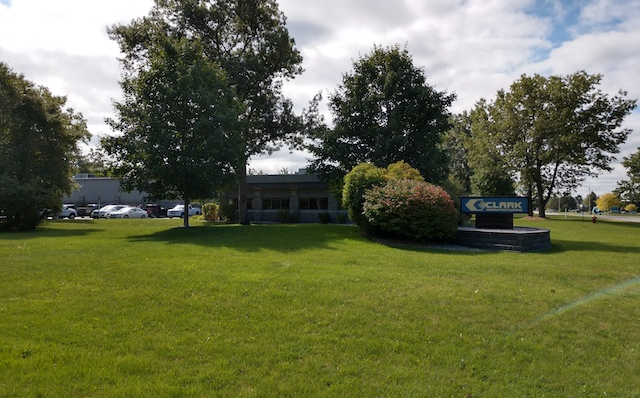 When Clark Manufacturing Co.'s customers grow, it makes the commitment to grow with them by adopting new technology. "We like to be able to keep up on the cutting edge of adding new equipment as it becomes available," co-owner and Vice President Cameron Fuller says. "It's a win-win for our employees and our customers."
This focus can be seen in the history of the Traverse City, Mich.-based company, which machines parts for a broad range of clients. Founder Gary Clark started the company in 1975, extending his family's legacy in manufacturing.
While his father operated a stamping company in Ohio, Clark himself decided to start his own company in northern Michigan. Initially, he completed some stampings for his father as well as assembly work.
"As that progressed, he saw a need for CNC (computer numerical control) machining services up in this area," Fuller says, noting that Clark began acquiring machines to provide that service to different manufacturers. He also moved into tool and die work, before eventually buying his first CNC machine from Mazak Corp.
"He found a really good niche for being able to offer a CNC machining service to area manufacturers," Fuller says, noting that this allowed Clark to machine higher precision and larger quantity orders. When he sought to increase his operations, Clark bought more CNC equipment.
Today, Clark Manufacturing's operations include 36 CNC lathes and machining centers and a staff of more than 100 workers. "We've got long-term employees that have been with us 20-plus years," Fuller says. "We think that's a driving force behind our success."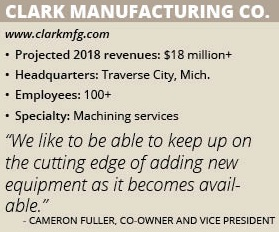 These longtime veterans include Fuller. "I became a partner in the company roughly 20 years ago," he recalls, adding that he was one of four management employees who bought the company from Gary Clark when he chose to retire.
The company's diverse customer base, Fuller notes, ranges from firms in the aerospace, medical and industrial, to the energy, oil and natural gas sectors. "We have some good long relationships with people that are manufacturing, design and engineering in these fields. Many of Clark's products can be found in natural gas compressors, or hydraulic systems that go onto drill rig platforms and ships used around the world," Fuller says.
Custom Built
Clark Manufacturing's facility in Traverse City features 55,000 square feet of manufacturing space. "Our new building was completed just a few years ago," Fuller recalls, adding that it was specifically designed and engineered for the firm's specific manufacturing methods.
For example, "We're able to utilize and move our machines anywhere across the manufacturing space without having to pour large permanent bases," he describes, adding that the building is climate controlled.
The facility also features overhead crane systems that can easily service machines, as opposed to crane posts that cause hindrances. "We designed it to be large enough to have good movement and space between our machinery," he says. "That was very important."
World Class
For more than 40 years, Clark Manufacturing has developed strong relationships with its suppliers. For example, "We've got some very good material suppliers that can deliver to us the next day or whenever we might need some particular steel or raw materials," Fuller says.
These include such firms as Alro Steel, Copper & Brass, Peerless Steel and Service Steel. "They've been able to grow with us as we go through those opportunities and be able to supply on a timely basis with competitive pricing," he says.
Clark Manufacturing also has developed relationships with outside providers of heat treating, plating and grinding services. Fuller praises the work of Echo Quality Grinding Inc., which it has partnered with for more than 30 years.
"We really appreciate the relationship that we've had with them," he says, adding that Clark Manufacturing has been able to succeed from the work of Century Sun Heat Treating and Hansen/Balk Steel Treating Co. "[They are] great heat treat sources that are world class."
Careers with Clark 
Fuller is proud that Clark Manufacturing has provided well-paying jobs with benefits in northern Michigan, and sees a strong future for the company. "The trend right now in manufacturing is growing," he says. "We've [had] a very good opportunity to hire people in the last 12 months and bring in new jobs."
The company also is also focused on machining capacity and technology. "I'm just hoping that will continue so that we can bring more business and jobs to northern Michigan," he says.