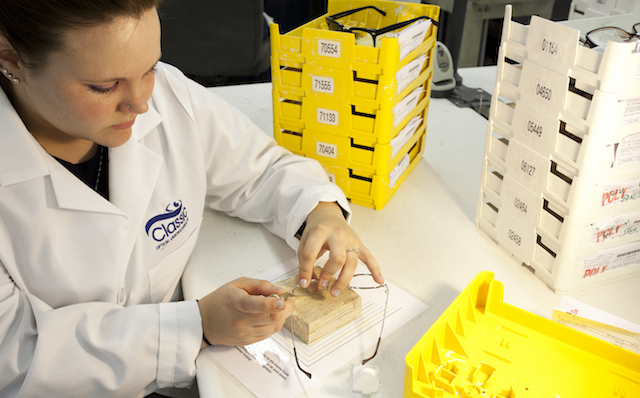 Classic Optical Laboratories Inc.
This year, Classic Optical Laboratories Inc. will improve the lives of over 1 million people by improving their sight. The company will manufacture more than 1 million pairs of eyeglasses this year. The eyeglasses help wearers with daily activities, such as reading, working, playing with their children, driving and watching television. "To embrace life and experience it to the fullest requires the best vision possible," Dawn Friedkin, president of Classic, declares.
Friedkin's parents started the company in Youngstown, Ohio in 1970 as a full-service, family owned ophthalmic lab that manufactured custom eyeglasses for local eyecare professionals. In the mid-'80s they discovered a niche – providing large volumes of eyeglasses for several state Medicaid programs. By the late '90s, they secured a number of large volume contracts with the U.S. Department of Veterans Affairs and the U.S. Navy. Classic became known as the Go-To Source for serving high-volume government contracts.
In her early years at Classic, Friedkin leveraged the company's experience and reputation to launch into new markets, including partnering with regional and local healthcare companies. Today, the lab is a leader in the optical industry, with the ability to manufacture more than 4,500 pairs of eyeglasses daily. The eyeglasses are shipped to eyecare professionals and individual consumers in all 50 states for clients that include managed-care organizations, state governments, school districts, vision charities, and online and brick-and-mortar retailers.
Classic's customers continually share extremely favorable reviews regarding the lab's work and value. This is underscored by Classic's Net Promoter Score®, or NPS®, which provides a company with a core measurement for its performance by capturing the customer experience, and measures the likelihood customers will recommend them. Classic's NPS trends in the mid-'80s measured from -100 to +100. Very few companies in any industry have earned an NPS this high.
Classic also continues looking for new ways to nurture its strengths and drive new business. "The entire Classic team, is continuously striving to find ways of improving performance to provide the best service possible and meet the needs of our customers quickly, efficiently and cost effectively," Friedkin declares.
Manufacturing Excellence
What sets Classic apart from the competition is its perfection of mass customization. Classic has perfected the efficient and expedient manufacturing of nearly 5,000 pairs of quality corrective eyeglasses a day. "This is no easy task given that every single job is a unique combination of frame selection, lens design, lens materials and the patient's specific corrective eyewear prescription," Friedkin explains.
This requires the lab's manufacturing processes to be robust, agile and flexible enough to produce top quality results the first time. Classic's integrated manufacturing principles and management philosophy combined with efficient operations and advanced information technology solutions have made it formidable in the industry.
Innovative Custom Technology Solutions
With one of the best information technology teams in the industry, Classic has developed proprietary systems that are cutting-edge and offer an unparalleled client support capability. As a result, through its OpticalHub® technology platform, Classic helps customers streamline their administrative processes for optimal operational efficiency.
Whether facilitating verification or managing patient benefits, offering dynamic order entry screens based on specific product availability and patient benefits, modifying data interfaces to facilitate a seamless transmission of orders, or creating a seamless integration for claim processing, it is this customization for clients – the ability to tailor processes for the customer's specific needs – that truly sets Classic apart from its competitors. "Classic works closely with clients to fully determine their unique needs, and then works not only to meet those needs, but continuously strives to exceed all expectations," Friedkin declares.
The Soul of Classic
None of Classic's success would be possible without its people, who are considered "the soul of Classic," Friedkin says. "Starting as a family business nearly 50 years ago, we have many Classic team members who have spent their entire working careers helping to build Classic into what it is today."
The Classic culture embodies this strong foundation from which it has been able to build and grow its business. Over the years, Classic has automated most of its manufacturing processes to increase efficiency, but, "in our industry there is always a place for skilled craftspeople and our company is always planning for the future," Friedkin explains.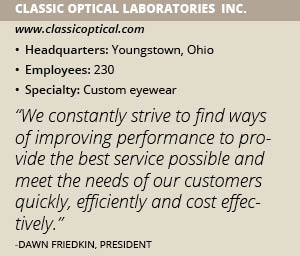 "One of our big projects this year is to make sure our managers are facilitators instead of doers," she states, explaining that its senior leaders have undertaken "a leadership quest" to not only develop the organization's current managers but also identify future managers. This will include 360-degree evaluations, intensive leadership training and giving new associates the space to develop their own solutions and improve their communication skills. "A doer would tell somebody how to do it, but a facilitator would give them the support and tools to develop the process and procedure around it," she adds.
Driving Change
In addition to its increasingly sophisticated reliance on data and technology, Classic employs a comprehensive approach to quality management with a strong foundation in lean manufacturing, Six Sigma and Total Quality Management principles.  With a focus on teaching and empowering production teams to demonstrate Continuous Improvement "behaviors," Classic's goal is to engage the entire organization in process and quality improvement.
Examples in the past year include enhancement of process KPI measurement and management, evolving working supervisors into "coaches," and installing basic Kanbans and work-in-process management controls to ensure smooth production flow and optimize production velocity.
"We believe these management philosophies are fundamental to being successful in today's manufacturing arena," Friedkin states. "Classic is very focused on the elements of continuous improvement that teach, foster and encourage the desired behaviors from our team members. Whether or not they can recite the Eight Wastes is far less important than positioning them and empowering them to drive positive change in their work processes."
Breaking Barriers
Classic also has a history of giving back to the community. A primary focus is its involvement in helping to change lives and improve learning for school children across the country. In partnership with the Essilor Vision Foundation (EVF) and other local partners, Classic is helping to ensure the most precious gift – sight.
Recognizing that vision deficiencies are a significant barrier to learning, many entities are searching for partners to provide quality eyeglasses to their students in need. Furthermore, they are looking for partners that can establish efficient delivery systems, as well as ensure rapid turnaround on the prescribed eyewear. Classic is continually sought out for its expertise in developing innovative solutions to respond to these dynamic requirements.
For example, in 2015, the City of Chicago Department of Public Health Office of Student Health and Wellness chose Classic as its partner to serve the Chicago Public Schools' in-school vision program. The city contracts with eyecare professionals to visit the schools and perform comprehensive eye exams while Classic manufactures the eyeglasses for the students. In just the past few years, Classic has supplied more than 75,000 pairs of eyeglasses to Chicago school children – quickly and at a low cost – which has saved the city millions of dollars a year.
"We're often brought in because we can produce quality eyeglasses efficiently," Friedkin notes. "The educators can focus on education and we can focus on how best to deliver eyeglasses that are cost-effective." For example, Classic works with Vision To Learn, a national non-profit that provides free eye examinations and eyeglasses to children via mobile vans at schools in low-income communities. Together, Vision To Learn and Classic have delivered thousands of eyeglasses to schoolchildren in Detroit. In the coming year through this partnership they will expand into school districts in three additional states.
Keeping Pace
Classic has invested millions of dollars on its manufacturing platform, and this ongoing investment continues to ensure the advancement of its world-class, cutting-edge manufacturing system in the ever-evolving optical industry. In the coming year, Classic will further this effort and execute on its strategic building reengineering plan to improve the efficiency and production velocity by dramatically opening up manufacturing spaces.
By removing most of its facility's internal walls while simultaneously upgrading the facility's mechanical infrastructure, Classic will convert production layouts from process-centered to fully integrated flexible work cells. The factory design for the future will demonstrate elements represented by the latest in Demand Flow theory, and will optimize Classic's proven agility to leverage industry-leading service levels to even greater heights by offering custom expedited delivery options to customers at the most competitive price points.
The company also will focus on recruiting and retaining talent with high-tech skill sets, "along with leaders who are uniquely suited to be successful in our very challenging operational environment," Friedkin states. "The future is very bright at Classic, and we look forward to seeing continued success well into the future."
Sidebar
Best of Both Worlds
Classic Optical Laboratories Inc.'s parent company is Essilor of America, the leading manufacturer of optical lenses in the U.S. Through superior innovation in lens technology, the company works to make its mission of improving lives by improving sight a reality for the more than four billion people around the world in need of vision correction. Essilor designs, manufactures and markets the widest range of lenses including progressive, high-index, photochromic and anti-reflective coated lenses to improve eyesight in more than 100 countries and across five continents.
The company acquired Classic in 2013. With more than 60,000 employees worldwide and 10,000 in the United States, this partnership benefits Classic's clients with the best of both worlds in terms of supply chain, economies of scale and consumer-centric design/development to offer differentiated and innovative solutions for their customers.