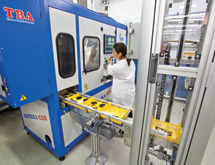 Classic Optical Laboratories Inc.
Dawn Friedkin is the president of Classic Optical Laboratories Inc., a Youngstown, Ohio-based manufacturer of prescription eyeglasses. Her father started the company in 1970 as a manufacturer of eyewear for local eyecare providers.
Since its inception, governmental entities, insurance carriers, health plans and managed care organizations have consistently selected Classic as the go-to source for eyeglass laboratory fabrication services and ophthalmic products. Today, Classic manufactures more than 800,000 pairs of eyeglasses a year. Classic Optical has earned a stellar reputation for superior service and high-quality products, while concurrently keeping a close eye on costs, which resonates with its clients across the country.
World-Class Work
Some people might assume that the manufacturing of eyeglasses is a simple process, but according to Friedkin, the operation is actually quite complex. "Eyeglasses are made of two components: two lenses and a frame," she says, "but that is where the 'simple' ends."
Each pair of Classic Optical's eyeglasses is custom-produced for each individual wearer. During the manufacturing process, the laboratory software has to consider multiple variables, including lens materials, prescription combinations, the distance between eyes, the angle that a nose tilts, placement of ears and the depth of the wearer's cheeks. Additionally, when fashion changes, so does frame design. "The types of frame styles, materials and construction fluctuate on a regular basis," Friedkin relays, adding that Classic Optical also manufactures lenses designed for specific uses, including driving a car, playing golf and working on computers.
Although keeping up with product developments and trends is challenging, Classic Optical has been up to the task. "We have a team that loves to learn and challenge themselves, and boy, has our industry kept us on our toes in the last decade," Friedkin adds.
Classic Optical has mastered mass customization and is a lean manufacturing success story. By focusing on continuous improvement, the company has reduced inventory, improved delivery times and minimized waste to ensure improved cost-benefit outcomes for customers and patients.
During 2012, Classic invested over $2 million in capital expenditures to complete the final phase of a five-year project to fully automate the entire laboratory. With the installation of leading-edge technology, modern, computerized lens production machinery and a dedicated workforce, Classic has realized its goal for achieving world-class productivity.
A Win-Win Relationship
Classic Optical is proud of its work producing prescription eyeglasses directly for many state Medicaid programs. In one state, Classic was selected as the new optical laboratory service partner and took the place of a local vendor that had worked with the state for many years. "Classic was the clear choice during the bidding process, and they have continuously worked to surpass the state's expectations," according to Julie Tosswill, a State of Maine official.
She went on to express that Classic has accommodated all requests from the state, including employing advanced technology solutions to help reduce fraud and waste in the program. "Our [eyecare] providers have consistently communicated their very high level of satisfaction with Classic Optical's services, and [the state] could not be more pleased," Tosswill says.
Friedkin adds, "It has truly been an excellent relationship for all parties."
Classic Loyalty
Friedkin grew up in the business. Her first job at Classic Optical was at the age of 11, traying up frames during the summer, which she continued through high school. After earning a bachelor's of science in business from Tulane University and a law degree at The George Washington University Law School, she worked for more than a decade in various positions for the government and private sectors before returning to her family's business.
Today, with more than 25 years of experience in law, public policy, government, business, organizational management and administration, her vision and skill set have proven essential to the success of the company, with discerning strategic planning and astute long-range development.
Friedkin is actively involved with the company's day-to-day operations and is proud of the company's team. "In the last two years, we have increased our production by over 50 percent and more than doubled our pool of talent," she reported. At the same time, the company has removed obsolete equipment and automated virtually all manufacturing process. "It is this teamwork that makes me proud – everyone comes together to make it happen."
Classic Optical is a great place to work, and as testament to this fact the company has employed several people at the lab for their entire careers, and through the years, their children and grandchildren have worked alongside them. "I have been passionate about keeping our associates and their families in good jobs," Friedkin states. "Their loyalty and dedication shows through in the exemplary quality of work that is produced every day in our laboratory, which in turn has been fundamental to our success."
Continuing to Grow
This year, Classic Optical expects to enjoy revenues of more than $20 million, which will be a first for the company. Additionally, it represents a 20 percent increase over last year.
For the future, the lab plans to "stay the course," Friedkin says. "We are in a unique position with the expansion of health plans and other governmental programs under the Affordable Care Act."
Classic Optical has been and will continue to be focused on continuous improvement. Although the last five years were highly invested on re-engineering its manufacturing, "Now we will begin to center our attention on some of our non-manufacturing areas like streamlining our stock room and shipping department." This will entail installation of benchmark software systems to aid with custom fulfillment services. "We will endeavor to further improve efficiency of our shipping processes to conserve physical space, while increasing the number of orders and unique locations to which we deliver," she says.
"Similarly, we will continue to concentrate on process improvement enterprise-wide," Friedkin concludes. "Given our unprecedented growth, we know that exceptional technology, integrated systems, proven processes and a dedicated workforce are the key to our success."