To protect and secure
For several decades now, CLD Fencing Systems has brought world-leading innovation to the physical perimeter security industry, and continues to revolutionize the market with both its permanent and temporary solutions
The roots of CLD Fencing Systems can be traced back to 1969, when the business was first established by the Wells family. Since then, it has evolved into what is now the UK's largest manufacturer and supplier of rigid mesh fencing systems and security gates, with the family still very much involved in its day-to-day operations.
Working with architects, main contractors, local authorities, and Government organizations such as the MoD, the Royal Air Force, and leading security consultants, CLD Fencing Systems has risen to become one of the main drivers of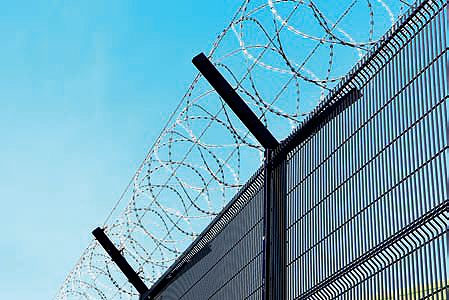 innovation when it comes to the concept of perimeter security systems. "CLD Fencing comSystems was among the first companies to bring rigid mesh fencing to the UK market, and since then it has remained the core ingredient of all of our perimeter security fence systems and our range of temporary fencing products," explains Chief Executive Officer, Russell Wells.
"Where we excel," Russell continues, "is in producing fencing systems designed to deter and mitigate intrusion, that are aesthetically pleasing, yet never compromise on delivering the highest of security levels that our clients wish to acquire. When we design and manufacture any mesh fence system, we will typically have it comprehensively tested independently by the British Research Establishment (BRE), who will certify said system to determine key characteristics such as its cut-through properties. This rigorous process has resulted in the creation of a range of products that are used in a wealth of different sectors, and our work can be seen in projects of all kinds, from individual schools, warehouses and distribution centers, to large scale infrastructure projects such as HS2. With the latter, we continue to supply temporary fencing products to its various sites, while also working with its architects to devise a permanent fence system."
Headquartered in Sandbach, Cheshire – home to a 4.5-hectare site that includes the company's manufacturing facilities – CLD Fencing Systems also has satellite offices in London, Sydney and Dubai, as well as distributors around the world in more than ten countries. Further to this, in 2017, the company became the first UK entity to export rigid mesh fencing systems to China for a number of specialist sports projects.
"Our global presence enables us to have the necessary skills and expertise available in multiple time zones, and to service needs at a local level, which are particularly attractive commodities to have when supplying international clients," Russell states. "It is important to remember also that the UK is still upheld as being a global leader in the manufacture of security products and standards, which makes a UK manufacturer such as ourselves a go-to when international clients are seeking products and standards to accompany their security infrastructure."
Significant investments
As Russell goes on to detail, in the last five years alone the company has doubled in size, achieving an average of 20 per-cent year-on-year growth in that time. "As of today, we are manufacturing over three kilometers of high security fencing products every single day, and to support this growth we have invested significantly in new floor space. This includes a new 9000 square foot, two-story office building in Sandbach, which we moved into in January 2020, and a brand new five-acre distribution center in Middlewich, Cheshire, which opened its doors in June 2020."
It is from these new facilities that the company has been able to increase production of some of its newer product ranges, and invest in ever-more efficient processes. A prime example of the former is CLD Fencing Systems' collection of temporary security products that fall under its FenceSafe brand. "With our FenceSafe products, we truly believe that we have revolutionized the temporary fence sector," Russell enthuses. The system was the first temporary fencing range to use the same rigid mesh panels and posts that are used in the rest of the company's permanent range, but in a format with zero ground strike.
At present, the company's temporary fencing solutions are being utilized across a wide number of the UK's Covid-19 testing centers. These sites have been ring fenced with secure temporary fencing systems from its FenceSafe range, enabling the operators to remain comconfident of having a well-protected boundary. It also allows for the erecting of debris netting, shade netting and anti-vision screens, all of which can ultimately be taken down and removed from site once no longer in use.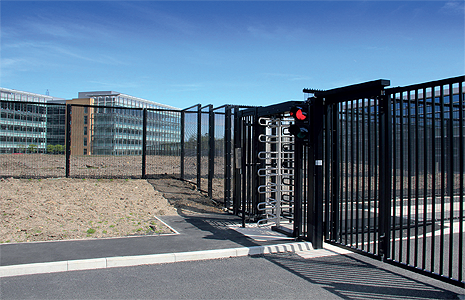 Today, a dedicated R&D team continue to work to create quicker, faster and more efficient ways of developing and deploying temporary security fencing that can suit an increasing number of needs and/or specifications. Furthermore, in the summer of 2020, the company will also be establishing a new business called FenceSafe Hire, which will provide customers with the ability to hire out CLD Fencing Systems' temporary fencing products. "We see huge potential in this field, and we feel that the ability to offer customers rental agreements on either a short or long-term basis – as well as the ability to purchase our products outright – will help make us an even more flexible and versatile proposition," Russell declares.
Another recent innovation that the company is keen to highlight is the development of an entire new hoarding system. "Your typical hoarding system nowadays tends to incorporate traditional materials such as timber," Russell says. "What we have done is design a reusable system, which makes use of recycled composite plastic for its main board, and is supported by a network of steel uprights and rails that allow it to be taken down and redeployed as necessary. Where this differs from timber alternatives is that these tend to be scrapped after just a single installation, whereas our reusable system could give users as much as ten-to-fifteen years of reliable service."
Meanwhile, within the confines of the company's manufacturing premises, the most up-to-date machinery aids in the creation of its products and systems in an effective, timely and accurate manner. Alongside the usual CNC machinery that one would expect to find, the company also makes use of fully automated picking systems. These include the Lean-Lift automated in-house picking solution, and the WinMan Go service, which forklift drivers and pickers can access on handheld devices to scan individual products onto and off delivery vehicles.
While the business may have continued to grow in size, scope and reach, the management of CLD Fencing Systems has nevertheless endeavored to retain the family values and atmosphere that have served it so well for more than 50 years. "To this day, the Wells family remain very hands-on, helping to oversee the activities of every department," Russell affirms. "As Covid-19 began to spread across the UK, they joined the rest of the board of Directors in plotting a course for the company in which the safety of our employees was the foremost priority, ahead of the prosperity of the company and ultimately job security. This forward thinking helped us to trade and remain profitable throughout the months that the UK was in lockdown – in a socially distanced manner with no outbreaks of the disease amongst our workforce – which I think was a massive achievement."
Moving forward, the company expects to maintain its recent growth rate of around 20 per cent year-on-year, thus doubling again in size in five years' time. "This is the pattern of growth that we are forecasting, and in achieving this we hope that we can go on to solidify a reputation as being the global market leader in the manufacture and supply of innovative, secure fencing systems," Russell concludes.
CLD Fencing Systems
Products: Rigid mesh security fencing systems
www.cld-fencing.com