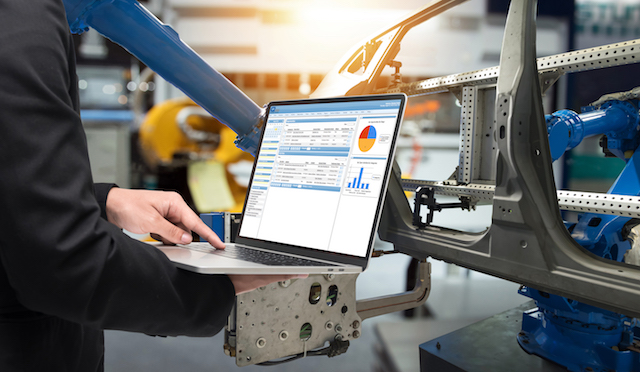 Clear C2's C2CRM is the culmination of 20 years of experience in developing customer relationship management (CRM) software for manufacturing companies in the United States. "In addition to having a manufacturing background, we listen to our customers to find out what's important to them rather than offering a solution that's prebaked," President and CEO Mickey Patton says.
The Coppell, Texas-based software company was founded in 1993 as an IBM business partner to develop content management software based on IBM technology at the time. Over the years, Clear C2's software evolved into pipeline management and help desk management, and now is enterprise CRM software primarily driven towards the manufacturing space. "Manufacturing is really our sweet spot," Patton says. "We work with clients in telecommunications, healthcare, government and distribution as well, but manufacturing is something we know well."
C2CRM consists of several modules that span five solution sets: Relationship Management, Sales Management, Customer Service, Marketing Management and Business Intelligence. The software can transform a business into a customer-focused competitor poised to react quickly to meet challenging market needs.
Clear C2's software is available on-premise and as a hosting solution, providing flexible options with integration. "It's a full suite of products and what is really the difference between us and some competitors is that we engage ourselves directly," Patton says. "We use our expertise to learn the customer's business."
Fully Immersed
Clear C2 describes its process as a "cookbook approach" to developing a CRM platform for its customers that will help them improve productivity, increase sales and boost their bottom line.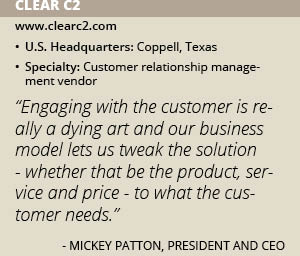 "Engaging with the customer is really a dying art and our business model lets us tweak the solution – whether that be the product, service and price – to what the customer needs," Patton says. "We don't have the silver bullet to make them go through the roof with sales, but we sit down and listen, and tweak our software for areas of their business we can improve."
"Clear C2 has made us more efficient internally and I think that in the long-term, it really helped us out with saving time and being more efficient in the sales process," says Jonathan Joiner, distribution and marketing manager for Wakefield-Vette.
One of the biggest challenges Clear C2 customers are working to overcome is the increasing amount of data to manage. C2CRM offers integration of all that data into one place, making it easily accessible by those in the company who need it to interact with their customers. "I read a statistic the other day that said that since 2012 data on the Internet has quadrupled," Patton notes. "Manufacturers and other industry customers who use our software are having to deal with more data than they used to and the common problem is integration."
Because of its history as an IBM business partner, integration is engrained into Clear C2's culture. "We determine where the data is and how to integrate it," Patton explains. "We don't just tell you to pull data and here's how you import it."
Learning about its clients' data is the first step for Clear C2 before any software prototyping. "For us, the process is not about the speed – we can turn our software on in a day – but the mentality of our folks is first engaging about your data," Patton explains. "We talk about your data, what's important to you, where your data lies and how it's linked. We find out what the priority is of our customer. This process is different than simply turning on the CRM module in your ERP system. The ERP module approach lacks the advanced CRM functionality and doesn't integrate other available data to allow the manufacturer to truly know their customer."
Clear C2's business model relies heavily on the company developing and maintaining close relationships with its customers. "Our implementers get to know the customer better and in our processes our back-end developers are involved and brought into the conversation to work with our customers," Patton says.
In addition to data integration, Clear C2 also helps its clients achieve lean manufacturing goals through its forecasting tools. "Our software is not a silver bullet, but we can help eliminate some things like overproduction by forecasting what production should like, thereby reducing inventory," Patton explains. "Forecasting is key for manufacturers using our software."
Continuous Innovation
Clear C2 will be launching an updated version of C2CRM to address the growing popularity of blockchain and artificial intelligence. "The promise of eliminating the middleman and data integrity with new technology is very appealing to us moving forward," Patton says. "This update eliminates some issues that manufacturers and software has had in terms of blockchain."
The company has received positive feedback on its planned upgrades from prospective and existing customers, Patton says. "Our software maintenance program includes changes and version upgrades," he adds. "When you sign on with us, we want to develop lifelong relationships by offering things like free software upgrades. Some of the things I found frustrating in the software industry, such as paying for upgrades, I wanted to eliminate those things and develop friendships."
Moving forward, Clear C2 will continue preparing for advanced technologies in the manufacturing space, as well as maintaining data integrity and avoiding security breaches for its customers. "Decentralized computing with blockchain will play a big part in the next 10 years," Patton predicts. "Our software upgrades are preparing us for those needs."