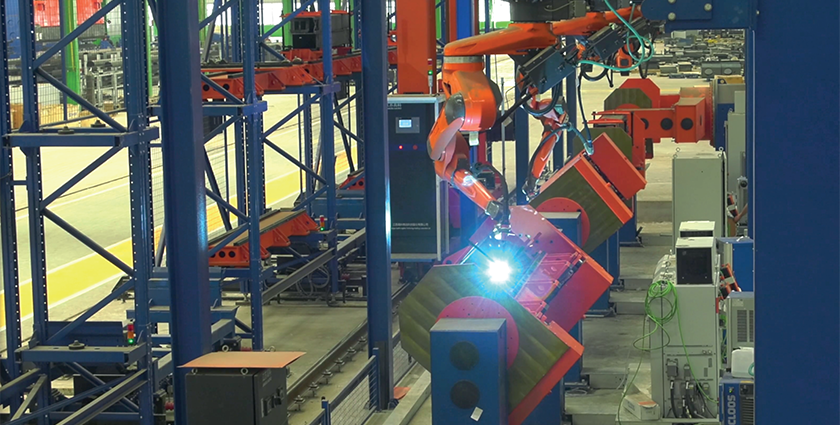 Weld your way
A global leader in the manufacture of robotic welding systems, CLOOS is targeting a new era of global growth, driven by continuous operational improvements and ongoing product development
The story of CLOOS is a more than century-long tale. Founded by Carl Cloos in 1919, the company proudly sits among the pioneers in welding technology. CLOOS presented the first CO2 gas shielded welding machine for welding with endless wire electrode at the Hanover Fair, in 1956. Two years later, the first welding power sources were integrated in manufacturing systems – a significant watershed, marking the foundation of automated welding. At the end of the 1970s, CLOOS first used robots for automated welding, and shortly after, the company began constructing and producing its own industrial robots. Following the market introduction of tandem welding, CLOOS has established itself as a global leader in the segment.
"With more than 900 employees worldwide, CLOOS offers production solutions in welding and robot technology for a number of different industries, including construction and agricultural machinery, rail, energy, and many more," says Stephan Pittner, CEO of CLOOS, when asked about the company today. CLOOS's QINEO series of welding power sources are available for various welding processes, while the company's QIROX robots, positioners, and special purpose machines enable it to develop and manufacture automated welding systems to the specific requirements of its customers.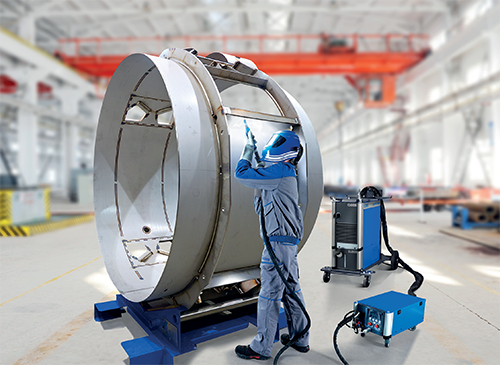 "We stand out from our market competitors by serving the highest requirements in arc welding," Stephan continues. "Apart from our headquarters in Haiger (Germany), we boast nine production sites, 14 subsidiaries and 64 sales and service centers. We attach great importance to a high degree of vertical integration in order to guarantee the quality of our products."
CLOOS has also benefited from new distribution channels and customer contacts in China, following its acquisition, in 2019, by the Estun Group, a leading Chinese manufacturer of core controlling parts for high-end intelligent equipment. It's a move that followed a number of similar purchases by Estun, which also included a 20 percent stake in Italian robotics and automation specialist Euclid Labs, UK-based motion control technology developer TrioMotion, and Germany's MAI.
"Our customers are roughly divided into one third each in Germany, Europe, and the rest of the world," Stephan points out. "Asia, and above all China, is clearly one of our biggest growth markets. There's also great demand for our products and know-how in the US. We're currently working out a concept with our subsidiary in Schaumburg, Illinois, on how we can improve our share in that market."
Since the 1980s, CLOOS's primary focus has been robot welding. But as Stephan reveals, the market has undergone a shift in recent years, as an increasing number of customers seek to integrate pre- and post-processing operations into their lines. "Focusing on those processes is increasingly vital," Stephan comments. "For example, we've developed a grinding robot and equipment for pre-preparation and rework. Furthermore, we now have robotic systems that can automatically assemble parts. We need to consider all of the functions in a fully automated welding line."
Although the majority of the company's production takes place at its Haiger headquarters, a large portion of the final assembly of CLOOS's robot systems is conducted on-site at its local subsidiaries, and has driven the company's investment strategy in recent years. "We successfully relocated our welding torch production to our site in Krepice, Poland, almost ten years ago," Stephan notes. "At our subsidiary in Nanjing, we'll also increasingly produce lower-priced products for the Chinese market in the future. We're currently transforming ourselves from a welding integrator to an original equipment manufacturer (OEM), and are increasingly bringing our products to the end customer via integrators."
The company has also recently invested €2 million in a comprehensive modernization of the mechanical processing area at its Haiger headquarters, with the addition of new high-tech machines. Robot parts are now machined on a four-axis horizontal machining center, while an automatic palletizing system and a five-axis machining center have replaced the company's three former conventional milling machines. "We're happy about reduced set-up times, increased flexibility of production, leaner logistics, and the minimization of bottleneck situations," Stephan confirms. "In order to position ourselves even better for the future, we're continuously increasing the degree of automation and flexibility in our production."
In addition to this expanding footprint, CLOOS invests an annual sum in research and development equal to eight percent of its total revenue. "Software and digitization, in the age of Industry 4.0, are key," Stephan insists. "Therefore, we have invested heavily in developing unique high-end software solutions."
One such solution is the company's C-Gate IoT platform. An integrated information and communication tool, the C-Gate is designed to enable users to access data from their welding production in real time. Consisting of several modules which users can activate depending on their individual digitalisation strategy, it allows for the monitoring and control of production processes down to the smallest detail.
"As a machine builder and solutions supplier for the welding industry, we need to offer digital functionalities to customers," Stephan tells us. "This means offline teaching and system programming, full digital system monitoring, and generally increasing efficiency. In the future, this will become of heightened importance to us and our customers. That's why we are currently working on casting all digital products into a central overall platform. In this way, we want to support our customers throughout the entire process chain, from simulation to production, operation, maintenance, and repair.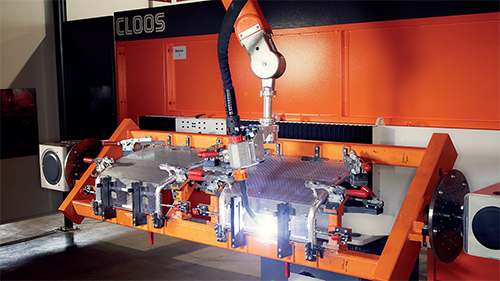 "Historically, we've also focused very strongly on customized welding solutions," Stephan continues. "The application and process development department at our Haiger facility plays a central role in the creation of customer-specific welding solutions and new welding technologies. We offer feasibility studies on customer components, the creation and optimization of robot programs and advice on the selection of welding technology. In addition, we're currently working on building a modular system to adapt our products for different markets, which will enable us to bring our innovations to a wider range of customers even faster and more cost-effectively in the future."
From 1919 through to the present day, the perennial driving force behind CLOOS's success has been its people. The company boasts an experienced roster of skilled technicians, a number of whom have remained loyal to CLOOS for upwards of 20 years.
"Our employees are not afraid of any technological welding challenges," Stephan emphasizes. "We offer excellent training and educational opportunities. These include in-house apprenticeships and dual study programs, where our employees can progress towards a Bachelor's or a Master's degree. Approximately 50 percent of our current crop of employees have graduated through our education system. We also partner very closely with universities to attract younger digital natives who are keen to work with robots.
"The further development of young people and the constant arrival of new challenges in the automation environment spur me on," Stephen admits. "I look forward to pushing new technologies and innovations in welding and robotics with our employees in Haiger, and those around the world."
CLOOS intends to announce a number of innovations throughout the latter half of 2022, with a focus around digitization and welding processes. "It is important to use the right welding procedures for maximum results and to increase efficiency," Stephan confirms. "We continuously develop our processes to meet new customer requirements and respond to changing materials. No matter if it's thick or thin, steel or aluminum, manual or automated, we're able to offer the right welding process for any product requirement."
Amid this busy year, the company is set to attend the EuroBLECH trade fair, due to be held in Hanover this coming October. "During live demonstrations of manual welding, visitors will be able to experience the constantly growing product range of the QINEO machines live," Stephan promises. "Furthermore, our automation portfolio comprises simple, compact systems as well as complex, chained systems with automated workpiece identification and loading and unloading processes.
"Looking further ahead, we still see great growth potential for our products and solutions in the global market," he continues. "To realize that potential, we will significantly expand our presence, and strive for technology leadership in all aspects of arc welding processes. At the moment, the procurement situation is very tight, with semiconductors, electronics, and other parts limited in their availability. With the expansion of our supply chain to China, we're safeguarding our ability to deliver reliably. At the same time, we'll be trying to compensate for rising prices through a process of continual improvement, with ongoing optimizations and increasing efficiency throughout our internal processes."
CLOOS
www.cloos.de
Services: Robotic welding systems