As anyone who has spent an afternoon hitting the links will concede, the most enjoyable way to golf is with a cart. As your foursome waits to tee-off with the sun beating down, complaining about the golfers in front of you who can't seem to find the green, it helps to be seated on a covered, cus­hioned seat. Most likely, that seat is inside a Club Car golf car, the most widely used vehicle by golf courses.
Club Car has been manufacturing uti­lity vehicles for more than 50 years. The company has developed a tradi­tion based on a reputation of quality and re­liability. "We are known for quality," Director of Manufacturing George Lee states. "Our product may sometimes cost more than a competitor's, but our customers appreciate the value of quality and reliability."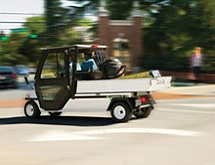 Club Car has earned customers trust. The company makes itself readily avail­able to the customer's needs and does not abandon its product once it is sent into the market. "People know that we are going to stand behind [our vehicles]," Lee says, adding that this especially means the company's sales and support staff. "If there is a problem with one of our products – or even if we anticipate a problem – we do what­ever is necessary to correct it. That's what leading brands do, and that's why we have such loyal customers."
There is a history of innovation when it comes to Club Car and its manufacturing process. It originally gained strength in the industry with its aluminum frame for golf vehicles. Golf courses were having a problem with the rusting of steel frame carts, which not only had a limited shelf life from constantly being exposed to the elements, but also was causing problems for the landscape of the courses.
Club Car's aluminum frames eliminate rust and reduce weight, which in­creases the range of both gas- and electric-powered vehicles. Through its aluminum frame carts and willingness to stand behind its pro­duct, Club Car became a leader in the golf industry. But the company has never planned to slow down or stop improving its product lines.
Rugged, Style and Comfort
The golfing market is where Club Car produces the highest volume of vehicles and is where it will continue to do so for a long time, Lee notes. However, the company has been experiencing growth the last few years in other markets for its utility vehicles. It has been producing more commercial and recreation vehicles, and in 2004, launched its utility 4×4 vehicle. The company now produces several models of its 4×4 and has upgraded the car since its inception.
The XRT1550 is the latest 4×4 that Club Car has introduced. It is built from the ground-up to withstand rough terrain, with a lightweight aluminum frame that is aircraft-grade. The XRT1550SE fits four passengers with two rows of forward-facing seats. Both models come in gas and diesel editions.
Producing these vehicles for commercial and industrial use has become a strong business for Club Car. "We have several OEM customers," Lee says, mentioning that the company works with RSC Rental Equipment, Husqvarna and Case New Holland. The company says it understands the needs of its commercial and industrial customers, including vehicles from light-duty to heavy-duty utility and multi-person transports.
"With over 50 years of experience in producing small vehicles, Club Car has built a reputation for creating the best, longest-lasting utility and transportation vehicles in the world," the company says. "Our goal is simple: engineer a rugged design, give it the style and comfort you and your customers want, and exceed your expectations for innovation, efficiency and reliability."
Club Car vehicles are used for hauling cargo or tools, as well as for providing transportation across corporate campuses. Working with commercial and industrial companies helps Club Car to grow its operations, Lee says. "Companies buy from us because we have world-class manufacturing standards," he affirms. "They know the vehicles we produce have quality and reliability built in."
Taking to the Streets
The newest Club Car product line is bringing even more innovation to the company. Its low speed vehicle (LSV) line has been equipped to be street legal on roads posted at 35 miles-per-hour or less. The company describes the utility vehicles as the most reliable and cost-effective available. Each motor is an alternating current drive system, and is equipped with a half-ton vehicle capacity, allowing it to handle demanding jobs.
Club Car has established itself as the world's largest manufacturer of four-wheel electric vehicles, supplying its LSVs with a three-phase AC induction motor that gives off zero emissions.
There are three models for the LSV:
Villager 2+2 LSV – Able to carry up to four adult passengers, Club Car says this model is ideal for transportation on and around military bases, educational and healthcare facilities, and other campus environments where legal access to public roads is required.
Carryall 2 LSV – The company describes this vehicle as rugged and reliable with a half-ton payload.
Carryall 6 LSV – The vehicle is designed for greater cargo capacity than the Carryall 2, as well as to provide quiet, cost-effective performance.
Both the Carryall models have bed-boxes to allow them to act as work vehicles, while the Villager is made exclusively for transportation. Lee says the vehicles are ideal for colleges and hospitals, or any other campus that is spread across major streets.
Because the United States National Highway Transportation and Safety Administration certified each vehicle, drivers can legally cross and enter streets. Also, as electric vehicles, Club Car notes that year-over-year ownership costs will be reduced.
Lee points out that federal tax credits are available for qualified owners of its LSVs. The company says it knows how to make a reliable electric vehicle and is helping to reduce carbon emissions.
Adjusting Process
With its increase in focus on vehicles outside of the golf market, Club Car has needed to adjust its manufacturing processes. "We grew up with golf, so now, at least in the operations area and manufacturing area, we have to think differently about how to build the product and serve a different customer," Lee explains.
Generally, golf courses purchase entire fleets of vehicles from Club Car, often as many as 60 at a time. Each vehicle in the fleet is usually the same color and incorporates the same drive system with only the decal numbers on the side be­ing different. Producing hundreds of golf cars per day, Club Car's manu­facturing pro­cesses have become highly efficient and practically seamless. Now, there is a growing demand for the company's vehicles in other markets where orders are smaller.
"For commercial customers, we have to be a lot more flexible in terms of presenting the material and configuring orders," Lee explains. "It's a different challenge, and we are adapting to that by reorganizing operation groups into value-stream teams or focus factories."
This shift in process allows Club Car to focus on a specific product. For example, the company is improving its material presentation methods by kitting. When a manufacturer produces a high volume of a single product, where every machine uses the same parts, each spot on the line only needs one set of components. However, when each product is customized, each spot on the line will need several different components. With kitting, each station has its group of related components in a package, or kit, for each custom job.
"When kitting, for example on a 4×4, we have a bunch of color com­ponents," Lee says. "Now, we kit those for each type of vehicle. We make a kit of all red components for when a red vehicle comes down the line. But the next car may be cam­ouflage and the next one green. So, we have kits for just about ev­ery vehicle. That is how we are building now."
Quality through Encouragement
Regardless of the method of manufact­u­ring the company uses, Lee stresses that Club Car always strives to build high-quality pro­ducts. "First of all, we believe we have to build quality into the product," he asserts. "We always are fo­cusing on inspecting throughout the manufacturing process." To ensure quality, Club Car has each operator check one another as the pro­duct is being built.
"It's a very strong system of in-process checking," Lee says. The company created an accou­ntability system for its employees where they gain points for passing inspections and lose points when a component fails to meet standards. However, Lee stresses that this is a system built on encouragement, not embarrassment.
"It encourages them to check each other and watch after each other," Lee explains. He says that points are only lost after the final product has gone to inspection, so if one employee finds a misstep on the line from another employee, the line is allowed to be stopped so that the problem can be fixed. "What it does is build quality through people helping each other," he explains. "The system is set up to encourage that activity. If you make a defect, and someone catches it, it does not count, but if the defect gets through the process, both employees lose points."
Lee points out that the company has a number of people with more than 1,000 consecutive workdays without a defect. "That is more than four years, which shows our attention to quality," he proclaims.
Worldwide Distribution
Club Car operates a worldwide distribution network that includes more than 600 distributor, dealer and factory bran­ch locations. There are more than 40 base models produced by the company, with applications in golf course, grou­nds, maintenance, industrial, com­mercial and recreational markets.
Club Car is a brand of Ingersoll Rand, a global industrial firm that provides products, services and solutions to tran­­s­port and protect food and perishables, secure homes and commercial properties, and enhance industrial productivity and efficiency.
?