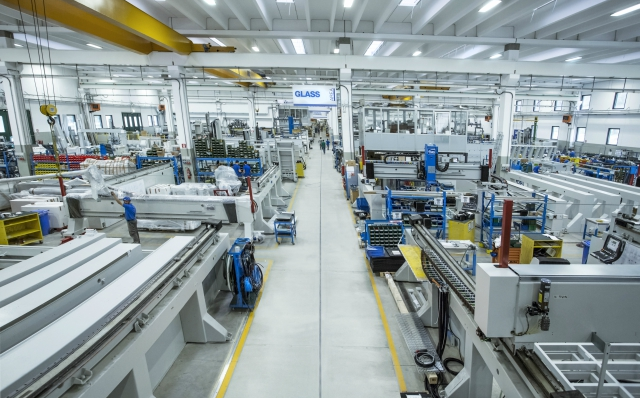 Based in Caledonia, Mich., CMS North America is the North American entity of Italy-based CMS Industries. CMS supplies CNC machining center technology, including versatile five-axis CNC machining centers, special purpose saws and water jet cutting systems. Founder Pietro Aceti started CMS SpA in 1969. The company soon developed the AP-Biax, its first CNC machining center.
Today, CMS produces machines for many of its global customers that are at the very top-end of the spectrum for quality, accuracy and dependability. The company has built an extraordinary reputation for creating specialized custom machines that meet or exceed the needs of its customers. CMS is considered by many to be the best in class for manufacturer of machines for a wide variety of glass, plastics, metals, aluminum and composites.
"Fundamentally, CMS is in the business of solving customer problems," says Matt Dietrich, its North American CEO. This involves developing solutions directly through a proven process that drives the application of technologies to specific applications.
CMS maintains a competitive edge today by introducing new technologies and continually improving on existing capabilities and processes. The company strives to aggressively showcase R&D value and is always looking to the newest manufacturing technologies to better support customer needs. The accuracy, speed and durability of CMS's machines are major factors to why the company has been so successful over the years.
This approach has enabled the company to serve customers in challenging industries that demand high tolerances and reliable, consistent performance over time. In many cases, this requires custom machine features that directly help make individual processes more efficient and effective in accomplishing intended tasks.
As a result, CMS has become a widely recognized and trusted CNC brand that stands for excellent quality, reliability and service. However, this work is never truly done. "We constantly strive to get stronger, smarter and faster in what our machines can do, while continuing to improve and expand what we offer – always with the purpose of helping our customers succeed," says Dietrich.
CMS Pride
Accordingly, today CMS installs, supports and services a wide variety of its CNC machines at some of the largest and most sophisticated manufacturing companies in the world. In the same way, CMS North America has helped many domestic, high-end technology businesses improve their operational and manufacturing capabilities, and to achieve notable performance improvements that pay back initial machine investments time and again.
"We strive to keep all of our customers' machines producing at the highest levels," Mike Crosby says. "At CMS, we are focused on continually improving productivity, and serving as a valuable CNC technology partner for the most influential companies in the world."
Mike Crosby, the National Sales Manager for CMS's Advanced Materials Division, joined CMS in 1991 and praises its commitment to quality, which has been nurtured by its parent company. CMS Industries is ISO 9001-certified and maintains detailed schematics for every machine it manufactures, which helps it maximize machine performance and up-time in the field. The company also maintains full documentation on every machine so that customers can focus on production, not trouble shooting. "Even though we might build 100 of them, there's a massive attention to detail for each individual machine," Mike states.
The Italian operation also makes sure that every component is tested thoroughly before leaving the factory. Everything is checked and run through an intensive quality control checklist before being approved for use in a particular machine. CMS CNC machines also have many redundant systems that are built-in to make sure all of the components work correctly and consistently. Crosby notes that customers such as Boeing have visited its production facilities in Italy to observe their new machines in action before taking delivery, and to undertake CMS training activities that let them hit the ground running at actual installation.
Cevin Moberly, the National Sales Manager for CMS's Stone and Glass Divisions, joined the firm 21 years ago and also takes great pride in the CMS brand and its proven machines. "We have products out there still performing that I can remember working on in my first years," he says.
Moberly also sees continued growth ahead for the company. "At this moment, all of our customers are incredibly busy and a lot of them are looking to replace their older equipment."
Serving the Leaders
CMS caters to a broad range of firms that are leaders in their respective industries, including Boeing, PPG Aerospace, Trulite and Oracle. The list is extensive and includes many not allowed to be mentioned, due to custom confidentiality agreements.
Many of these companies do not have just one CMS machine. In most cases, they have several of them, often running up to 24 hours a day. One such client has made CMS its main source for CNC machines, Trulite glass. "We have built a very strong working relationship with them," Moberly says.
Trulite has many fabrication facilities across the county. It wanted to zero in on one manufacturer that addressed its needs for this type of equipment to utilize them in all of its plants. It did this so that it could standardize its processes and workflows.
One of the largest players in the stone market, Cutting Edge Countertops, ordered multiple CMS machines. "They're expanding their facility right now to accommodate the increase in demand. In doing so, they are replacing much of their older equipment and they just ordered several more CMS machines to add to that expansion," Cevin states.
Because CMS is so solution-based, it is able to help Lockheed Martin Corp. Lockheed was facing a very complex issue and requested CMS to help develop a solution. CMS went in with its engineering team, identified the core of the issue, and started immediately working towards developing a solution. The company's operations in Italy created a custom machine for Lockheed, which it since purchased several more machines from CMS.
Materials Matter
CMS is seeing new trends in the stone sector; natural stone remains very popular in the industry, but the use of engineered stone has become more prevalent over the last few years. "It's a much higher density, man-made material, that gives a lot more design flexibility," Moberly says. "We've custom-designed and deployed many CNC machines today that maximize efficient processing of these new materials."
Customers can work with these materials vertically as well as horizontally. Such materials are ones that designers are looking to utilize and CMS is leading the way for fabricators to take advantage of them.
These advanced stone materials have an interesting characteristic; they are getting much tougher. Engineered, high-density materials, like Dekton, are particularly damaging to traditional tools, even with diamond blades. CMS is continually working closely with its customers in developing machining strategies and processes for the most efficient ways to cut these materials.
CMS is seeing trends on the glass side, as well. More architectural glass is being used in residential and commercial buildings. It's also becoming a more popular material, which has special needs associated with it.
The size of pieces, especially commercially, continue to get larger and more demanding. CMS notes that it is building machines to meet these needs. It recently built an 18-meter-long machine for a specific application that a customer required. "We're continuing to expand our range and increase our product capabilities in both stone and glass," Moberly says.
Raising the Bar
Matt Dietrich, CMS CEO, joined the company at the end of 2017 and has deep experience in the engineered products manufacturing space in automotive, aerospace, and mobile equipment industries. Matt predicts a bright future for the company given the strong reputation of CMS products, its many deep relationships with some of the largest and most sophisticated manufacturing customers out there, and the great passion and deep experience that CMS employees have in understanding machining issues and working to identify and solve customer problems. CMS continues to strive for excellence in every aspect of the work it does.
"CMS continues to bring new products to the market that are both necessary and innovative," Matt states. "We make it a priority to bring value to all of our customers through the solutions and reliable service options that we're constantly developing for our customers."
CMS is always building on its history of service by consistently raising that bar. It has found that it is necessary to utilize all the information that it has collected over the last 30 years and redirect that information to improve all aspects of its service and equipment offerings.
Sidebar — The One to Call
CMS North America continues to develop markets that value optimized machines in their production environments. "We're constantly finding new customers and applications for our CNC machining centers, in both our standard and customized machines," Matt Dietrich states.
"CMS machines often facilitate faster cycle times, increased efficiencies across a multitude of manufacturing processes, and generally enable more attractive allocation of customer CapEx dollars than many traditional methods and configurations of CNC machining," he says.
"For anyone looking at getting more out of their machining capital investments for processing a wide variety of advanced materials, composites, plastics, stone and glass – I'd say, call us so that our experts can see what might be possible," he states. "At CMS, we are passionate about helping our customers further optimize their multi-axis CNC machining equipment strategies."
Sidebar — An Innovative Improvement
CMS's recent innovations include its ETHOS machine, which is engineered for machining and milling advanced materials, such as composites, at the absolute highest tolerances. The ETHOS CNC system, shows a vast improvement in the machining accuracy as well as increased work envelope options.
ETHOS has an A-plus accuracy rating, and this machine represents the next evolution of its Cronus machining centers. It's the epitome of CMS's five-axis advanced material machines. ETHOS also shows improvements in rigidity and cutting performance. Due to the rigidity, it can move the machine faster while maintaining stability.