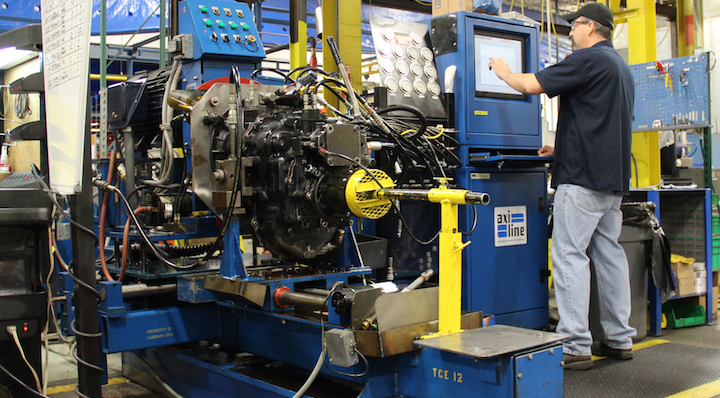 When an engine or pump appears to have reached the end of its useful life, it might actually need to be remanufactured so that more years can be added on. That is where CNH Industrial Reman comes in, with the ability to extend the use of seemingly obsolete products.
Based in Springfield, Mo., the organization is a joint venture of CNH Industrial and Springfield Remanufacturing Corp. (SRC), with a product line that includes engines and components, drivelines, fuel injection products, hydraulics, rotating electrical, A/C compressors and electronics. "We are using manufacturing, machining and salvage technologies in what we do to bring new life to parts," CNH Industrial – NAFTA Vice President of Parts & Service Kurt Coffey says.
CNH Industrial Reman was formed in 2009, but its parent company and SRC had worked together for decades. CNH Industrial – which operates in the agriculture, construction equipment, commercial vehicle and power train markets – saw potential in uniting with its remanufacturing supplier of choice, Coffey says.
"CNH Industrial's distribution, brands and dealer network have been successful for decades," he explains. "SRC has the know-how and the entrepreneurial spirit. When businesses get together like we did, you put those strengths together."
Today, CNH Industrial Reman sells within its parent company's channel, Coffey says. "All of the dealers in the NAFTA region are our customers," he says, noting that it only sells to CNH Industrial's Case IH, Case Construction Equipment and New Holland dealerships.
Additionally, a significant portion of CNH Industrial Reman's business also consists of exporting to other countries. "The lion's share is in Europe, and the Australia and New Zealand regions," Coffey says.
Building Paths
CNH Industrial Reman is ahead of its competitors in its market, Coffey says. "There are other OEMs that do what we do," he states. "But where they were a pioneer, they don't have the technology or precision that we have in being a late bloomer."
As for aftermarket parts manufacturers, they do not have the advantage of being the original source of the products such as tractors and backhoes, Coffey adds. "A competitor might try to reverse-engineer [them]," he says. "We have the technical specs and know how because we are the OEM."
CNH Industrial Reman's top-selling parts are for machines that were built in the 1980s and 1990s, Coffey says. "Right now, if you've got a customer that has a machine from the '90s, it was once a $200,000 machine," he says.
"It's still worth $50,000 to $100,000 and we are doing all we can to provide that customer a solution – to keep his or her machine going in the field," he continues, noting that CNH Industrial Reman has invested heavily in keeping those machines alive.
"Ten to 20 years after the launch of a machine, you can't just go down the street and get these parts off the shelf," he says. "If we don't manufacture a path to prosperity for these guys, then they can't find a solution."
Center of Life
CNH Industrial Reman focuses on quality and reliability in its 250,000-square-foot location in Springfield, Manufacturing Engineering Manager Dave Reader says. Its facilities feature a class-6 clean room for building fuel products, 10 CNC machines and five coordinate measuring machines.
Those allow the company to "hold the tolerances on the current generation of equipment we have," he says. "We machine everything here from bronze alloys to 63-Rockwell [rated] gear steel."
CNH Industrial Reman does this with tremendous precision, Product Manager Team Leader Allen Shevey adds. "When utilizing used parts, we have to make sure they're back into their OEM specifications," he says. "That's what our machine shop and all the places in our plant have the ability to do."
When it comes to remanufacturing, used parts are considered the raw material and are referred to as "core." The company's core return center has the ability to provide core value estimates quickly, Marketing Manager Jamie Sullivan adds. "There's a 48-hour turnaround time for core to be received and inspected," she says. "It helps the dealers know how much it's worth. When we make processes like this easy for our dealer customers, that's just one less thing they have to worry about which helps them focus on running their businesses and taking care of their customers."
Coffey adds that up to 500 dealers from across the world visit its plant every year. When they see its workers remanufacturing parts that are typically unavailable, "These guys come alive," he says. "It's really the life of what we do."
Ready and Able
CHN Industrial Reman plans to be prepared for the future, Shevey says. "Our capabilities have to always be ready for how tractors and whole goods are being produced today," he says. "When a customer buys a machine, they are often times thinking of what it will cost to maintain that machine throughout ownership. If we have our eye on the past as we prepare for the future, we'll be able to help machine owners extend the life of their machines especially when new parts are no longer being manufactured."
Coffey adds that the company has invested $16 million in capital as of 2016 with an additional $4 million by 2019 to improve its existing base. "We're in a good position for whatever comes next," he says.