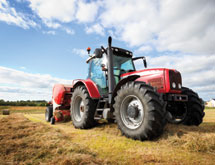 A recent merger of two of the world's leading equipment brands is looking to the future while honoring a long history of quality and innovation.
CNH Industrial was incorporated in November 2012 and became operational in September 2013 following the mergers of Case New Holland (CNH) Global N.V. and Fiat Industrial S.p.A. Fiat Industrial formed in January 2011 following a reorganization of its parent company. CNH Global was established in 1999 through the merger of New Holland N.V. and Case Corp.
The new entity unites CNH's agricultural and construction equipment operations with Fiat's portfolio of trucks, powertrain applications and commercial and specialty vehicles. "From tractors and combines, excavators, wheel loaders, trucks, buses, firefighting and civil protection vehicles to powertrain solutions for on and off road and marine, the group designs, produces and sells machines for work," the company says.
The new company oversees 11 brands and operates 64 manufacturing plants and 49 research and development centers. CNH employs more than 68,000 people and works with 6,000 dealers with a presence in 190 countries, giving it a unique competitive position. "We have the flexibility to pursue the most advantageous strategic options and capitalize on opportunities for growth and consolidation consistent with our ambitions to become a leader in the sector," CNH adds.
Agricultural Offerings
CNH Industrial manufactures the Case IH, Case Construction Equipment, New Holland Agriculture, New Holland Construction, Steyr, Iveco and FPT Industrial truck and equipment brands. "CNH Industrial's brands bring forth a rich history that dates back more than 170 years," the company says. "Today, our expertise spans industries and continents, building upon a great tradition of historic achievements and significant contribution to the development of technological know-how in the industries in which it operates. CNH Industrial's brands continue to build upon this base as they deliver their customers with state-of-the-art technology as global leaders in their respective businesses."
The New Holland Agriculture and Case IH brands serve the North American agricultural market, while the Steyr brand serves Europe. Manufacturing accessible technology that makes farmers more efficient and productive is a hallmark of the New Holland Agriculture brand, established in 1895. The brand includes more than 400 models across 100 product lines.
"New Holland offers cash crop producers, livestock farmers, contractors, vineyards and groundcare professionals the largest choice of easy-to-operate tractors, harvesters, material-handling and seeding equipment," CNH Industrial says. "New Holland complements the widest agricultural equipment offering in the world with efficient parts and service support and a range of tailored financial services from a specialist in agriculture."
The Case IH brand includes tractors, balers and combine harvesters. "The brand is synonymous with incomparable performance, low operating costs and a high level of reliability," the company says. "Case IH is recognized as a global provider of powerful, reliable and highly productive equipment, principally for large grain producers, and it boasts an organization of field personnel who are committed to providing a high level of professional services that can optimize management of an agricultural concern from A to Z."
The Austria-based Steyr brand has provided high-quality, reliable tractors to the European market for more than 65 years. Steyr exports 60 percent of its product to markets including Germany, Switzerland, Italy, Belgium, the Netherlands and Luxembourg. In addition, Steyr is growing its sales to Poland, Hungary, Slovenia and Czech Republic.
Construction Expertise
Two of CNH Industrial's brands are long recognized within the construction market. The Case Construction Equipment brand includes heavy excavators, wheel loaders, skid steer loaders, mini excavators and backhoe loaders designed to face extreme climate conditions and operate in high-risk situations.
"Case Construction Equipment has built a reputation as a premium manufacturer of a wide range of technologically advanced products for the construction equipment industry," CNH Industrial says. "In addition, for more than a century   Case has earned an enviable reputation as supplier to armed forces and other specialist organizations around the world engaged in activities such as dismantling land mines and re-building communities devastated by natural disasters."
New Holland Construction's equipment offerings follow the tradition of historic brands such as Fiat Kobelco, O&K, New Holland and Fiat Allis. "The merger of those brands' individual strengths and successes gave birth to a brand which embodies a rich heritage," CNH Industrial says. "New Holland Construction presents itself in the marketplace as a pioneer in the development of advanced and sophisticated earthmoving technology.
"Along with offering a complete range of products, New Holland Construction has concentrated its resources and investment on creating a widespread network of dealerships that abide by the following philosophy: listen to customers, take a personal approach to their problems and rapidly find a solution."
In addition to agricultural and construction equipment, CNH Industrial offers a range of light, medium and heavy trucks used in transportation and distribution. Vehicles are marketed under the Iveco and Heuliez brands.
Other CNH Industrial products and services include propulsion and transmission systems for trucks and commercial vehicles, as well as engines for marine applications and power generation. These systems are offered under the FPT Industrial brand.
Innovation on Display
CNH Industrial supports its international research, development, sales and support operations within the   CNH Industrial Village, a more than 74,000-square-meter facility in Turin, Italy. The facility, which opened in September 2011, includes a large display of vehicles.
The showroom includes a display highlighting the company's technological excellence and penchant for innovative solutions. In addition, an area of the showroom is dedicated to a gallery tracing the historic evolution of CNH Industrial's products. The facility also includes areas dedicated to after-sales and financial services and a large maintenance and repair workshop.
"Innovation and technological progress are the key levers that have enabled CNH Industrial's brands to maintain a significant competitive advantage and a global position of leadership," the company says.