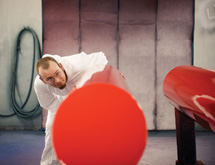 Code Blue has been on the cutting-edge of security solutions since it was founded in 1989.  During the past quarter-century, the company has grown into an industry leader in the emergency communication systems sector.
Code Blue's pioneering accomplishments include the development and production of blue-light emergency phones, which have been installed in thousands of education, corporate, hospital, airport and municipal locations around the world. The company can provide those markets with American-made help point, emergency signaling, incident response and systems management solutions.
"Around the time of the Virginia Tech tragedy, we began to see that the public was looking for better ways to communicate and feel safer on campuses," COO David Cook says. "After that, we saw our product volume double. Ever since, more education institutions and other industries with campus-style environments have increased use of our solutions because they know that when people see our blue light, they know they can get support when they need it."
Doing More
As it has since its earliest days, Code Blue is always looking for ways to improve its operations and offerings. This effort has included moving to a new 34,000-square-foot facility in March. Other aspects of continuous improvement are focused on understanding the technological changes that are impacting its industry.
In fact, one of the biggest ongoing changes for Code Blue has been the growth of IP technology. Traditionally, emergency phones have been analog devices. However, analog and digital technologies within the space are now coming together. In the long run, IP technology will overtake the analog elements.
"About 10 years ago, we began to see the convergence of the telecom world's telephone and data companies," Cook says. "But the security world has been slower to react and remained predominantly analog. What we've done is augment our team with people from the IP telecom space so we have complete analog and digital understanding. We are trying to develop a new breed of security professional with knowledge of old analog security systems and an understanding of networks and servers."
The new building is also a key part of managing the move from analog to the digital/analog mix, and eventually to solely IP technology. It is almost double the size of Code Blue's previous facility, and it has room for growth.
"We will be able to expand development of our products," Cook says. "We can run two lines in our facility as opposed to one in our old facility. The technology change means we must have IP people on staff. In the past, we may have looked for support from ODMs and contract manufacturers. But now, we can't farm out as much as we used to."
The new facility has allowed the company to hire its own software engineers. It has also allowed the company to bring its paint shop in-house, rather than having to ship units back and forth to vendors.
On the Move
Another important aspect of the new building's increased capacity is the fact that it allows Code Blue to continue to ramp up its international business. The company has been growing its overseas business alongside burgeoning infrastructure development in the Middle East, Asia and South America. International growth for Code Blue has been positively impacted by Michigan's State Trade Export Promotion (STEP) program, which connects Michigan-based companies with overseas business opportunities.
"We are looking at the parts of the world that are seeing the greatest infrastructure growth," Cook says. "We are finding that 'Made in the USA' still carries a lot of weight overseas. More than that, 'Made in Michigan' means a lot because of the perception of Michigan as a manufacturing hub."
Indeed, all of Code Blue's products are American-made. Additionally, the majority of the components in the products are produced domestically, save for a small percentage of components that aren't made in the United States.
"More than 60 percent of our product components are made in here in Michigan; most of our fabrication is done here," Cook says. "Working with the STEP program has helped us understand how to do business overseas and understand all legal and regulatory issues of how to do business in the international arena."
Awareness of regulations is also a concern on the domestic front. Understanding everything from building codes to FEMA and Homeland Security directives is critically important for Code Blue. This is why the company spends a great deal of time communicating with its contacts in the industries it serves and tries to stay ahead of the market by following all relevant codes and regulations from the start.
"We are prepared to build more product as needed in response to market changes because we understand that we must think long-term and know the viability of the markets we serve," Cook says.