Repackaging
Colin Mear Engineering is taking a fresh approach to the market as it looks forward to growth and diversification
Colin Mear Engineering Ltd (CME) first appeared in 1983 and over the last three decades has established itself as a leading solutions provider for the packing needs of some of the global tobacco industry's biggest players. With years of engineering experience providing a solid platform, CME designs and builds automated packing and wrapping equipment, with a particular focus on high quality, bespoke systems for a range of applications.
"Tobacco has traditionally been CME's core marketplace," begins recently appointed MD, Paul Knight. "However, this market has become very challenging over recent years and this is only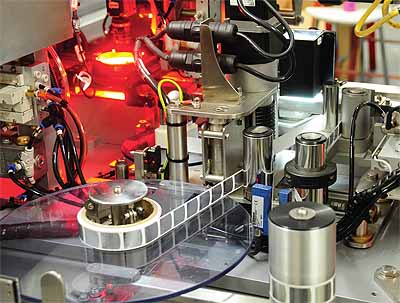 continuing as new legislation forces even greater change globally. Therefore, there must be a renewed focus on reinventing our place in our core market, as well as ensuring that our business can transfer the skills, experience, products and IP into new markets such as pharmaceuticals, food and medical devices. This is being implemented alongside improvements to our cost-base and efficiency, through the introduction of lean manufacturing and a culture of continuous improvement."
However, as with any diversification the challenges facing CME as it looks to broaden its appeal are plenty. "It is always challenging for a company that has traditionally worked in one marketplace to move into another, because you're unfamiliar with the market, the standards, the performance requirements for products and the different applications," Paul continues. "We recently won a major contract worth around £1 million in the pharmaceutical sector, for instance, and overcoming the differences in regulation, documentation and quality standards compared to the tobacco industry has been a really important journey for us."
With years of experience across multiple sectors and various positions, Paul was drafted in to help CME achieve this strategic refocus. Working his way up through numerous engineering, manufacturing, sales and general management positions from a mechanical engineering apprenticeship, Paul has worked for SMEs and multi-national corporations alike in sectors ranging from aerospace and defence to oil and gas. As a result, he brings with him the perfect toolkit to lead the company into a leaner, more diversified future. "I have developed a good blend of capabilities that will help enable a small business to stay agile, flexible and responsive, but also the importance of implementing robust business processes and driving efficiency, which are critical to successfully running a much larger organisation," he outlines.
However, it is not just the firm's newly structured business operation that will enable CME to win over customers in new markets, but also its long-standing and deep-seated ability to innovate unique solutions and service its clients to the full. Whilst generic, packing, wrapping and cartoning equipment is offered by the company, it is its bespoke offering that has afforded the business its leading position in its core markets. "The team here have got an incredible ability to design a completely unique, robotised and automated packaging line including the integration of any third party equipment required – from scratch," Paul emphasises.
"This could be a complex solution more that £2 million in value, that we can manufacture much of the componentry for, assemble, integrate, install and provide lifetime service and spares support to.
"Sometimes clients will provide us with a reasonably detailed specification that we can use as the basis for a design, and sometimes it can just be a simple idea. We then collaborate very closely with both them and our supply chain partners to come up with the best solution. Whilst we can do a lot in-house, often a complex packing line solution won't just be about the equipment that we design and build – we may also need to be a systems integrator and bring in other people's equipment, so engaging with our suppliers early on is key."
Indeed, with its current push for diversification, innovation doesn't stop at simply developing products for its core markets. Paul highlights that it is also playing a role in reducing the manufacturing cost of existing designs and improving designs to provide more features for new and existing markets. In terms of its present success, with a customer base spread across the world, market conditions for CME are currently strengthening. Solid activity in the Middle East and South East Asia, as well as in emerging African markets is providing significant opportunities for the Somerset-based manufacturer as it looks ahead to its future
"The next 12 months will be heavily focused on continuing this diversification strategy whilst at the same time ensuring that we are still doing everything we can for customers in our core markets," Paul explains. "There will also be a lot of efforts being put into modernising a lot of our business processes and introducing lean manufacturing principles to encourage continuous improvement. This will be supported by some capital investment to consolidate and replace ageing equipment and to improve some of our facilities.
"In the longer term I would like to see 25 per cent of our revenue coming from these new sectors in pharmaceutical, food and medical over the next three years, and to double our aftermarket support and spares service in the same time period. Aside from this I would certainly expect to see and feel the culture of continuous improvement embedded within the business as well."
Colin Mear Engineering
Services: A leading design, manufacture and systems integration company for automated packaging