Strong roots
Among the largest forest product-converting co-operations in Europe, the pioneering Colombier Group is the premier service brand to the global paper and board industries
With a history dating as far back as 1892, the Bjornberg family-owned international paper firm Colombier Group today has a solid global reputation and paper processing operations in Spain, The Netherlands, the UK, Finland, Germany, the Czech Republic and Belgium. Offically founded in 1975, the group became independent in 1997 and celebrated its 40th anniversary in 2015; this was a mere two years after its ownership was consolidated by two family members: Henrik and Gustaf Bjornberg.
With both Bjornbergs passionate about their belief in paper as a successful media platform and the environmental sustainability of the paper packaging and print industry, the two new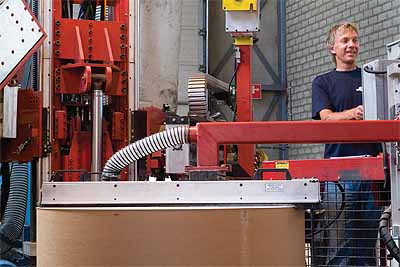 owners have focused on re-financing the group's operations in Finland and also secured long-term financing for its UK based business since taking over. The strategic decision to complete these actions has proven significant in guaranteeing the future financial health of the group; additional changes over the last three years have included acquisitions and expansion into new locations.
Operationally, the group is committed to further developing its extensive mobile and on-location conversion service network as well as its sales network for forest products. The group is also adding some prime paper sales to its portfolio, most of which will be sold under the private label Bjornberg 1892, which Colombier holds the license for.
The company also benefits from holding a patent for its paper sizers, as Juha Viitala, Managing Director of Colombier Group, discusses: "Owning licenses and patents definitely give us a competitive edge in the market, particularly when the paper sizers have become the fastest growing area of our business. We also own these for the mobile paper resizers that cut reels offsite and were actually the first in Europe to operate a stationary paper saw in 1992. Since then this led to us starting up with paper sizers in the UK in 1999 and essentially revolutionising our business through the delivery of this solution to customer locations. Instead of customers bringing the material here, we now go to the material; this of course offers a great deal of benefits to clients such as less logistical costs and less risk, the list goes on."
Within its service division the group operates ten mobile paper sizers across Europe and has expanded this with a range of complementary mobile support services such as reel packing and core reduction, the latter of which reduces the size of the inner cores of reels. These high-end sawing and resizing techniques have ensured the pioneering Colombier Group has taken the crown as the European leader in modern conversion.
Meanwhile, the group's on-site services, available at its units in The Netherlands, Finland, Belgium and the UK, are comprised of rewinding, resizing and sheeting; resizing is also carried out at premises in Germany, Spain and the Czech Republic. The most common reasons for rewinding include a change of diameter, a change of core, production of multiple webs, the replacement of a damaged or crushed core and quality control and removing unmade joins. Colombier Group's Jagenberg and Valmet rewinders are capable of handling a wide variety of
paper and board grades, with processed goods finished off with integrated packing lines that deliver mill standard packing; these offer the possibility of customising labels and bar coding.
Moreover, two sheet cutters are operated within the UK; these have differing specifications, which allow for a broad range of converting parameters in terms of board, woodfree, coated/uncoated, LWC and specialty qualities. There is also a sheet cutter in operation in Belgium that is suitable for board and heavier paper grades.
Represented through sales offices across Europe, Colombier Group's customers include publishers, printers, merchants, retailers and paper and packing producers and converters across the globe. "Our customers cover such a large spectrum as we have two activities in Europe, trading and paper conversion. The latter of which has become increasingly focused on packing materials, so wrapping paper, folding box boards and liner boards, we have a wide range of packing materials," says Juha.
The group's sales division is a well-established supplier of printing papers as well as a range of board and specialty paper grades; many specifications are carried in stock located across Europe. To remain competitive, Colombier Group continuously invests in its systems and processes to further accommodate smooth integration to customer routines; the group can also provide highly bespoke services when it comes to the delivery of the goods and conversion services. Whatever the demand of the customer, Colombier Group has the high quality product and all industry standards available.
Divided into three segments, prime trading, job lot and stocklots, Colombier Group offers a comprehensive supply of products to customers. Prime material, for example, is delivered back-to-back with the supplying mills, with customers enjoying ongoing, long-term supply and technical support. Prime grades include mechanical coated sheets 60-100 g/m2, mechanical uncoated sheet 48-55 g/m2, light weight coated reels, MG (un)bleached Kraft, ribbed Kraft, crepe paper and liquid container board.
The group also offers a quality controlled, neutrally branded product known as Joblot, which is delivered with runnability and often even printability guarantees that are suitable for multicolour printing on both sides. Many Joblot grades are held in stock at production locations in The Netherlands, Finland, the UK and Spain. Last but not least is the Stocklot sales segment; the group has developed a reputation for offering competitive prices and prompt collections of unwanted stock, with paper, board and specialty stocklots sourced and delivered across the globe.
Having recently expanded into Prague, where its shareholders also operate Bjornberg 1781 (www.bjornberg1781.com) Colombier Group anticipates continued growth over the coming years as it benefits from access into European markets. Alongside solidifying its foothold in a new market, the group will also be seeking to localise its services across all areas that it is based, as Juha concludes: "As a business we don't face competition on a global scale, however, we do see the need to localise our service offering over the next few years. On top of this, we also further strengthen our presence in areas such as Italy and France."
Colombier Group
Products: Printing papers, boards and specialty paper grades