For nearly 80 years, Colonial Tool Group Inc. has been manufacturing machine tools. It has evolved into providing turnkey solutions for broaching, tooling and machines, along with machining solutions for CNC spindles, indexable cutting tools and fixtures for automotive, heavy equipment, off-road and aerospace customers. The company also prides itself on producing custom-engineered products for the metal removing industry.
"Our products and services tend to last longer and outperform our competitors due to our engineered solutions," CEO Paul Thrasher says. "Based on offering our customers unique solutions to their problem, it's a lower cost to own for them. Products and services tend to last longer and outperform the competition's since we have engineered solutions for the customer. We don't typically have or make on-the-shelf  commodity products. We look for customers who have unique problems."
Thrasher, along with other managers Broach President Brett Froats and  Tom Alterman, purchased the company from its previous owners in 1993. But Thrasher has been with Colonial Tool for 30 years, starting as a spindle design engineer and worked his way up to project manager, general manager and now CEO. Through his long tenure at Colonial Tool, Thrasher has developed and fostered trusting partnerships with customers and vendors that allow the company to grow with them.
"Many of our customers from 10 years ago may have gone out of business or have been consolidated into larger companies who no longer have the human capital to sustain growth without strategic partners like Colonial," he explains. "They come to us as a strategic partner and that's where we can thrive. . We've had relationships with some customers for 10 to 15 years where we service and repair their equipment for them and return  it back in the field."
Thrasher says that vendors and vendor development are critical to the success of Colonial Tool, which treats them as an extension of its own capabilities. "We don't normally just try out a vendor just one time," he says. "Our products can be difficult to process at a new vendor's plant and they typically need several attempts to become proficient at delivering to our requirements. So, the process to qualify a new vendor can take months."
Tool Production
The company operates out of three facilities: Colonial Tool Group Inc., a 45,000-square-foot facility in Windsor, Ontario, housing 55 employees; Colonial Tool and Service, a 28,340-square-foot facility with 10 employees in Taylor, Mich.; and Colonial Tool de Mexico, a 45,400-square-foot facility with 13 employees in Ramos Arizpe, Coahuila.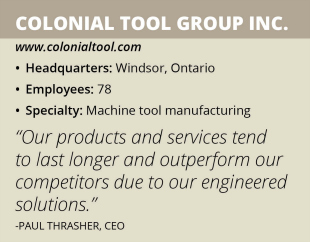 A few years ago, Colonial Tool consolidated two of its Canadian manufacturing facilities into one main plant. And its facility in Mexico continues to be a core location that helps the company expand its reach further. "Consolidation helped us with more consistent management and manufacturing practices and has allowed us to reduce redundant assets and expenses," Thrasher notes. "We also are focusing on a better strategic planning process that allows us to react quicker to market shifts like the high growth potential of our Mexico operation."
The more complicated processes in the company revolve around tool production. Colonial Tool engineers the product in-house after it receives the raw material and then turns the material, mills it, heat treats it, grinds it, adds coatings, balances it and tests it before it goes to final inspection. While it has a standard set of core products, the company evolves them through new features or an expanded product line based on customer needs.
"A customer might come and want to process a part that requires a larger machine, so we have to make larger tools on a larger machine for that customer," Thrasher explains. "Six years ago, we produced a six-axis CNC broach machine and it had automatic tool change on it. In the past, that product had not existed in our offering. The general product may have existed, but not with all the features. As new customer problems arise we begin to invest in new solution for them."
Thanks to the nature of its product line, some of Colonial Tool's products and services, such as its CNC spindle repair business, require it to have a substantial amount of inventory on hand for quick dispatch to customers, which is contrary to lean principles.
"We would suspect our employees feel we are too lean; however, we do not use one specific philosophy to run our companies," Thrasher says. "We are fortunate to have a strong vendor base who assists us in quick response or holding inventory for us. The concept is similar to 'sharing spares' between customers' manufacturing plants, where we are the centralized hub of repairable assets for many plants in North America."
In addition, Colonial Tool is an accredited ISO company and its operating systems require it to monitor, review and perform "lessons learned" on repeat problem areas. "Sometimes difficult problems take several iterations of corrective action to solve them but our people are very tenacious at problem solving," Thrasher adds.
Dedicated People
One of the biggest challenges facing many manufacturing companies is the lack of skilled labor in the market. Colonial Tool combats this through investing in recruitment efforts, such as an apprenticeship program in its U.S. and Canadian facilities, and ongoing, on-the-job training for its current employees.
"We believe our compensation is competitive with the marketplace, and we are one of the oldest machine tool companies in Windsor, Ontario, which offers our employees some sense of stability and loyalty," Thrasher says. "We believe that we foster a family environment to our employees. Our average employee probably has close to 20 years of service with Colonial Tool.
"We are most proud of our employees and their personal sacrifices they have made over the years to make our company successful," Thrasher says. "We feel privileged to work side by side with them each day, and we depend on them for their dedication and support. Many of our people voluntarily react to customer needs on a 24/7 basis, routinely responding to customer demands during off hours, on their weekends and holidays, and they treat Colonial Tool like they are the owners of the company."