Colours Inc.'s new headquarters and warehouse has boosted its efficiency.
When people look at a car or truck, one of the first things they immediately notice is the color. The majestic hue of a vehicle's paint job can be a major factor in how it makes an impression, and Colours Inc. plays an important part in that process.
Based in Hanover Township, Pa., the company is a leading distributor of automotive paint and supplies. President Tim Evans, a former race car driver, started Colours Inc. in 1986 after completing his last race at the Laguna Seca track in Monterey County, Calif.
As he was saying his goodbyes, he was approached by PPG Industries Inc. about opening a distributorship paint store in his hometown of Wilkes-Barre, Pa. He accepted, seeing strong value in basing its roots in the city where he was born and raised. "They gave me the rights to that, and I came up with the name 'Colours Inc.,'" he recalls.
Evans originally served as its sole employee, but Colours Inc. quickly grew to add more locations with the support of the local community. He also purchased several stores through acquisitions. Today, the company is one of the largest privately held firms in its niche, with 32 locations that service seven states.
Giving Guidance
Colours Inc. sets itself apart from its competition with the value-added services it provides clients. Instead of leaving them on their own, "We pride ourselves on our customers calling up for the hard questions and demoing the products when needed," Evans says.
His daughter, Chief Financial Officer Ali Mahalak, agrees. "It is important for our customers to receive the proper instruction on how to use our products," she says, explaining that the company has accomplished this by having its sales forces work with its manufacturer's representatives on a continuous basis. ColoursInfo
Colours Inc. also has its own Tech Team, with seven PPG-certified technical representatives who work at the company full-time and are available on an as-needed basis. "Additionally, these seven are available to test new products before they come to the market and give our vendors and sales force their input on how the product will work in the shop," she says.
"It is important for us to stay a step ahead in what products are coming to market and what we can offer to our customers to make the application of product easier for them," Mahalak continues. But there is more to Colours Inc.'s clientele than merely applying paint to vehicles.
Instead, she explains, they want to grow, be profitable and provide exceptional service their own clients. "Our business development managers service our customers by taking the time to sit down with them and learn what they need to make their business better," she says.
Colours Inc. can help them do this by tracking purchases and the usage of products in their shops to eliminate waste and review usage trends. The company also has the ability to utilize Six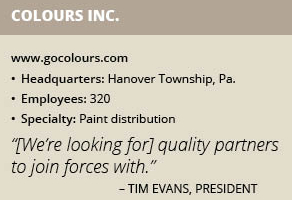 Sigma professionals who can help create shop SOPs and process flow improvement studies.
"Additionally, we are able to host training classes for our customers and the rest of the industry both on-site at our customers' and at centralized locations to our stores with industry professionals in shop management, insurance standards, effective estimate writing and green belt training," Tim Evans adds.
Building the Business
Colours Inc. has followed a successful growth strategy of expanding its current locations and making acquisitions. "We are fortunate to vet quite a few locations each year, but we make sure that they are the right fit for our structure, both culturally and financially," Evans says.
The company also has been fortunate to work with strong past owners who have stayed on to become part of the Colours team and helped it grow. "Great people are what continues Colours' success," he asserts.
Each potential acquisition undergoes a rigorous vetting process before the final purchase is made. "We don't need to stub our toe on anything," Evans says. "That's been our approach and we get great people out of it."
Its status as a PPG Platinum distributor also is a deciding factor in the stores it chooses to acquire. "We would probably not buy anything that was not 60 percent PPG, [due] to our Platinum agreement," he says.
A Game Changer
Colours Inc. recently expanded its operations with the opening of its new, $6.6 million headquarters and warehouse in Hanover Township. "That's a game changer for us," Evans declares.
The company previously utilized modestly sized facilities, but its new location features 50,000 square feet of warehouse space and 10,000 square feet of offices. During the design process, Colours Inc.'s management team sat down with the architects and engineers to review what changes were needed on renderings.
The team also went over the company's personal "wish list" and how it could make the facility's training center state of the art for its industry. "In order to ensure that we were using the most effective use of space, we worked closely with a supply chain specialist to create that natural process flow," Evans recalls. "Our supply chain is a priority to our company and the warehouse treats each of our branch locations as their most valuable customer."
The new training facility, Mahalak notes, allows Colours Inc. to better meet industry needs with a classroom setting that can seat up to 50 people and a hands-on training room where work situations are replicated. "It is so important to get the shop techs' hands on the products to get them used to how the product works," she says.
"Creating this separate training center has allowed us to host shops from across our geographical footprint at their convenience," Mahalak continues, noting that its position separate from the rest of the headquarters allows it to be used after hours or on weekends. "We really wanted to make that available to our customers and our vendors to get the techs the best experience, when it is convenient for them."
A Top Team
Evans is proud of Colours Inc and how its staff is dedicated to product performance and growth. "Our people are the nucleus to our company," he says, noting that its staff includes several members who have 33 years with the company.
"They are loyal, hard-working and passionate about Colours growing and being a powerhouse in the industry," Evans says. "We love what we have created with our people."
He praises members of his team at Colours Inc., including Mahalak. "Ali has been able to bring her accounting and management experience to our team as we continue to grow by developing more sophisticated business and HR practices into our company as well as vetting our growth strategies and acquisitions," he says. "It has been a great joy of mine to watch her enjoy this business as much as I do and work alongside of me as we continue to grow this business together."
Its key associates also include Vice President of Operations Bill Snipas, Vice President Brian Marcks and its team of regional managers and business development managers, who often will send Evans work-related e-mails even after their shops have closed for the night.
Mahalak adds that Colours Inc. brings its staff together with an annual summit in the Pocono Mountains, Pa., where employees have the chance to share ideas, celebrate each other's success and leave energized. "At that summit, we have also been able to include a large trade show," she says, noting that it is open to everyone.
Last year, the summit had more than 650 attendees who learned more about what Colours and its partners can offer them. "We hosted classes and seminars, gave away prizes and provided them the opportunity to have all their vendors in one room at the same time," she says.
Product Partners
Colours Inc. values its relationships with its manufacturers, which it carefully evaluates before adding their products to its stores. "Our partners in this industry are able to bring new products into our purchasing team, who then distributes these products on our test basis to our technical team," Evans describes.
The company then tracks the results by looking at such areas as ease of use, price to the shop and the overall experience using the product. "We want our team to be familiar with every product we are selling, and we rely on our manufacturing vendors to get these in our hands," he says. "The best way to sell these products is by demoing these products in the shop and believing in the product yourself."
But Colours Inc.'s manufacturers also help it stay current with the industry. "The industry and the paint available on both the automotive and commercial side is evolving every day to meet the demands on the market," Mahalak says.
"In order for our team to have the most up-to-date knowledge, we believe in continuous education and training for our employees," she continues, adding that this is achieved by bringing its team together at its training center or at a manufacturer's center for seminars, training and hands-on education.
Colours Inc. also sends several of its employees to SEMA, an industry trade show, every year. "Our employees can bring back the latest tools, what's hot in the market right now and what's creating a buzz," Evans says. "We will build on that excitement through sales specials of new products to our customers."
Giving Back
Colours Inc. focuses on giving back with its Colours Charitable Giving initiative as well as through contributions to those who are learning the painting trade. "We want our products in their hands and for them to be comfortable when they are ready to go out looking for a job that they have used different paints, sealers, sand papers and tools," Mahalak says.
This year, Colours Inc. donated more than $630,000 worth of product to over 15 vocational schools in its geographical footprint. "With an aging industry, it is important to get quality people excited about the future of their trade," Evans asserts. "We can do this by getting them as many touches to the products as we can."
Evans sees a strong future ahead for Colours Inc., which has no signs of slowing down its growth. "Our management team is highly involved in ensuring that we are actively conducting market surveys for potential areas of growth as well as continuing to provide top-notch service to our current customers in order to allow them to continue growth with us," he says. "We are excited for the future of the company."