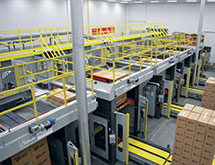 After nearly 80 years, Columbia Machine Inc. has gained the expertise to provide "the product solutions that the customers are looking for," Vice President of Operations Bryan Goodman says. "Our ever-reaching effort to see business from the eyes of our customers allow them to have better performance by using our equipment."
Vancouver, Wash.-based Columbia Machine designs, manufactures and supports equipment for multiple markets including paper, cleaning products, and food and beverage, which makes up the majority of its customer base. "Many of them are Fortune 500 companies," Division President of Palletizing Pat O'Connor says. "Virtually anything that you can buy in the store as a consumer is a candidate for our products."
Founder Fred Neth Sr. started Columbia Machine in 1937 and today, its offerings include concrete products machines, batching and mixing automation, palletizers, systems integration and manufacturing services. O'Connor says the company's emphasis on safety has kept it strong.
For instance, "Palletizers are equipment that's critical," he says. "We pride ourselves on always having the best safety systems [on them]. I think that sets us apart."
Columbia Machine's products are also flexible, he adds. "Our customers expect a machine to be able to handle all different types of packaging without changeover, [whether it's] shrink-wrapped [or] not shrink-wrapped," he says.
O'Connor adds that the company is aggressive in product development and has a new palletizer it will bring to the PACK EXPO International show in Chicago this November. The HL7200 palletizer is capable of running more than 100 cases a minute.
"It's our latest design," O'Connor says, "We are redesigning the whole high speed end of the product line. Once that development project wraps up, we're turning our attention to a new product in floor-level palletizing."
Columbia Machine utilizes thorough practices to ensure quality in its machines, Goodman says. During the design and manufacturing process, products are checked and rechecked repeatedly before assembly.
Even after its machines are assembled, the company's engineers will return and go through an extensive checklist to make sure it will operate to the customer's expectations. The last step, he notes, occurs in the customer's operation, where Columbia Machine ensures it "performs just as it did when it left the factory, and meets our customer's needs and expectations," he says.
"We'll have a service tech out in the field for that part, and our objective is to have a 'vertical start-up,'" he adds. "This reduces the installation time and allows our customer to put the equipment to use with confidence much quicker."
Getting it Done
Columbia Machine also utilizes lean manufacturing practices and is a member of Northwest High Performance Enterprise Consortium (NWHPEC), which promotes the use of lean, Goodman says. He serves as president and a board member of NWHPEC. The company also uses many of the lean tools to improve its business daily, such as 6S and value stream mapping.
One of the most rewarding tools that Columbia Machine has used, Goodman notes, is an effective employee idea system, which includes boards in each department that have employee identified continuous improvement opportunities that can be accomplished in a 30-day time period. "We want to capture those opportunities that our employees can quickly put in place to make their jobs safer, easier and more efficient rather than larger projects that will require 80 hours of project time," he says. "The larger cross functional projects are documented in a department continuous improvement project log."
These tasks could include reorganizing a machine tool area to provide better access to tools and parts, or improving the safety of a fixture or lifting device. Usually, four projects are put on a board at a time. "These would be pretty simple, 'Hey, let's go get it done'-types of projects," he says.
A Creative Spirit
O'Connor is proud of Columbia Machine's staff, which focuses on its customers and carries a spirit of teamwork. Additionally, "They're very creative," he says. "Sometimes machinery companies get stale. That's not a problem here.
"We are always coming up with creative solutions for customer problems," he explains. "Columbia Machine has a reputation for very well built equipment and very good customer service."
Goodman agrees and praises Columbia Machine's ownership. "They're just genuine people that are concerned about the employees, as much as the business," he says. "They'll make decisions that may not benefit their pocketbook in the short term, but certainly benefit the employees and create a teamwork and retention."
Owning the Market
Some predicted that conventional palletizing may die out, but it will continue to play a part in Columbia Machine's future, O'Connor asserts. "As it continues to evolve and as long as we stay creative, there's still a place for conventional palletizing technology for a long time to come," he says.
"We're always bringing out new products that provide solutions to our customers, so I see continued growth certainly in the Americas," Goodman says. "We are very well positioned in this part of the world."
However, "We also ship to over 100 countries worldwide," he adds. "I see that continuing because of the quality and valued solutions that we provide to our customers."