As a niche provider of porcelain-on-steel, hand-crafted wood, and specialty ethnic kitchen and cooking products, Columbian Home Products has distinguished itself as the big fish in a small pond. While aluminum and stainless steel have taken over the market for mainstream pots and pans, there is still a strong consumer base in need of items such as stir-fry pans, bamboo steamers, tamale and menudo pots, seafood steamers and turkey roasters – items that are Columbian's niche.
"We're more of a specialty cookware manufacturer than a general-purpose cookware manufacturer," says Dick Ryan, owner of Columbian. "We have a niche that is a relatively small percentage of the grand total of things, but we have a very large share of this small market."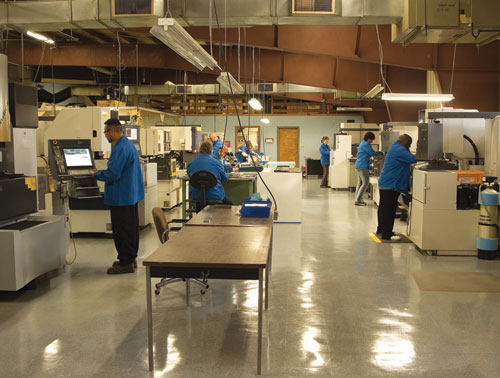 From its 850,000-square-foot fac­ility in Terre Haute, Ind., and its 75,000-square-foot facility in Crandon, Wis., Columbian produces Granite•Ware® porcelain-on-steel cookware, and wood kitchen products under the Snow River and Grande Epicure brands. The company distributes the Joyce Chen line of Asian cookware and other specialty ethnic cookware and accessories un­der the Mexican Fiesta, Italian Villa, Country Cabin, and China Village brands through a warehouse near Los Angeles. Between these three locations, along with a corporate office in Lake Zurich, Ill., Columbian has led the specialty cookware market for the past 11 years.
However, instead of resting on experience and rapport with customers alone, the company pushes itself to maintain that leadership. In fact by the end of fourth-quarter 2011, the company plans to introduce a new line – Heritage Collection, which celebrates the 100-plus year history and tradition of Granite•Ware® and will include the best-selling pots and pans in new drop-shippable packaging, so it can be sold on the Internet, or direct shipped to customers – supplying traditional cookware with a modern twist.  Currently, the company distributes only to retailers.
In March, Columbian introduced three-dozen new products at the International Housewares Associ­a­tion show in Chicago. The Snow River line, which includes products made from recovered wood including bowls, serving utensils, kitchen carts and cutting boards, was beefed up with 24 new products. But 12 additions to the Granite•Ware® line proved to be the company's big hit.
Granite•Ware® pie and pizza pans are already favorites for customers looking for a perfectly browned crust. The company took the concept and adapted it for new applications. "We adapted it for cookies, brownies, pound cakes, muffins – anything where browned edges are important," says Vice President of Marketing and Product Development Fred Cecala. "It turns out we weren't the only ones who thought it was a good idea. Many people at the show were saying this was exactly what they were looking for."
"We develop products that help you do one thing better than the rest," Ryan says. "If you need a better way to make cookies, we have Better Browning Bakeware that has browning characteristics."
Looking for Value
Ryan says that because the items have special applications, most people will not use them every day. For instance, Granite•Ware® offers roasters that can hold up to 25 pounds. It's a common product used at Thanksgiving and Christmas, but less often for everyday cooking.
For this reason, Columbian maximizes its resources to trim expenditures. Ryan claims that there isn't one fix-all to cutting manufacturing costs; instead, he says the company looks for ways "to save a few more pennies here and there."
Take, for instance the mechanized process it uses to weld handles onto pots and pans. It's less labor-intensive and allows the company to use one operator as opposed to three. It also uses a progressive dying system so instead of moving large volumes of product from press to press, a batch can be set on one press with multiple stamping operations. The company also leverages a unique and proprietary process for enamel application that requires less energy, and it employs a staggering process to cut circles from its square steel blocks.
Perhaps its most cost-saving practice is in its line of wood products. The company has developed relationships with mills to purchase residual wood. "The mills we work with intend to produce wood panels for fine furniture and cabinetry," Ryan says. "But they can't do much with a short piece, so they will sell us the short pieces. That way, we don't cut down trees to make our product. Instead, we buy quality product and at a good price."