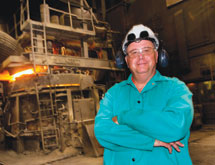 The force behind American commerce is defined by more than merely the drive for financial profit. It goes beyond goal setting and strategic planning. It's rooted in the strength of human character, inspired by a resolve that refuses to admit defeat, and an unyielding determination that presses on in spite of overwhelming odds. It's the indomitable will of the American Spirit.
That spirit is alive and well today in American enterprise. It explains the emerging renaissance of American manufacturing that is underway. And leading the charge in this pride-in-American-manufacturing comeback is the largest single-site steel foundry in North America – Columbus Castings.
Repatriating U.S. Production
It seemed like a good idea at the time – ship work overseas where labor was cheap and finished material could be manufactured at less cost in order to be more competitive in the marketplace. For a number of years, it was the popular choice, but there was a flip side. It hurt American industry, weakened the U.S. economy and eliminated jobs.
Shipping jobs overseas meant a loss of personal touch. You couldn't assure your customer of quality workmanship because you had no control over it. In fact, you had no idea of the qualifications or even the identities of those doing the work. And shipping massive steel castings like the ones produced by Columbus Castings presented two other major drawbacks:
This process was expensive, and the high shipping costs considerably reduced profit margins; and
It took a long time – between 12 to 14 weeks, a serious disadvantage for the fast-paced and unforgiving competitive market of American business.
So major steel customers like Caterpillar, Komatsu and Hitachi began repatriating back to the United States and looking for reliable American manufacturing steel suppliers. Their gaze naturally landed on Columbus Castings.
And like a ravenous, sleeping giant awaking from hibernation, Columbus Castings responded with competitive energy and surprising innovative agility for a 110-year-old company. With renewed flexibility and revitalized market savvy, it's demonstrating that the American spirit is alive and well and poised for explosive manufacturing growth.
Man on a Mission
Leading the way for Columbus Castings is new President and Chief Executive Officer Richard T. Ruebusch, who has been on board since February. His 14 years of global foundry and lean manufacturing experience uniquely qualify him for the job, and he has successfully led five other companies.
A graduate of The Ohio State University, Ruebusch has an engineering degree and GE Black belt with a proven history of re-vitalizing companies by developing lean and best practices. He's held numerous prestigious, senior executive-level assignments – most recently CEO at Montana Silversmiths, a private equity portfolio company of American Capital (ACAS). Ruebusch has also led Fortune 500 multinational firms like SPX, GE and Precision Cast Parts Corp. Already, his presence at the helm is making an appreciable difference.
But none of this is apparent when you meet him. He's unassuming in both his dress and his demeanor. Perhaps it's his love for the rugged outdoors and the years he spent in Montana. Maybe it's the big, shiny, western belt buckle he sometimes wears that suggests he's a cowboy at heart. Or possibly it's just the easygoing, yet quiet self-confidence in knowing he's a man with skills and a man on a mission with nothing to prove to anyone but himself.
Ruebusch speaks simply, directly and with authority, and you're immediately convinced his words are more than a prediction when he announces his plans for Columbus Castings by saying, "Our goal is simple. It's to be the best large steel casting company in the world."
What is immediately obvious about Ruebusch however, is his passion for American manufacturing and in keeping jobs in the United States. "This is my second experience in bringing jobs back home," Ruebusch says. And he's already made great strides in strategically positioning Columbus Castings in the market. Since February, the company has built confidence in itself and established confidence among its clients that it's able to take on any job.
But Ruebusch's mission is not focused solely on work or even the revival of American manufacturing. His passion for meaningful purpose involves investing in and giving back to the community. And he's injecting that philosophy into the entire culture at Columbus Casting. His own personal cause is represented in his work with the Special K Ranch.
The Enterprising Spirit
Special K Ranch is nestled in a picturesque setting in rugged hill country. It's situated on 230 acres located 10 miles west of Park City and eight miles east of Columbus, Mont. It serves people with developmental disabilities who need a supportive community – a home for them to live, learn, and work along with loving and caring advisers.
But the ranch is about more than providing living space for the disadvantaged. Instead, it focuses on presenting residents with opportunity and encouraging each one to reach their full potential. It's about proving that everyone can work and effectively participate as a member of the group.
Therefore, residents are expected to contribute to the community and learn independent living and vocational skills by assisting in daily personal, household and ranch responsibilities. Those living in homes are expected to maintain them. Furthermore, everyone shares in raising livestock, growing bedding plants and hothouse tomatoes in the 36,000 square feet of greenhouse, and caring for trees and shrubs in the nursery. All trees and shrubs are sold in the local community to help support the ranch.
The Ranch seems like an unlikely environment for a manufacturing plant. And yet, through Ruebusch's influence, Special K Ranch has established a manufacturing facility that takes on special assembly projects for numerous enterprises. In fact, they have so distinguished themselves in their assembly-line capabilities, they are completely booked with projects for the entire year.
The real lesson, however, is on how Special K Ranch demonstrates the American spirit. Rather than focusing on their disadvantages, residents focus on their contributions. And like every other American worker that takes pride in their job, they demonstrate the same dedication, the same commitment to excellence and the same willingness to demonstrate innovative solutions to unique problems. They maximize their skills, strive to constantly learn and improve, and make every effort to be productive members of society.
"The Special K Ranch represents a mighty force," Ruebusch says. "It's a shining example of American manufacturing at its best and the enterprising spirit of the American worker."
Ruebusch hopes to duplicate the Special K Ranch model in other communities across America to show that the American spirit can be demonstrated anywhere and in anyone. He believes that anyone that wants to work can be a productive member of society when given the opportunity and the resources.
A Rich Legacy
Celebrating 110 years in business this year, Columbus Castings has a rich, historical legacy as America's largest steel foundry. It manufactures complex steel castings for the mining, construction, and agricultural equipment, power generation, motion control and many other industries. With its flexibility and lean manufacturing expertise, it produces high-quality industrial castings weighing from 100 to 70,000 pounds.
Formerly known as Buckeye Steel Castings Co., the company established itself on its current site in 1902, and has roots extending back to 1881. The company is now owned by Protostar Partners LLC, a private equity company whose leading vision and innovative approach is carving a new path for Columbus Castings.
"If you visit our manufacturing plant, you'll see placards from World War I, World War II, the Korean War and the Vietnam War," Ruebusch says. "In times of need, we've made everything from tank turrets to bailey bridges. We have an impressive legacy of serving as a strategic asset to the nation."
Steel castings produced on the company's 90-acre manufacturing campus continue to be used for many of the country's most important infrastructure-related functions.
"When it comes to infrastructure, we are uniquely positioned to do things other companies can't do," Ruebusch says, citing its recent production of steel castings used for flood control support in New Orleans specified by the U.S. Army Corps of Engineers. "We were the only ones who could make those castings, which weighed more than 70,000 pounds."
The ability to produce industrial equipment for companies like Caterpillar, Komatsu and Hitachi is motivating their decisions to repatriate production jobs back to the United States from China, India and other countries. "Our capabilities have made us more competitive with overseas companies because our best practices have increased our cost-effectiveness and reduced our lead time," Ruebusch says.
Ruebusch credits lean manufacturing initiatives with an ability to produce high-quality components in less time than it would take to ship them from overseas. The company has achieved a 30 percent improvement in its cycle time during the last year. Its progressive approach to higher quality and improved manufacturing process is enhanced through the extensive testing conducted in its state-of-the-art industrial radiography lab, technology center and other quality-control sites within its facility.
"Time is money," Ruebusch says. "You can get castings from India or China and have no idea what level of quality to expect. It takes 12 to 14 weeks for those castings to arrive and then you may discover the component is bad and needs significant reworking."
In contrast, Columbus Castings produces and ships average components in less than 12 days, with larger components taking only around nine weeks. Since its products are used worldwide, it also meets international quality standards and holds numerous certifications including ANSI/ISO/ASQ 9001 and American Association of Railroads (AAR) M-1003.
A Hometown Sponsor
Columbus Castings is a critical part of its local economy and takes that responsibility seriously, too. Situated in a low-income area, the company provides training programs for unskilled labor within its core disciplines that include welding, burning and non-destructive testing as well as professional development programs.
"We've been blessed as a company and feel compelled to support those with less in our community," Ruebusch says. "So we offer very competitive wages, full health insurance and a career opportunities that let people provide for their families and enjoy a higher standard of living. It keeps jobs home rather than shipping them overseas."
This approach pays intangible dividends by offering an opportunity to earn a decent living and learn what it means take pride in work to those who might not otherwise have the opportunity. It's a pride the company shares, as well.
"It's extremely satisfying to see workers grow in work ethic, self-confidence, and develop a sense of team pride in their company," says Ruebusch. "It's all part of what embodies the American spirit."
Moving Forward
As the company moves forward, Ruebusch is emphasizing greater responsibility toward employees and the environment. During his brief tenure, significant improvements have already been made in the company's safety record. As a result of increased employee communication along with a revitalized safety presence and training across all shifts, the company's safety record has increased by an amazing 80 percent over the last several months.
The company also is implementing several green initiatives. First, it is exploring methods to recycle the huge amount of sand that is produced as a manufacturing byproduct instead of sending it to the landfill. In addition, there is a huge pile of residue on the property that will be dispersed through environmentally safe channels.
With an illustrative history behind it, a can-do attitude of pushing ahead, and a passionate leader directing its course, the future of Columbus Castings is bright.
As the company combines grit, technology and an enterprising spirit of local, national and global proportions, it will continue to move both itself, and American manufacturing as a whole, forward.
"We are proud of our people and our support from as well as in the community," Ruebusch says. "And we are proud of the products we make because they support our nation's infrastructure."