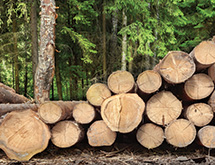 Sawmills and other wood processing facilities across North America look to one company to meet their equipment needs. Comact offers customers what it calls "the most comprehensive range of wood processing products on the market."
The company engineers and manufactures mechanical sawmill equipment including log handling and processing machines; primary and second log brakedown machines; and edging machines. Comact also offers electronic-based systems including laser-cutting machines.
"We feature everything from mechanical equipment all the way to digital vision optimization, not to mention automation and controls," the Saint-Georges, Quebec-based company says. "We manufacture equipment meant to meet the requirements of clients in the softwood as well as in the hardwood processing business."
Founded in 1924, the company primarily serves the North American wood market, but also provides equipment to mills globally. Since 2013, Comact has been a part of the BID Group of Companies. BID specializes in manufacturing and construction projects for the forestry industry. "Thanks to our greater capability in sawmill design, manufacturing, and delivery (since the acquisition), Comact is now one of the largest companies of its kind in North America," it says.
Comact's recent customers include L&M Lumber, a British Columbia-based wood processor to which it recently provided a processing line used to process logs with a diameter over eight inches. The new line allowed L&M Lumber to expand its production capabilities, Comact says.
The company also recently custom-built a combination sawmill and planer mill for J.D. Irving Ltd., a New Brunswick, Canada-based forest product company.
'World-Class' Service
Comact is September enhanced its operations when it opened a new, 30,000-square-foot optimization facility in Mirabel, Quebec. The investment will "allow its people to operate and provide services in world-class facilities to its valued customers," Comact says.
The new facility gives Comact a dedicated testing and training space. The office houses more than 110 people including the company's optimization services and after-sales service team and calling center as well as administrative staff. Staff and technologies formerly housed in a facility in Boisbriand, Quebec, were relocated to the new site.
"The project became a priority in June 2013," BID Group Chairman and managing director Brian Fehr stated in a press release. "We wanted to be able to offer our customers an experience that matched the quality of products and services delivered by Comact."
The new facility allows Comact to better prepare its projects. "[The facility] will facilitate teamwork, inducing change in our methods of work and, ultimately, will be a great added value for our customers," the company adds. "In addition, our new area fully dedicated to customer tests will allow staff to validate the potential of our products in a comfortable, realistic and safe environment."
Partnering Up
Comact partners with a number of suppliers it considers the best in the industry, it says. These suppliers include its sister companies within the BID Group of Companies as well as:
> ANDRITZ Iggesund Tools, which provides tools ranging in function from debarking up to and including lumber processing;
> Falcon Engineering, with provides a grading technology that determines the stiffness of timber using sound waves;
> Key Knife, which manufactures knives for canters and planer systems used to process wood;
> LMI Technologies Inc., a part of the Vision Group of AUGUSTA Technologies AG, a research and development organization that specializes in manufacturing 3-D measuring sensors;
> Equipements PHL, which offers turnkey equiprment solutions for sawmills, planer mills and wood handling systems;
> Lico Machinery Inc., a designer and fabricator of equipment for sawmills, flooring plants and other seconday wood transformation uses;
> Rockwell Automation, the world's largest industrial automation company;
> Samuel Strapping Systems, a provider of industrial straps and packaging;
> SCS Forest Products Inc., a supplier of industrial humidity measuring devices;
> Les Equipements YGE, a filing machinery producer.
Comact's suppliers enable it to fulfill part of its mission statement, which is to "provide the wood processing industry with high-performance equipment and superior services," it says.