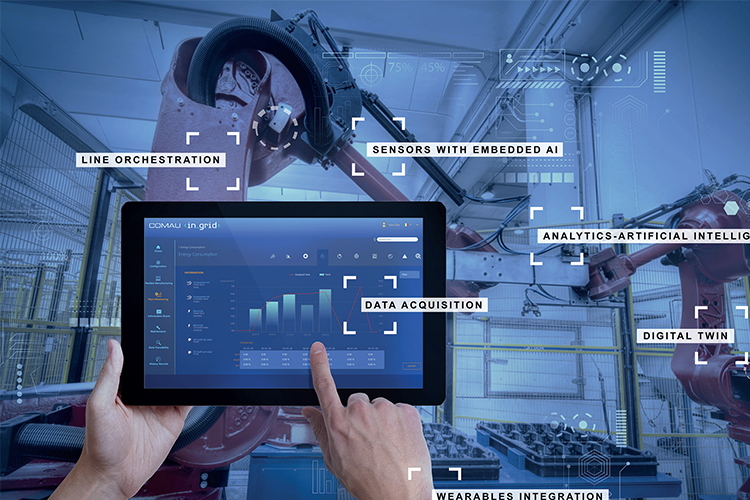 Towards industry 4.0
Back in 1973, a group of Turin-based engineers and companies took the decision to pool their talent and skills, and form an organization. Then known as the Consorzio Macchine Utensili, now Comau, the company quickly forged a global reputation, reaching a high point in the mid-1980s, with the development of its very first robotized system and hydraulic robot, just to provide a first example when it comes to its efforts in innovation.
Ever since, Comau has retained its position as a leader in the supply of advanced industrial automation products, solutions and systems. Consistently one of the first-to-market with disruptive technologies and groundbreaking ideas, the company boasts a wide-ranging portfolio spanning a variety of industries, including electric, hybrid and conventional vehicles, industrial and collaborative robots, wearables, self-controlling logistics, machine centers and networked digital services. True to its roots, it remains headquartered in Turin's Grugliasco district, albeit with an international footprint comprising six innovation centers, five digital hubs, and nine manufacturing plants spanning 13 countries, in addition to a consolidated network of distributors and partners.
Underpinning Comau's track-record of success is a deep-rooted commitment to research, development and innovation. "Our objective is to make automation easier, more efficient, and open to companies of all sizes," explains Andrew Lloyd, E-Mobility Segment Leader at Comau. "We've recently demonstrated this in our collaboration with Rockwell Automation, as part of which we integrated our Rebel-S SCARA robot into their iTrak system, thereby delivering enhanced Pick & Place performance. Likewise, with the introduction of the MATE (Muscular Aiding Tech Exoskeleton), we became the first major company to introduce a wearable passive exoskeleton for the upper limbs, providing consistent, ergonomic support for the shoulders and upper body to ease muscle fatigue and facilitate movement for overhead and repetitive tasks. Comau's new Racer-5 COBOT is another example of Comau innovation in robotics. Racer-5 COBOT is an industrial speed 6-axis articulated robot that combines speed and precision with collaborative safety functionality."
The company continues to leverage its longstanding experience in automation systems for the development of innovative products and processes, as well as flexible, modular engineering solutions. "Our LHYTE (Laser Hybrid Technology) system is one such innovation," says Andrew. "It's designed to automatically alternate fiber and diode lasers to ensure an optimal, high-precision joint. LHYTE was a key feature of the high-volume lithium-ion battery production line that we'd developed for Leclanché, a leading global provider of high-quality energy storage solutions for the heavy transportation, naval and railway industries.
"Meanwhile, MI.RA/Thermography, our unique inline, automatic and non-invasive testing methodology, uses thermal imaging and artificial intelligence to assess each welded joint, ensure battery integrity and prevent waste. Another novel technology is MI.RA/Dexter, a metalanguage software that enables simplified programming of robotic applications. Because it can be used without the need for specific IT or programming knowledge, MI.RA/Dexter both speeds deployment and reduces costs."
Collaborative approach
Comau recently announced a new version of the MATE: the MATE-XT (eXTreme), engineered for indoor and outdoor use. Developed in partnership with IUVO, a collaboration between The Institute of BioRobotics at the Sant'Anna School of Advanced Studies (SSSA), and leading Icelandic non-invasive orthopedic specialist ÖSSUR, it's indicative of the company's proximity to cutting-edge research organizations.
"We're also actively working with universities, institutions and other companies within the electrification sector to advance technologically valid solutions for the repurposing of vehicle batteries," Andrew reveals. "In particular, collaborative robotics and vision systems represent key elements for automated, safe and efficient battery disassembly and reassembly, thereby helping to make the remanufacturing processes both economically and technically feasible.
"In Italy and the EU, we're also actively supporting small and medium-sized companies in the transition to Industry 4.0, or the so-called 'Fourth Industrial Revolution'," he goes on. "In competence centers such as 'MADE', led by the Politecnico di Milano, or others across Pisa and Turin, we capitalize on the technological know-how of our Comau experts to offer orientation, training and operational support services for companies. We are also part of EIT Manufacturing, an innovation community promoted by the European Institute of Innovation and Technology."
A standout among Comau's recent projects is its design and deployment of manufacturing lines for automotive manufacturer Fiat, ahead of the launch of the company's inaugural 100 percent electric vehicle: the New 500. "In addition to commissioning a total of 187 next-generation Comau robots to build the New 500, we helped Fiat to reengineer the body of the iconic vehicle to house its battery and transmission," Andrew reveals. "It's yet another example of our collaborative approach to engineering. On the opposite side of the world, we recently delivered a high-volume electric drive assembly line for Geely Automobile Holdings, that doubles the automation rate at the group's Geely Veremt plant in Ningbo (China). Another interesting project is our work with California-based Mullen Automotive, an emerging electric vehicle manufacturer. We are working closely with their extended team to design and build an automotive bodyshop (the expansion plans call for 1.2 million-square-feet of body shop, paint shop and general assembly) at the customer's Advanced Manufacturing and Engineering Center.
"In early 2021, we were also asked by the UK Battery Industrialization Centre (UKBIC) to develop and deploy a semi-automated battery module and pack assembly line for their publicly-funded open-access battery production development facility," he continues. "Again, the project had us working in close collaboration with engineers from UKBIC. We provided all the necessary technology and know-how to manage the entire manufacturing process, from cylindrical cell preparation and pouch cell stacking, all the way through to the battery pack assembly."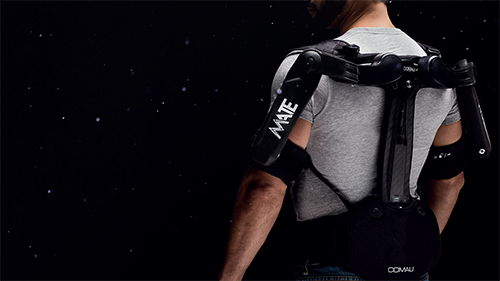 In return for its work, the company laid claim to two notable awards: in 2021, the Volvo Cars Excellent Supplier Award, recognized by Volvo APAC, and for the third consecutive year it was named as GM's 'Supplier of the Year 2020'. "We've been working with GM for years now," Andrew states. "Comau is honored to be named 'Supplier of the Year'. As a leader in high-performance framing, bodyside and Body in White systems, we appreciate GM's recognition of our commitment to their success. This important award reflects our customer-centric approach to creating and sharing value, which has been a fundamental pillar of our longstanding collaboration."
For Andrew, the accolades also speak to the lengths to which Comau will go to develop a clear understanding of its clients' objectives. "We pride ourselves on a consultative approach that privileges innovation and customer-centricity," he confirms. "Our team often starts by studying the customer's existing set-up to identify bottlenecks in production where output and productivity need to rise, where costs have to be reduced, and where quality and consistency must improve. It's an approach that encompasses each phase of a project, beginning with preliminary discussions, design execution and installation of the solution at the customer's site, right through to its operational management over time."
Building value
With a growing focus on sustainability across the globe, an increasing portion of Comau's work centers around leveraging its own experience to support the realization of its customers' carbon neutrality goals. "We're focused on solutions that help reduce water and energy consumption," Andrew outlines. "Within the electrification segment, we've seen a huge increase in demand for advanced solutions that can accelerate the production of cost-effective, high-performance, durable, safe and recyclable batteries. With this comes an increasing attention to process optimization, and to the seamless integration of robotics, laser welding, AI and other innovative technologies.
"There's also an increasing number of innovation hubs and competency centers focused on zero emission goals," he adds. "Here, Comau's unique expertise and in-house technologies give us a competitive edge. We have the capability to validate, test, and prototype advanced systems and solutions within our laser laboratory. At the same time, we're also involved in collaborative efforts to develop a sustainable, national supply chain for the end-of-life management of lithium batteries, helping bring them into the circular economy."
In the delivery of all its projects, Comau profits from an ability to sustain supportive collaborations throughout its supply chain. "The secret lies in our shared goal of building value for our customers, and in ensuring the success of each individual project in terms of implementation, flexibility, and the ability to meet timing and budget objectives," Andrew reveals. "On more than one occasion, Comau has been asked to radically change project specifications midway through the program plan. Because we have a culture of partnering with our customers – rather than acting in the role of a supplier – we're able to regroup and redesign such projects in order to meet any new requirements, without impacting on timing."
But some problems are greater than others. Like most companies, Comau faced significant challenges throughout the Covid-19 pandemic. Nevertheless, as a pioneer of smart working methods, the company proved resilient. "We first experimented with our working practices back in 2018, implementing these for some staff at our Grugliasco headquarters a year later," Andrew recalls. "As a result, we were able to respond promptly at a global level as the spread of the Covid-19 pandemic imposed a need to work remotely.
"This new, agile way of working has, in fact, proved highly suitable as a response to the demands of a constantly evolving market," he elaborates. "It's an opportunity to promote greater autonomy for our teams, and to improve the balance between their private and working life. By reducing the emissions cost of daily travel to and from work, it's also a useful strategy for the promotion of environmental sustainability."
As Andrew's comments suggest, Comau is a company with a deep commitment to its workforce. "We believe that great companies are created by the people who work in them," Andrew insists. "At Comau, we recognize the value of our people, their commitment, and their dedication, and we invest heavily in training and skills-building within our own organization. At the same time, we strive to help our customers understand the impact of technology and converse openly and competently about it using a common language."
With that in mind, the company launched its Comau Academy, a personalized training platform for organizations, schools and professors. Its intention is to make Comau's rich experience available to more people, by placing students in direct contact with skills and methodologies that are integral to the global market. "The Academy's people-focused learning philosophy combines methodological and analytical skills with applications and business practices, offering comprehensive training that ranges from elementary school programs to executive master's degrees," Andrew notes. "We also actively collaborate with elite universities across Italy and Europe, including ESCP Business School, the Politecnico of Milano, Turin and Bari, and Università Cattolica del Sacro Cuore of Milano."
As the world embarks upon its journey towards Industry 4.0, Comau is actively pursuing opportunities to bring automation and robotics into new areas. "We have a number of important projects and collaborations lined up, such as those with Rockwell Automation, Siemens and Fincantieri, one of the largest shipbuilding companies in Europe, to name a few," Andrew says. "We're also increasingly gaining insight into key pain points for different industries, with a view to delivering problem-centric solutions in renewable energy, white goods manufacturing, logistics and other high-growth industries.
"As always, a significant percentage of our research and development investment will remain dedicated to battery and automation systems for renewable energy generation," he concludes. "Nevertheless, in the years to come, we'll be pivoting towards a stronger emphasis on 360-degree solutions, drawing on our intimate knowledge of automation processes and platforms to capture, process and transform production data into dynamic inputs that give robots the intelligence to perform complex tasks randomly. Through solutions such as our in.Grid interactive Internet of Things (IoT) platform, we're also capitalizing on our expertise in digital intelligence to deliver predictive and preventative maintenance and real-time local and remote monitoring of technological data."
Comau
www.comau.com
Services: Automated manufacturing systems