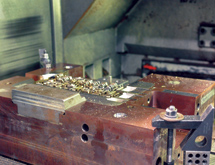 Comber Tool and Mold Engineering Inc.
Comber Tool & Mold Engineering Inc.'s expertise sets it apart from its competitors, co-owner and Vice President of Operations John St. Pierre says. "Our experience in the die cast industry is our competitive edge," he states.
Based in Comber, Ontario, the firm manufactures die casting tools and plastic injection molds, and provides engineering, machinery and equipment services. "We specialize in making complex dies to simple replacement parts or to a rebuild of an existing die or mold," he says. The company serves clients in the midwestern United States and Ontario.
Company President Mark Casier attributes success to the fact that continued support of the product is essential to the success of both Comber Tool and the customer. In addition, the continued training of all employees in new methods and technologies helps keep Comber Tool at the forefront of innovation.
Many of Comber Tool's key employees have been with the company for more than 20 years, which helps create a stable environment for its apprenticeship program.
Comber Tool operates a 42,000-square-foot facility in Comber with a staff of 48. It offers design services through the utilization of software such as Catia V4, Catia V5, Key Creator and Unigraphics. "Our designs consist of complete 3-D models with associative 2-D drawings," St. Pierre says.
Comber Tool has won recognition for its work. "We are proud to be three-time winners of the Chrysler Pentastar Award, four-time winners of the Quality Excellence Award also from Chrysler and our latest being the Chrysler LLC 2011 Supplier of the Year Finalist Award," he says. "We've always been one of their preferred suppliers, and they view us as a key partner, going forward."
Hands-On Work
Like his co-founder, St. Pierre is a longtime veteran of the industry, with "40 years of hands-on experience," he says. A native of Canada, he attended the St. Clair College of Applied Arts & Technology while he worked night shifts at tool and die shops.
After earning his plastics technician diploma in 1975, he entered into a formal mold-maker apprenticeship and received a certificate of qualification five years later.
"[My] work history represents many facets of tool, die and mold making, including powder metal tooling, plastic injection and compression molds, and both gravity-cast [and] high-pressure, die-cast tooling," St. Pierre says.
Partnership Pride
Comber Tool has enjoyed a long partnership with client Chrysler Corp. According to The Windsor Star, the two have worked together for 27 years and signed an agreement in 2011 that made Comber Tool the supplier of nine-speed valve body dies for Chrysler's transmission plant in Kokomo, Ind.
According to St. Pierre, the contract came at a time when the company was rebounding from the poor economy. However, "We were very well-positioned and financially stable," he told the Star.
"We're also quite conservative, and there's not a lot of fluff around here," he commented. "We've stayed current with our technology, which has allowed us to remain competitive."
Well-Equipped
Another area of pride for Comber Tool is its extensive array of machinery. According to the company, it can cut any job thanks to 16 high-speed computer numerical control (CNC) machines, 10 wire electric discharge machining (EDM) systems and its diverse amount of support machinery.
With the latest PowerMILL and GibbsCAM software stationed on the shop floor, efficiency is gained from operator/programming on the fly. "Lights-out machining has been a staple of Comber Tool & Mold's CNC and wire-EDM department."
The company also has a crane capacity of 20 tons, which makes it easy to make transitions from one department to another. Additionally, all its shop floor personnel are trained in proper crane and forklift operation, along with first aid and WHMIS training.