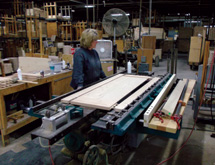 A focus on superior craftsmanship continues to guide Combination Door Co. after 100 years in business. "I really believe that we produce the best possible products, and the longevity of our company proves that," President and owner Dan Schmidt says. "If we were putting out shoddy products I don't think we'd still be here."
Schmidt represents the fifth generation of family ownership at the Fond Du Lac, Wis.-based manufacturer. The company, founded by Schmidt's great-great grandfather Louis C. Schmidt in 1912, specializes in making wood combination storm and screen doors. The elder Schmidt, a cigar manufacturer, patented the combination door concept in 1914, two years after founding the company.
Today, the company produces more than 65,000 wood doors a year from a 97,000-square-foot facility. In addition to combination doors, the company manufactures screen doors and interior louver and fitting room doors for the residential and commercial markets. An affiliate company, Timber Valley Millwork, builds rustic doors for log homes. Combination Door's products are distributed through a nationwide dealer network.
"We're a very high-quality producer of doors that offers our customers low lead times and competitive pricing," Schmidt says. "We have a stellar reputation in the marketplace."
The company's products and capabilities were recently on display during the Global Shop 2013 retail and consumer merchandising trade show in April in Chicago. Combination Door showcased fitting room, closet and office doors during the event, he adds.
The Next Phase
Like many other manufacturers serving the construction industry, Combination Door faced a reduction in business and staffing as a result of the recession, causing it to look at ways to streamline its operation, Schmidt says.
Lean manufacturing practices will play a large role for the company as it enters its second century. Combination Door in January 2013 hosted a half-day session on lean manufacturing hosted by representatives of a local technical college. Since then, the company has launched 5S projects and dedicated manufacturing lines to specific products.
"What really drove lean for us is that our community has a fairly tight labor market. While we expect the residential construction market to increase over the next five years, we don't see a lot of labor becoming available," he adds. "As a result, we're looking at how we can be more efficient and get more out of the staff we already have."
The company is investing in new equipment as a part of its streamlining effort. This includes installing small machines used in producing door components. "Because we build a lot of customized doors, our setup times can be quite extensive using larger equipment," Schmidt says. "We're moving toward more of a quick-change model to produce those components faster."
Experience Counts
Combination Door typically performs six line changeovers a day to accommodate both its standard products and custom projects. The company builds doors from 15 different species of wood, which is chopped and sanded in-house.
Manufacturing staff assemble both standard and custom products by hand, including molding and gluing side and end panels to core pieces. Staff also stain and paint doors.
All manufacturing employees are cross-trained in different functions. "We have many employees who can run different operations depending on what's needed where," Schmidt says.
Safety is also strongly emphasized during training. "We have an active safety committee and do safety training a few times a year on topics such as proper lifting or the importance of eyewear," he adds.
The company has established a goal of three or fewer reportable injury instances per year; in 2012, only one injury was reported. Combination Door rewards safety through a quarterly awards program, Schmidt says.
Combination Door's low number of injuries is indicative of the company's emphasis on quality. "Our workforce is very experienced, with the average person having been here for more than 30 years," he adds. "They are very good at what they do."