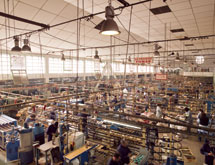 Commercial Spring and Tool Co.
Commercial Spring and Tool Co. Ltd. was greatly impacted by the economic downturn, losing revenue and employees, but it overcame those struggles through constant innovation, deployment of lean manufacturing methodologies and technical manufacturing methods.
Frank Martinitz, an entrepreneurial tool and die maker from Germany, started the company in 1971 in a small industrial building in northern Toronto by manufacturing metal components for the telecommunication and automotive industries.
Commercial Spring and Tool moved to a more modern facility in Mississauga, Ontario in the early 1980s. That location was later converted into a heat-treating and coating operations facility after the company relocated its stamping wire-forming and spring-winding operations in the 1990s to a new building in Mississauga.
Less than 10 years after building the two facilities, the company had to relocate again to accommodate its growth and rented a larger facility where it was able to begin manufacturing motion cables used in the automotive industry. In November 2005, Commercial Spring and Tool purchased that building and consolidated its warehouse, spring winding and forming business under one roof.
Today, Commercial Spring and Tool operates six facilities totaling more than 220,000 square feet. Its products include springs, wire-forms and stampings, and it performs assembly, heat-treating and coating to its clients' specifications. The company credits its commitment to quality, value, reliability and service as the cornerstones of its continued success.
Beating the Odds
Commercial Spring and Tool employed about 600 workers and generated more than $70 million annually before the recession. After 2009, the business dropped to making less than $30 million per year and was forced to reduce its labor by about 320 employees. The company was able to rebound and is now approaching $40 million per year and has increased staffing to about 250 people.
Because of the economic downturn, the company also saw a reduction in its customer base. Companies in the United States were choosing to work with China and other manufacturers in Asia because it was a cheaper alternative, the company states.
"We suddenly had to deal with doing business in a new world," Vice President Gurmail Gill says. "We had smaller production lot requirements, more frequent set-ups, higher material costs, currency exchange factors, increase in freight costs – the list goes on. However, these were changes that everyone in our industry would be facing. We had to overcome some of these changes and differentiate ourselves. We chose to look at it as if the glass was half full and pursue manufacturing excellence in our spring plant."
Commercial Spring and Tool implemented a cost-per-part program that required the use of new manufacturing technology, and if the technology is not available, the company builds it. The company says it invested in high-tech Wafio machines, which allow it to increase the overall effectiveness of its equipment, reduce set-up times and become competitive on a total-cost basis.
"This was a long and trying process, but we are clearly positioned for the future," Gill says. "This was all possible with the company's grassroots in tool-making that Mr. Martinitz had instilled in the business and his commitment to the industry. We clearly see the benefits of the cost-per-part program that we implemented, which allowed us, in automotive manufacturing, to break through the capital equipment dilemma and significantly increase new business opportunities."
Building its Future
Commercial Spring and Tool manufactures spiral-springs, which are key components in making car seats. A Japanese OEM sought a spiral-spring product that would meet its specifications in terms of tolerance level requirements and fill a market void.  The Japanese company was not convinced that Commercial Spring and Tool could fulfill its order because no other company had attempted to try. But eventually, the company won the order.
"We tooled-up two different products for them and met all the requirements," Gill says. "We went from having no jobs with the Japanese company to now producing 17 different parts for them. Internally, we call the new machines the 'clock-spring machines.'"
The company says its future is bright because as it continues to innovate in manufacturing products and implement lean manufacturing methods, it's securing a number of new contracts, including one with Toyota. "The mindset has changed," Gill says. "There has been a culture change. Everyone is more aware of the marketplace, what the products do and who we sell to, as opposed to treating working here as just a job."