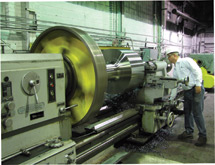 There are not many companies have survived for 80 years and had three generations of family involvement, but Composite Forgings Ltd. has. Based in Detroit, the open-die forger has and continues to flourish. President Charles Hopper Jr.'s grand­­father, Charles Hopper, retired from Composite as a heat treater and a welder. "Originally, it was a hammer shop, who producing small automotive-type forgings," the younger Hopp­er explains.
Over time, Compo­site Forg­ings evolved with the market and be­came an open-die forge shop.
Today, Composite Forgings operates on a two-acre campus in Detroit where it produces forgings up to 10 tons in two machine shops, which have earned ISO 9001 certification since 1993. It also owns a 10,000-square-foot service center.
Hopper says the company serves a broad range of clients, which includes customers in the oil and gas, mining, steel mill repair and heavy machinery industries. Ninety percent of the company's work is for repeat clients.
"We continue to supply them endlessly," Hopper says, noting that the firm has earned a reputation in its industry for its customer service and quality products. "We have been around [for a long time] and we have a well-known and respected name in the industry."
Keys to Prosperity
Hopper joined Composite Forgings 19 years ago and took over as president earlier this year. After all these years, he says he still enjoys the forging business.
"People laugh all the time about the steel business [and say] that it's one of those businesses that once you're in, you can't leave," he admits. "The whole idea of heating steel and reshaping it is pretty fascinating. It's just a great industry to be involved in."
He notes that the keys to the company's longevity have included the leadership of his father, Charles W. Hopper, who recently retired from the firm. "He led this place to profitability and [from] bankruptcy 20 years ago," the younger Hopper says, noting that previous owners managed the company poorly.
To make Composite Forgings profitable again, Charles W. Hopper brought on more talented employees, including many from southeastern Michigan. "His vision of how we were going to fit into the marketplace and be competitive is the reason we're still here," the younger Hopper says. "His vision included team work and cross training, allowing for efficient production with high quality standards."
The company's modest size also has kept it successful, Hopper says. "Most of my competitors are large conglomerates," he says. "We're currently at 75 people, which makes us very flexible so we can react quickly."
Additionally, the small size allows Composite Forgings to offer better prices. "We don't have the overhead that our competitors do," Hopper says.
For the Long Run
Composite Forgings now plans to expand, Hopper says. "We're looking at additional buildings so that we can expand our heat treatment and mach­ining facilities and basically improve product flow," he says. "[This] would make us more efficient, [as well as] increase production, increase sales and increase profits."
With the expansion, he says, the company hopes hire 20 to 30 people in the metro Detroit area. "We want to continue to run profitably for another 20-plus years," he states.