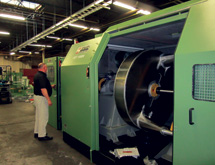 Comtran Cable – founded in 1985 – is a leading manufacturer of commercial and specialized communication cable. As a member of The Marmon Group – an international association of more than 130 independently operated businesses – Comtran upholds a solid reputation for its quality products sold through top distributers in North America.
The cable specialist has been in business for 28 years, but Vice President and General Manager of Communications Joe Barry says that since he joined the company three years ago, he has seen tremendous growth through a complete transformation of Comtran's business philosophy. Embracing 80/20 principles in manufacturing and sales, changing its customer base and restructuring inside personnel have led to what Barry describes as a "magnificent thing to see in such a short time."
Although Comtran's product line includes commercial parts for telephone, premise data, security and fire alarms, it's the specialty cables that set this manufacturer apart from the rest. Comtran creates technologically advanced cables to meet specific requirements such as waterproof, low voltage and low toxicity needs.
On the specialty side, cables range in their functions, from meeting oil- and gas-resistant requirements, special fire and smoke requirements and flexibility requirements on rail transit, military vehicle, mine and oil rig applications to providing radiation-proof materials for nuclear facilities.
Premise telephone products include cable used for large buildings requiring multiple pair cable to connect a central office with multiple lines coming in from the Telco providers switching center, into the building and branching off throughout offices.  Comtran's low voltage products are used in security cables and fire alarms that don't demand much voltage, but which need to maintain certain capacities such as keeping the lights on if the power goes out. This line is also used in commercial security rooms, access control boards for key cards and home security systems.
A winning strategy
While focusing on 80/20 principles, Barry relates that his business strategy is to continue to deemphasize products for commercial applications while expanding the product offering for specialized applications, by focusing on meeting the specific needs of individual end-users and harsh environment markets. "Many of the companies we compete against are only offering telephone and data, or low voltage or specialty product line, but we manufacture all four," Barry says. "We are working to be the leader on the specialty side of the business and coexist with other manufacturers on the standard products."
Focusing on regional distributers and working with their end-users in all markets allows Comtran to provide what Barry believes are the strongest offerings at local branches. "We focus there instead of trying to work with the larger global distributors that already have the saturation of products in their facility," he says.
Comtran specializes in providing all types of cable under one bundle. "When a company comes to us, we can do all the electronics, fire alarm, telephone, data and security all for the building they're working on," Barry notes
New Offerings
The cable industry is one that continues to change as recent disasters bring to light the need for improvements that could save lives in similar situations. One example is the New York transit line that was affected by Hurricane Sandy.  Subway personnel are changing the specs on their systems to include waterblocking any underground areas. Comtran is working on developing products for that market as well as looking at how to improve security and camerawork inside tunnels and subway terminals.
In 2012, Comtran launched Hub-LINK – a new group of telecommunication and data transmission cables for use in mass transit applications.  These cables have been designed to meet tough fire and smoke requirements and extremely low toxicity levels under fire conditions.
New codes are coming from the many urban transit authorities that pertain to all cables in enclosed spaces where there are large groups of people. The Hub-LINK cable material is extremely durable while being highly flame retardant, which would enhance visibility and reduce the possibility of people being affected by toxic fumes.
The new cable material eliminates much of the toxic gases and dark smoke in a fire. "It would provide a better opportunity for people to escape should a fire occur," Barry explains.  "What has come out of these standards recently is that, should you have an emergency, you want everyone to have the most advantageous access to safety."
Manufacturing Efficiency
Comtran Vice President of Operations Robert Auger stresses the 80/20 principle as the company's key to manufacturing efficiency.  "This is the center of our company strategy and how we support our key customers, and their key products," Auger relates.
Manufacturing is set up in a cellular fashion and dedicated to a specific business segment. These various manufacturing cells are to focus on and simplify the processes that support 20 percent of the key, high-volume customers and products while not getting interrupted or side tracked by the lower 80 percent. This allows for the understanding of what drives the segment growth and also provides the best understanding of the true costs that drive the business. At the same time, Comtran doesn't walk away from lower-volume customers; the company simply manufactures those products in a suitable job shop cell using lean techniques and visual scheduling within the cells – while spending capital on safety and process control.
The company uses cellular manufacturing to reduce cycle and set-up times, and by using a visual planning/scheduling system for simplification and maximum flexibility to ever-changing customer demands.  "Operators visually schedule the plant based on customer demand of the business segment, focusing on only the end items that they manufacture to the velocity of sales in real time," Auger says.
Comtran is also looking at suppliers who make a more eco-friendly versions of their raw materials and use biodegradable material instead of petroleum-based. "We haven't re­leased anything yet [but] we're working toward that," Barry says.