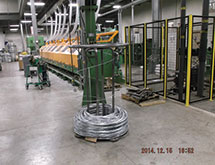 Sometimes timing can be everything for a business that offers exactly what a market is looking for at that exact moment. Conex Cable LLC had that luck when it started offering aluminum-clad steel (AS) wire nearly 25 years ago, Consultant for Sales and Marketing Jerry Bills says.
In the immediate years prior to 1990, "The only way people could get AS wire was to go offshore," he recalls, noting that Conex's business surged when it served stateside customers with its product. "Our timing was very, very good."
Based in DeKalb, Ill., Conex offers AS wire that is manufactured using a continuous extrusion method that bonds high-purity aluminum to high-strength steel wire. The company's history goes back to 1988, when Alcoa Inc. and Kaiser Aluminum Corp. were closing the doors on their wire and cable plants.
Those operations included a plant in Dublin, Calif., that was built to make aluminum tubing for overhead cable ground wire. Allan Coleman, the owner of the Chicago-based Coleman Wire/Nehring Electrical Works, bought the plant with the intention of manufacturing AS wire.
Coleman also formed a joint venture with Hitachi Cable in Japan, which had the U.S. patent on the manufacturing process of the wire. Together, the companies started Conex Cable Inc. under the direction of Raymond Hott, chairman. Later, Hitachi Cable acquired all of the company in 1994.
In 2004, a private investment group in Chicago bought Conex, resulting in the firm moving its plant from Dublin to DeKalb. Although it required the company to move all of its machinery and wiring, "We didn't have any hiccups, [and] the transition was seamless," Production Manager Brian Starr recalls.
"In three months, we were in full production," he says, noting that the Illinois location allows Conex to be more centrally located in the United States. "We're a lot closer to our largest customers."
Bills agrees. "The plant never should have been in the Bay Area in the first place," he says. "[We're] in a much better situation to serve all segments of the market, particularly, the overhead optical ground wire market (OPGW)."
Additionally, "We have the ability to ship quick and get the material there in a timely manner," he continues. "We'll go on overtime [to provide service]."
On the Lines
Conex serves the electrical utility industry, which can be broken down into multiple segments, Bills says. The largest portion consists of the high-voltage transmission segment, where Conex provides aluminum conductor steel reinforcement for transmission lines.
Although zinc is a less expensive option, "Our product is better electrically," Bills says. "It's also better corrosion-wise."
The company's portfolio includes work on a 765-kilovolt overhead transmission line in the West Virginia hills for one of the largest investor owned utilities, in 2005. "The terrain was so rugged that two-thirds of the towers had to be flown in by helicopter," Bills recalls.
The utility, he notes, wanted guyed-V towers that were supported by guys that would not break. Although the requirements were beyond Conex's size capability, "We brought in over 500,000 pounds of wire from our associate J-Power Systems," he recalls.
Recently, several of Conex's transmission line clients have upgraded their lines. "They do that with higher-strength steels," Bills says. "We're constantly looking at and adjusting our steel requirements."
Conex supplies AS wire to manufacturers who produce OPGW cable. "That market exploded between 1995 and 2000," Bills says, noting that Conex had trouble keeping up with it.
"We were offloading some orders to Hitachi in Japan," he recalls, noting that the market later slowed down. "But it's starting back up again now. It's pretty active."
The company also provides single end wire to formed wire companies. "They take wire and form it into accessory products," he says, noting that these include deadends and guy grips for wood pole distribution and telecommunication construction.
"The process applies severe torsion," Bills says. "We're [constantly] concerned with flexibility and the strength of the steel to meet their requirements."
Conex's Quality
Conex keeps a close eye on manufacturing quality, Plant Manager Charles Dobbel says. Not only has the company appointed an engineer to manage its quality department, "We have a quality auditor that does an audit on the overall factory and provides feedback to help us achieve desired levels," he says.
The company also is implementing Six Sigma techniques and tools, Dobbel says. "Right now, [Conex] is 4.4 Sigma," he says. "I'm certified as a leader in Six Sigma and I've got two trained inspectors.
"At this time, it's all under a very studious situation," he continues, noting that Conex is constantly reviewing its past to see how it can improve. "We [also] have implemented the 5S program."
Conex's close relationships with all of its suppliers also help. "We work together jointly to improve quality at all times," Dobbel says, recalling a case when a client requested more flexibility in its product.
Although flexibility is not the first thing many associate with steel, "We joined [together and] worked on a very much improved product," he recalls. "We got full customer satisfaction."
The company also hones its workers' skills with training, Starr says. "It's a continuous process," he asserts. "Whenever we come across a situation where somebody falls behind, we always retrain and review progress to meet the required customer demands."
Company Environment
Bills, who has been with Conex since 1990, praises the company's team of 25 quality employees. "Since day one, it's been like a family," he says, noting that its modest size ensures that everyone is focused on the same goal.
"If we take care of the customer, everything else will fall into place," he says. "When I go out with our representatives and agents to make a call, I tell them that one thing we're really proud of is our service, especially in emergency situations."
Bills predicts a strong future for Conex Cable. "There's so much infrastructure in the United States that needs to be upgraded," he says. "We hope to be part of it."