For the most part, the key goals in manufacturing are to consistently deliver a high-quality product, on time, at the lowest cost. Delivering on that, however, requires a lot of work, and even with lean and Six Sigma dominating the marketplace, operations really have to be streamlined to ensure those goals are met. The complexity of manufacturing is increased to the Nth degree when custom goods must be produced.
Configit Inc. understands this well, and its solutions have been developed to manage the lifecycle of each product configuration, ensuring sales, engineering and manufacturing work together seamlessly to eliminate costs and go to market more quickly. Configit's solutions work so well, in fact, that the company is trusted by many global Fortune 500 companies for their mission-critical functions.
"We come at the market from two angles," President Scott Perdue explains. "Regardless of the industry, what is your level of product complexity or customization? We want to know if we will be a good fit, and if, for example, you're a pencil manufacturer you don't need us because there's not enough variation in your product. We want to know if you're struggling to manage the variation in the product. Automotive manufacturers, for example, are seeing exponential growth, variation and complexity in their product lines.
"On the other side, maybe the company is offering a true custom experience," he adds. "They are building to order, with a lot size of one. We work well for really complex systems, so we want to know if your problem matches up with what our technology does."
Configit offers configuration lifecycle management solutions, uniting the work of the entire company, and primarily the sales, manufacturing, services and engineering teams. This provides clients with a more overall view of their operations, enabling increased performance and competitiveness.
Reliable, Easy and Clear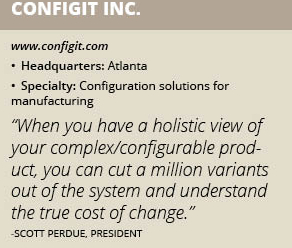 Configit helps operations work from the same data set, ensuring the sales team doesn't sell a product that can't be manufactured. It also helps keep engineering from designing a product that isn't marketable. For example, Configit worked with one manufacturer that had a 150-day design cycle. The manufacturer had to collect all the complexity information from the sales, marketing, manufacturing, engineering and aftermarket service departments before it could finalize design on a product, and that took a lot of time. With the Configit system, the client was able to reduce its design cycle to 10 days.
"We can help companies get their products to market faster and help people add clarity to product complexity," Perdue says. "But not only are you reducing design time, once you get your arms around complexity, you can start doing predictive analysis on all of the variations. You can see what are the low-runners and no-runners, as well as the take rate."
ABB's Electrification Products Protection and Connection (EPPC) business unit deployed Configit as a common global sales configuration solution. EPPC develops and delivers technology across the full electrical value chain, enabling safer and more reliable power. ABB used a variety of technology platforms across its R&D, production and sales organizations to support configuration requirements across product development, manufacturing and sales configuration and quoting. The client, however, found this system to result in an inefficient and error-prone sales quote and order creation process. With its complex product offering and global business, EPPC needed a way to maintain global product data and configuration rules with local pricing, product, market and stock availability information.
With Configit's Configuration Lifecycle Management solution, the EPPC division of ABB saw increased productivity, increased sales, reduced printing costs (through the elimination of regularly printing and distributing parts catalogs), increased customer self-service and improved technology management. ABB realized a 76 percent return on investment with payback in 2.6 years, and an average annual benefit of more than $2.38 million.
"The margins are often not high on these things," Perdue explains. "When these organizations work in silos, there is a ton of waste that isn't seen. Engineering wants to have a solution for every problem, but manufacturing may have a hard time sourcing all of the materials and at the same time, no one has talked to sales and marketing. When you have a holistic view, you can cut a million variants out of the system and understand the true cost of change."
He notes Configit's solutions truly differentiate themselves because the core engine is its virtual tabulation technology, which allows its clients to have predictive outcomes. But Configit's robust platform also allows for highly supported enterprise-level rule writing.
"You need a lot of engineering knowledge and software-development principles to allow multiple people to work on the same product model at the same time, and to our knowledge no one else can do that at this level," Perdue says. "We continue to listen to our customers and create new abilities in rule writing or help them manage the rules more easily. But we're also allowing clients to build their own system. We can build product configurators and we do, but our biggest customers want to own the customer experience and they want their application to be unique. We can create a fully custom user experience for them."
At the same time, Configit ensures the information clients get from their systems is reliable, and information given to the sales team or their own clients is reliable because it is based on the rules created by the manufacturing and engineering teams. With a reliable, scalable system, Configit's clients can trust the information.
"That's the element that makes us different," Perdue says. "We always want to be reliable, we want to keep it easy and we want the information to be clear." mt