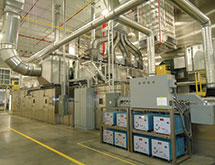 Conforming Matrix is known as a company that provides leading-edge engineering capabilities for customer-focused solutions. "We are a custom turnkey finishing and masking company that fabricates and installs high-quality systems to worldwide customer sites," CEO Jeff Mosley says. "We have been in business for 75 years. We manufacture quality systems that last for many years."
Indeed, some Conforming Matrix systems remain in use more than 20 years after the company installed them for customers.
The keys to the company's success include good relationships with coating suppliers; long-tenured employees, some of whom have worked for decades at the company; and a solid industry reputation, Mosley says. "We offer engineering solutions to complex projects incorporating the customer's capital cost, floor space and operating expense parameters," he explains. "Our systems are known for their durability, with systems installed almost 20 years ago still in operation today. Our long-term relationships with customers and paint and coating suppliers have provided us with word-of-mouth referrals that have grown our business and expanded us into new markets."
David Hagood, director of sales, says Conforming Matrix grows along with its suppliers. "When they come to us, we are able to provide what is needed for the customer," he explains. The key is to understand customer requirements. "We build and design systems to meet the needs of each individual application. They come to us for our ability to custom-design work from concept to completion and we know how to do it."
Sales for privately owned Conforming Matrix are good this year, Hagood says, with an uptick in market activity. The company has made a concerted effort to grow and expand business.
Although much of the market activity is seen in the automotive industry, increasing sales to other industries was a management objective to reduce business risk.
When Conforming Matrix was incorporated 75 years ago, it served only the automotive sector. Today, it has a diversified customer base including those in the aerospace, consumer goods, durable appliance, solar and glass industries.
It broke into those other industries through referrals and word-of-mouth marketing. "We have done so well in the auto-related industry that when we began reaching out into other market segments it was pretty easy," Hagood recalls. "It was a pretty simple move for us since our customers have been enjoying the benefits of our work for 75 years."
Value Added
As the company continues to expand, it never loses sight of its strong base of support, however. "We place a strong focus and effort on maintaining our existing customers and enhancing those relationships with value-added services for applications," Hagood explains. "At the same time, we are also able to also expand into new markets."
For paint masking, tooling and fixture applications, Conforming Matrix offers one of the largest electroform systems in the nation. Its coating experts have individually as much as 40 years of experience and a large installed customer base.
Conforming Matrix has the unique ability to create high-precision paint masking tooling and fixtures, as well as industrial coating systems complete with material parts handling, robotics and PLC controls. It also offers full-system pre-install staging.
The company says its service is second to none, with nearly all customers being repeat customers. It provides full-system lifecycle support and service.
Conforming Matrix's unique extended system design and integration expertise features:
> Full-system engineering, manufacturing and system integration;
> Movable sprayer and robot system engineering and integration;
> System load and unload, conveyor and material handling;
> Recirculating air sub-system;
> A one-stop shop for reduced capital equipment costs;
> Pre-install full-system staging with customer acceptance testing and training.
"Conforming Matrix offers automated coating and precision masking systems for challenging dimensional surfaces that are environmentally friendly, increase productivity, lower energy use and reduce operational costs for metal, glass, plastic and composite product manufacturers," Conforming Matrix explains.
"Unlike our primary competitors, we design, manufacture, test and install complete systems, including mask tooling/fixtures, overspray recovery, material handling, robotics and controls."