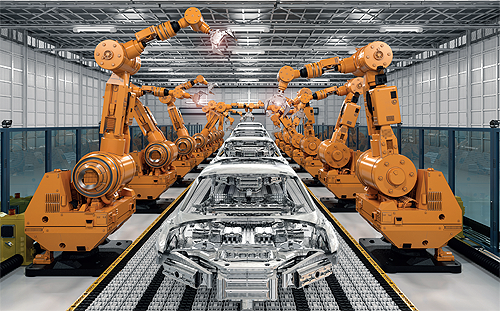 The automotive industry, like all others, was thrown into an unprecedented situation at the beginning of the pandemic. However, unlike other disruptions, it was hit both on demand and supply side simultaneously. That said, the auto industry had a unique opportunity – to utilize its shop floor operations to deliver lifesaving ventilators and medical equipment. With the initial emergence of Covid-19 – a challenge like no other – putting millions of peoples' lives at risk and the global economy at a standstill, many of the auto and industrial manufacturers quickly rose to action by putting their resources where it mattered.
Once the dust settled, auto and equipment manufacturers were able to shift back to normal and in fact fast paced operations. While it seems simple on paper, these shifts were anything but. Industry leaders were only able to make this happen due to the agility and adaptability of the industry's resilient infrastructure – all underpinned by each company's willingness to invest in emerging technologies and rise to the challenges of crisis.
Resiliency in the next wave
However, with the emergence of yet another wave of Covid-19 cases across the globe, auto and industrial manufacturers must plan accordingly and prepare to not only manufacture more essential equipment to provide world-wide support, but to simultaneously meet their consumers' demands and remain profitable. Post pandemic, with the increasing preference for personal mobility as a safer option over shared or public transport, the demand for automobiles is likely to be higher than pre-pandemic levels for some time, post-recovery.
To cater to the additional demand and sustain competitive advantage, auto and industrial equipment manufacturers can no longer stick to basic IT infrastructure and processes – they must adopt a new approach to manufacturing which brings together agility alongside resilience through the power of connected technologies. Dubbed 'Neural Manufacturing,' this new approach to manufacturing brings auto and equipment makers to a new era where they must work in an intensively networked ecosystem of partners aligned to a common purpose, using cognitive and connected capabilities like AI, machine learning, automation, IoT, and cloud. By doing so, the manufacturers can meet and succeed against unprecedented challenges by having responsive, adaptive, and lean processes.
Businesses have been partnering with organizations – even competitors – for quite some time – and the challenges onset by the pandemic have only further proven the importance of collaboration to meet the dynamic demands of today.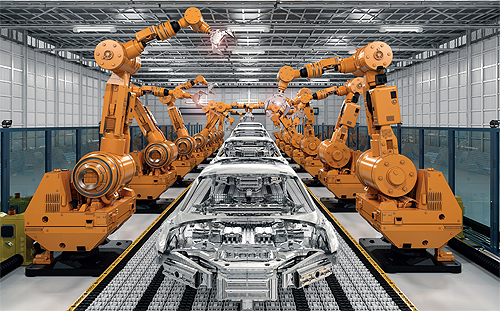 Through Neural Manufacturing, auto and industrial equipment makers are able to define their position in transformed customer centric value chains and use emerging technologies to meet both individual and group goals – whether it be to produce ventilators, launch a new line of EVs, or even develop a new standard of safety for autonomous vehicles.
The basics of Neural Manufacturing
Neural manufacturing is a way of thinking, not a distinct process or system. As automotive and industrial equipment makers continue to rely on technology in their design, manufacturing, supply chain, and distribution processes, and as demand grows from consumers and the need to develop essential equipment – there are several players involved that need to be aligned to successfully and efficiently get these products to the finish line. Essentially, neural manufacturing is boiled down to the fact that every player in the manufacturing value chain is tied an end goal, and in order to reach this goal in the most efficient way possible requires partnership through the use of connected technologies.
Similar to the biological neural system that's able to sense, distinguish, and act autonomously, neural manufacturing is defined by a seamless value chain of partners – or the vital organs, if you will – working alongside one another to meet goals while adapting to internal and external factors through automation, machine learning, artificial intelligence, cloud, and IoT – or in this case, the brain, which underpins the entire network. And like the biological neural system that endows us with both central and autonomous decision making and functioning abilities, Neural Manufacturing would provide automakers and industrial manufacturers with centralized, agile and distributed decision-making abilities in a networked ecosystem.
Advantages and implementation for the industry
The challenges industry players face today are constantly evolving and allow little to no margin for error. Autonomous connected capabilities that come with neural manufacturing help organizations engage with smart assets in real time by eliminating the friction that comes with the implementation phase, bringing efficiency and responsiveness to the entire process – both integral to bringing products to market. Additionally, a neural network enables an entirely location-independent process, meaning no person or system is beholden to a certain location creating both safety and opportunity rather than challenges for automakers in this remote-norm world.
To implement a neural manufacturing philosophy or way of thinking, automakers must be digital-first and embed themselves in an ecosystem of partners that are aligned to their end goals. Once this is established, auto makers must then invest in, build, and strengthen technological infrastructures that support and enhance automation, machine learning, cloud, artificial intelligence, and IoT. Only when an organization has built this strong digital foundation can they adopt neural manufacturing to stay ahead and gain a competitive edge.
Over the decades, the automotive industry has continued to adapt to the ever-changing nature of the global economy – be it stringent emission norms, adapting to country specific regulations, or financial crises – and this past year has proven no different. However, all industries – including automotive – are facing a fast-changing business landscape where adaptability and agility are integral to business resiliency. And meeting this change requires industry players to take a neural approach to business processes. Many have gathered competencies through the years by adopting and investing in different technologies, but few are leading the charge on fully embedding cognitive, connected, and collaborative digital capabilities. However, doing so is no longer an option if an organization wants to be future ready.
The future lies in ecosystem play of trusted partnerships whether it's in evolving next generation of technologies in EVs or autonomous products, or in distribution and support system, or in new business models that will govern the industry. Neural way of thinking in building the industry is becoming an imperative.
Subhash Sakorikar
Subhash Sakorikar is Director, Growth & Transformation, Automotive & Industrial Manufacturing at Tata Consultancy Services (TCS). TCS is an IT services, consulting and business solutions organization that has been partnering with many of the world's largest businesses in their transformation journeys for over 50 years. TCS offers a consulting-led, cognitive powered, integrated portfolio of business, technology and engineering services and solutions. This is delivered through its unique Location Independent AgileTM delivery model, recognized as a benchmark of excellence in software development.
www.tcs.com