Adorning the home
Led by a team of experienced professionals on every level, Conservatory Outlet has doubled in size over the past five years by strictly observing a set of customer-centric principles
It is an axiomatic truth that the growth of any organisation depends on the quality of the people that work for it. Having realised that, Conservatory Outlet – a manufacturer, supplier, and installer of conservatories, orangeries, extensions, roofs, windows, and doors – dived into the talent pool to discover the best professionals that could strengthen each and every department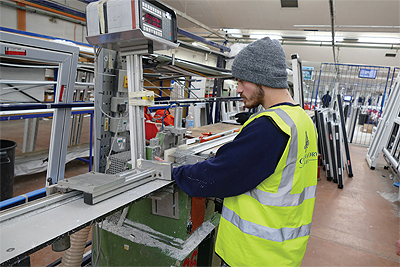 of its business. Following the appointment of a new Chief Financial Officer, Business Development Director, Head of Marketing, and other senior specialists, the Wakefield-based company has more than doubled in size in the last five years.
"The fit-for-purpose and experienced people we have brought in to run the different areas of the business, have spearheaded the changes in our processes that we have gone on to introduce," claims Michael Giscombe, Managing Director of Conservatory Outlet. "We made sure that we initiated a training programme to upskill our staff on the shop floor, which eventually led to an increased output. Another area where we directed resources to, was our IT capabilities. We hired an IT Manager and then brought in extra IT specialists to support our interaction with the customers. Alongside the senior members of staff we have appointed, we are also running a two-year apprenticeship programme, predominantly on the backend and we have just had two youngsters who successfully completed the scheme and are now working full-time for us. In parallel with creating a powerful workforce, we have also extended our manufacturing site on multiple occasions and invested in new machinery to be able to make products that feature a number of USPs for our customers."
At this point in time, Conservatory Outlet has a network of 26 retailers across the UK and the company's aspiration is to create such ranges that are unique for each of its partners, in order for the latter to stand out from their competitors. "Our mission is to add value to our retailers and to help them achieve their goals. If a retailer grows, so do we, so it is in our best interest to support them in reaching the level they are aiming at," Michael explains. "We are keen to stay at the sharp end of new product development and we are constantly listening to our customers to be able to come up with revolutionary designs and concepts that will really make a difference in the market. The nature of our network means that no two retailers are ever in competition with one another, allowing for a truly collaborative process between industry leaders from across the UK."
Operating among multiple retailers allows Conservatory Outlet to share best practices with its partners on a regular basis and make sure that its offering remains relevant to their needs. "By sharing intelligence, we can benchmark the performance of different areas within the business against retailers' requirements and this covers not just the products themselves, but various aspects of the sales and marketing processes, too. We have multiple forums where we meet with our clients to discuss how we can drive business improvements. We invite our members to regular launch events, seminars and workshops to give them ample opportunity to provide feedback and give us an accurate steer on their challenges and obstacles," Michael comments.
Designed with a number of USPs, the Extreme Collection launched recently by Conservatory Outlet epitomises the outlined approach. The range encompasses the Extreme Window and Extreme Composite Door, both engineered to the highest specification to provide maximum performance and top-end market penetration. "There are five USPs that the Extreme Collection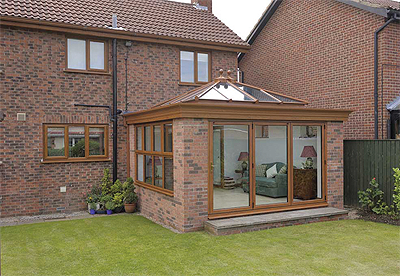 showcases," Michael says. "These are; Extreme Security, Extreme Comfort, Extreme Style, Extreme Peace of Mind, and Extreme Warranty. Under this, each product has its own set of exclusive specifications and benefits, but they all include exclusivity to each of the Conservatory Outlet retail partners and are backed by an exceptional 20-year guarantee that includes genuine cover over all moving parts and frames.
"Furthermore, our retailers are being provided with enhanced sales support to launch the products, including sales team training, point of sale materials that outline the unique selling points of each product, showroom marketing materials, website content, and bespoke pages within their personalised brochures," he details.
To ensure the success of these and all the other products it manufactures, Conservatory Outlet has developed quality management systems that, in Michael's view, are second-to-none. "We do a lot of work with the BSI and have regular audits to keep our processes aligned with the industry standards. We are also constantly tracking and reviewing our operations and reaching out to customers to get feedback from them, because, at the end of the day, they are the best barometer of how you are doing as a business."
In strengthening the relationship with its customers, the company has created a Customer Journey Scorecard, whereby it seeks feedback every 12 weeks to assess whether its operations match customers' expectations. Michael continues: "The Scorecard was designed with the idea to enhance the interaction with the client and help us learn more about their vision, as we aim to deliver excellence at all times. We strive to achieve a 95 per cent benchmark across seven key business areas that encompass our entire offering. Our findings are then taken to an internal management meeting, where action plans are formulated and ultimately relayed back to our customers. It's hugely important to us that we are seen to be striving towards continual improvement.
"The Scorecard is also a data tool in itself, which we link to our management reviews every month that are subsequently shared with the staff," he adds. "It is important that everyone gets a real picture of how our customers perceive our work. Sometimes, you may believe that you are offering a very high level of service, but if that is not backed by real data from the clients, you can easily be deceived. To us, it is also a matter of reacting positively to the information we get from customers and embracing it, even when it is not that flattering. Everyone across the business is aware that we have to address the points raised by clients in a positive way and focus our efforts in the areas where a particular customer is looking for an improvement."
The remarkable growth achieved by Conservatory Outlet in the last half a decade has only whetted its appetite for more success in the future. Having set up the right infrastructure across the organisation, Michael is optimistic that the company will remain on the same growth curve over the next five-year period. He concludes: "Our ambition is to continue achieving year-on-year growth through adding value to our client base. We wish to deepen the relationships we have established with our key partners and be the frontrunners within the industry with our unique solutions."
Conservatory Outlet
Products: Conservatories, orangeries, extensions, roofs, windows, and doors