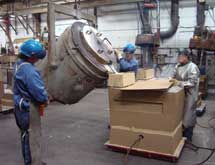 Consolidated Precision Products (CPP)-Minneapolis
CPP-Minneapolis, formerly known in the aerospace industry as Hitchcock Industries, started making castings a few years after its founding in 1916 and has amassed an enviable reputation for doing so. Today, it makes aluminum and magnesium castings mostly for airplanes and helicopters. The family-owned company was sold to Consolidated Precision Products (CPP) in 2005.
The castings are produced by pouring metal into a form made of sand that is chemically bonded into the complex shapes required to cast aircraft parts. Among these parts are large airframe and engine structural castings, gearbox housings, generator bodies, fuel system housings, wing pylons, transmission housings, and castings for the Space Shuttle and Delta rockets.
"We just are in the process of gaining first article on some large tilt rotor gear boxes for the Bell V22 Osprey," announces Mark Krings, vice president of operations. The Osprey is a new military aircraft that looks like an airplane but takes off vertically like a helicopter.
First article is an extensive and lengthy process in which each dimension of a cast part sample – which can be up to 5,000 dimensions – is validated. The part is cut open and examined with X-rays and penetrating fluorescence to verify that it matches the dimensions and metallurgical characteristics of the blueprint exactly. It is inspected with fiber optic scopes and ultrasonic thickness gauges. Depending on the part's use, its heat characteristics may be checked and it might be pressure-tested in a water tank to ensure it does not leak.
"If anything is found wrong, we do tool corrections and go through the first part again," Krings asserts. Gaining first article can take from eight months to two years.
Building the Form
Other parts CPP-Minneapolis is working on include ones for the gearbox, the fuel manifold and the flaps on the leading edge of the wings for the Boeing Corp.'s 787  jumbo jet.
The molds are made of a silica sand that is mixed with a phenolic urethane binder and is activated with a catalyst. After it's placed in the pattern, it gets hard and replicates the pattern. Up to 150 of these particular cores can be put together to form a mold for a single casting.
CPP-Minneapolis manufactures up to 240 varieties of castings in quantities from 150 to 800 annually. Ap­proximately 25,000 parts are shipped annually, many that are replacement parts for aircraft currently in use. Some of the parts have been manufactured for 40 years. Two competitors are in the United States and a few in Europe, but so far, offshore competition has not been significant.
In the Desert
Currently, the company's military business has been more stable than its commercial products. "One of the things that's helped us a lot through the economic downturn is the usage of helicopters overseas in the desert," Krings notes. "The desert is very hard on helicopter parts, thus requiring many, many spares."
The company has implemented lean manufacturing methods and has changed its approach to inventory. It now supplies parts according to forecasts instead of manufacturing them to order because the lead times are relatively short.
A host of new programs and projects are set to improve speed, efficiency and lower costs at CPP-Minneapolis. Rapid prototyping is being used to create master molds. Laser and CT scanning are being employed to inspect part dimensions that are not visible, and a water knife is cutting templates from aluminum and plastic. X-ray photos are being converted from film to digital to save money and storage.
Temperature variation in the company's Class 2 heat treating ovens is being reduced to Class 1 requirements, and the sand used for the molds is being improved. The company also has invested $75,000 in simulation software to prototype parts and $50,000 in  hardware.
"It's been a real handy tool for us, and it's well worth the money invested in it," Krings declares.