Capabilities, competencies, mindsets – continuous learning and growth
For Consort Medical – a forward-thinking manufacturer of respiratory drug delivery devices, valves and actuators, and injectable devices – much of 2018 was dedicated to the expansion of the company's proficiencies and operational capabilities
Bespak, the high-volume manufacturer of complex drug delivery devices started to rebrand in 2014 following the acquisition of Aesica Pharmaceuticals by Consort Medical, the parent company of Bespak, a further brand repositioning project in 2018 saw the company change its name to Consort Medical – Bespak Drug Delivery Devices.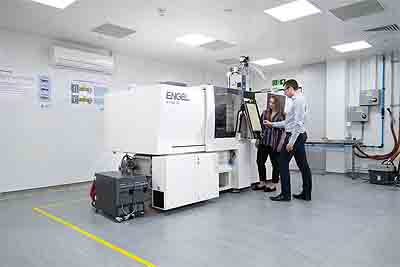 The key message Consort Medical has sent with the decision to rebrand, contains the company's desire to be seen as a one-stop shop provider. As Kevin Cunningham, Vice President Operations explains: "We want to combine the development of drug delivery devices with the filling and packaging services offered by Aesica. It is key to note that we are capable of covering every phase of the product development process – from early stage innovation activities right through to commercialised manufacturing. The intent is that our customers will recognise our ability to streamline their supply chain, minimise risk, reduce their costs and lead times, and, ultimately, accelerate the route to the market for their products."
Illustrating the benefits of the close collaboration between Bespak and Aesica, Kevin directs our attention to the contract Consort Medical signed with Opiant Pharmaceutical in September of last year. "It is for the joint development of a ready-to-use nasal-delivered version of Opiant's nalmefene that treats opioid overdoses. To us, this project symbolises the beginning of a new way of working within Consort Medical and we will be excited to find similar opportunities in the coming years to leverage our one-stop shop offering."
To support this strategy Consort Medical continually reviews its progress against a five year plan, ensuring it is focusing on a multi-faceted approach of growing capacity, developing its capabilities and competencies, while ensuring sustainability in every decision the company makes.
With a pipeline of internal and customer driven programmes the company continues to look to enhance the array of services it provides by continually exploring new technologies and innovative solutions to product development challenges. "I think that the most important development we have initiated, which underscores our status as a forward-thinking manufacturer willing to grow its capabilities, is the formation of our Advanced Technology Solutions (ATS) group. Since its initial conception in the middle of 2018 it has been working towards the creation of a five-year technology roadmap and the first major highlight related to its operation was the opening of our Injection Moulding Academy in June providing a development platform for all our people. We are the only UK Company with the capability to train our technicians and engineers in a range of injection moulding process courses up to RJG master moulder certification onsite, and also offer a range of courses to include validation, statistics, DOE, MoldFlow & Polymer science" he reveals.
With the Academy offering immediate benefits it has since been followed up by the creation and launch of a state-of-the-art facility enabling the company to enhance its metrology capabilities and further develop its team of metrologists. Kevin comments: "We are working very hard to make our operational activities the key differentiator for the business. We see metrology as being a core competency and essential to our service offering hence the degree of investment we have made in both equipment and people." Talking to the milestones on the journey Kevin goes on to say, "The ATS group have even more ambitious plans within our technology road map, and their ongoing projects include the addition of rapid prototyping capabilities to our proposition in 2020-2021, investigating opportunities for industry 4.0, while also exploring the potential for a mould test centre, plastics laboratory, and additive manufacturing further down the road."
Always eager to broaden its intellectual capabilities, Consort Medical has also entered a three-year Knowledge Transfer Partnership (KTP) with the University of Hertfordshire in another notable highlight for the manufacturer in 2018. "The benefits of this relationship will enable us to further enhance our development lifecycle through the creation and application of new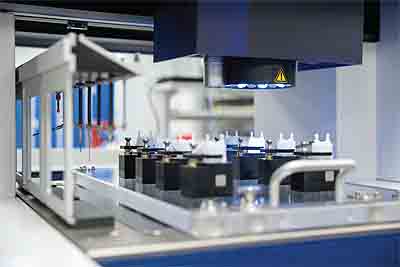 tools and techniques within our product design window thus enabling a more responsive, flexible, and expedient service offering that meets the continually changing demands of the drug delivery market," clarifies Kevin.
In the here and now Consort Medical continues to make strides. Over the last year, the company also met its objectives against its rolling five-year plan and Kevin notes a number of highlights: "We have continued to progress our capacity expansion plans with the introduction of some new high speed automation assembly cells, new presses and tooling, while further positioning our MK facility for new product streams." Prior investment in its asset management system is also now reaping dividends, demonstrated by a 50 per cent reduction in reactive equipment and facilities maintenance activities over the last three years. "This now allows us to focus instead on establishing more proactive and planned maintenance regimes and therefore ensuring a stable and robust platform on which to plan our asset utilisation and therefore operate more efficiently," Kevin adds.
Much of this progress is being achieved through the creation of a working environment that challenges current thinking and promotes a different way of working. Kevin points out, "For all the investment in technologies and equipment few of the benefits will be realised without a workforce that can leverage the opportunities that new assets bring and also contribute to the journey itself. Learning to ask challenging questions that generate solutions and then removing the obstacles that slow down implementation is key. For instance, over the last 12 months we have undertaken a number of capacity growth initiatives. Collaborative working, lean thinking, and good team facilitation has been central to this and our deployment of value stream mapping, tactical inventory management, and revised approaches to planning have been the key to this success."
Kevin is keen to affirm Consort Medicals commitment to their people, "In simple terms, we want to continually deliver world-class services to our customers and we view our people as instrumental to that. To enable this we make sure that we channel our time and efforts into developing the hard and soft skills of our workforce, specifically focusing on their technical skillsets and leadership abilities, while continually promoting and enabling a culture of continuous learning. The development of our people therefore remains a key priority and, as such, our ongoing apprenticeship programme has become another definitive differentiator for the company."
Consort Medical's endeavours in providing its people with extensive training are regularly being acknowledged externally. The company has won multiple awards over the years and, most recently, was a finalist at 2018 National Apprenticeship Awards and took away the 'East of England Large Employer of the Year' award at the event. Kevin discusses: "For us, this is a recognition on a national level, which fills us with great sense of pride. When I think about it, right now, about six or seven per cent of our engineering workforce are apprentices. In fact, already in 2019, one of them has again won the 'Apprentice of the Year' award at the Cambridge Regional College Apprenticeship Awards, which is further proof that we are on the right path in our work with young people."
Kevin goes on to say, "As part of our core values we aim to develop, and attract, the best people from the full spectrum of society. Although we are already a diverse organisation, we continually promote a strong diversity and inclusion agenda within and outside of the business, and this was most recently exemplified in our second Women in Manufacturing & Engineering event held on International Women's Day. This involved guest speakers and workshops promoting the role of women in industry and aimed at ensuring a more representative gender distribution in our own Engineering and Manufacturing functions as we grow as an organisation. Needless to say it was very well attended."
The new year for Consort Medical began with the excellent news that its client – Mylan, had received FDA approval for its Wixela product. "We have been working with Mylan for many years, supporting the production of this dry powder inhaler (DPI) and helping them take it to market. Their success is our success and demonstrates the value of creating and maintaining long lasting relationships that deliver mutually beneficial outcomes" says Kevin.
"Looking forward, further commercialisation of both our own and customers products, as well as the development of new and innovative designs, form a central part of our intentions for the year ahead and, indeed, in the long-term. We specifically intend to maintain the focus on our range of injectables and build on the success we have had with our VapourSoft platform. However we are also assisting our clients with their designs of autoinjectors, and so all in all there are lots of opportunities for us in this particular sphere. Naturally, we will also continue looking at new variants and applications of our MDIs and we have some interesting projects in contract manufacturing, too. In the meantime, the clear vision we have with regards to the enrichment of our operational capabilities, will help us to develop the skills and mindsets required to thrive in our competitive marketplace in the years to come," he concludes.
Consort Medical (Bespak)
Products: Complex medical devices