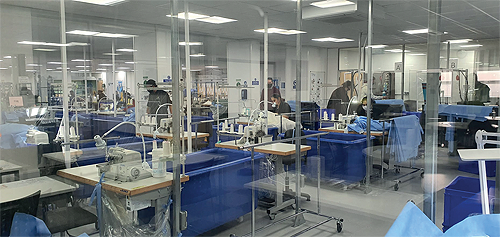 Engineering growth
A leading provider of specialist design and engineering services to OEMs and suppliers in the automotive sector, Contechs is expanding its global presence and diversifying its offering
With a client portfolio that features some of Europe's largest and most prestigious vehicle manufacturers, Contechs has been a reliable design-engineering partner for the automotive sector since 1997. Renowned for its innovation, Contechs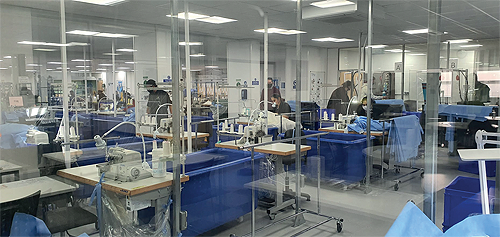 has continually grown and diversified across the last two decades and 2020 was no different, as the company launched a dedicated medical division.
The journey began shortly after the outbreak of Covid-19 when Contechs answered a countywide call to arms from Mayor Andy Street and volunteered itself to manufacture PPE to help combat the virus. Selected from over 200 applicants as one the NHS trust's suppliers, Contechs diversified out of the automotive sector and began producing 10,000 hospital gowns a week. Led by a specialist team, the newly formed Contechs Medical has quickly become an integral part of the business. The unit delivered 10 per cent growth in 2020 and this is expected to increase to 25 per cent in 2021.
"We now design and develop a variety of different gowns, products, and applications, including see-through masks, surgical headgear, and Hijab-style coverings for different user groups," reports Contechs' Managing Director, Peter Jarvis. "Those products are heading into manufacture right now.
"As a whole, the diversification has gone really well and will provide a platform for continued growth," Peter continues. "The innovation comes naturally to us. Dynamism and flexibility are key qualities that Contechs always brings to the party, as well as robust design that keeps quality up and drives costs down.
"We are very much seen as the new kids on the block in the medical sector, but we have got a significant amount of interest from the Department of Health and Social Care and University Hospitals Birmingham, which is the biggest hospital trust in the area. We've also had interest from abroad, so we will look to take advantage of those opportunities this year."
Alongside its expansion into the medical sector, Contechs has also been increasing its global footprint. Following the recent launch of a new office in Detroit, Michigan, the company is now looking to add another location in California before the end of 2021. The new US offices will join existing global Contechs' locations in Germany and India.
"We were expanding nicely in 2019, and then in Q1 of 2020, we actually recorded one of the best periods we've ever had. Of course, Covid-19 hit soon after that, but we have recovered well. We are employing new staff, we are moving forward, and by the end of 2021 I think we will be in a strong position for further growth," Peter remarks. "One of our aims has always been to go around the globe and offer services in our clients' countries of origin, as well as feeding those services back to the UK and European customers. It's all about ensuring we get the right balance of skills, the right balance of charge rates, and the right teams in the right places."
As Peter suggests, people are an important part of the Contechs formula for success. Due to the nature of the company's work, Contechs' employees have some of the industry's most diverse skillsets, built to suit a variety of equipment and tasks across the automotive and medical sectors.
"Our people are not pigeon-holed or forced to do the same task over and over again, and that is really important to us," Peter declares. "We have dedicated training initiatives in place for our employees, right the way up to degree level, but the most critical element is our ability to recognize people's individual skills, requirements, and development needs – we take that very seriously. This attention to detail leads to individual job satisfaction, but also excellent client feedback. We aim to be best-in-class at what we do across the board and that starts with our people."
To support its workforce, and the company's wider growth, Contechs recently expanded its existing Warwick production facility, and is in the process of adding a new standalone office and state of the art just-in-time (JIT) warehouse at the site. Worth up to £2 million, the investment is set to create more jobs and increase the company's volume and turnover in the years ahead.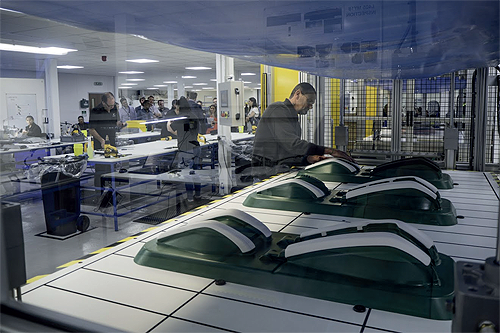 "Since Covid-19, when we experienced a little bit of a dip like everyone else, we've been ramping up manufacturing and recovering our position with regards to lost volume," Peter explains. "We filled that drop-off with technology opportunities, in terms of design, and also with PPE. Our medical sector work looks like it could increase our total turnover by £40 million, and thanks to the Warwick investment and the additional 400 to 500 jobs it will provide, the business could soon be recording over £100 million in turnover."
As a company active in Industry 4.0 electric vehicle programs across the globe, Contechs' main focus in 2021 will be supporting the automotive sector as it transitions from gasoline and diesel to electric power before regulations come into place in 2030.
"Technology is a key enabler for us. It drives new opportunities," Peter says. "We are continuing to work significantly in that area with super car OEMs and major automotive brands. At present, we are involved in a lot of next-generation vehicle platforms and regeneration systems, both for the complete architecture and interior of EV vehicles. It's cutting edge engineering that complies with all recyclability and minimum waste needs."
Over the next three to five years, Peter hopes to see Contechs build on its strengths in the automotive sector, offering its trademark design, engineering and manufacturing solutions to more OEMs worldwide. Contechs Medical is in line for more growth too, complementing the company's core business and providing a vital service to the UK.
A staunch supporter of British manufacturing, Contechs recently became a member of Make UK (along with being a member of its advisor board) an organization that creates a fertile environment for UK manufacturing growth and success. Make UK currently represents 2.7 million people employed in UK manufacturing, and along with member companies like Contechs, the organization is actively working to empower, create opportunities for, and build the resilience of the nation's manufacturing sector.
"We are brilliant innovators in the UK, with huge collective capabilities, so we just need to make sure we capitalize on our opportunities," Peter proclaims. "As a nation, we have a massive skill base and a lot to offer the world. Now it is all about increasing the resilience of the UK and finding solutions to competitively produce and sell high-quality UK products that help businesses like ourselves make a difference on the world stage. I just think that, following Covid-19, we have a great chance to rekindle this island's manufacturing drive. We need to be proud of what we do and more passionate about all things UK."
Having experienced no negative impacts from Brexit, Contechs' aggressive expansion plans will continue through 2021 with more recruitment and investment in the pipeline. No matter where in the world the company operates, or who it partners with, Contechs' specialist service offering helps it stand out across the globe. From advanced computer-aided design and engineering through to the simulation of production lines and manufacturing, the company provides a complete lean solution, built on the key tenets of the Toyota Production System.
"In developing the strategy for manufacturing medical products, we have a JIT facility focused on single piece flow. I don't know anyone else in the medical sector that works that way," Peter states. "We use automated technology to get us from A to B, balancing the lines, driving productivity and keeping the overall equipment efficiency up to allow us to exceed expectations and eliminate waste.
"As you can gather, we have a full cradle to grave solution, and the fact that we are looking to meet CE marking and UK testing parameters in everything we do is a clear indicator that Contechs designs, engineers and manufactures quality assured products. Our customers don't have to worry about whether a Contechs product is going to work or not because it has been tested and validated. In the rare case that there is a quality issue, we complete 8D analysis, find the root cause, and drive it out. Clients know we are a highly innovative and historically reliable partner."
Contechs
Services: Specialist design, engineering and manufacturing for the automotive and medical sectors
www.contechs.co.uk