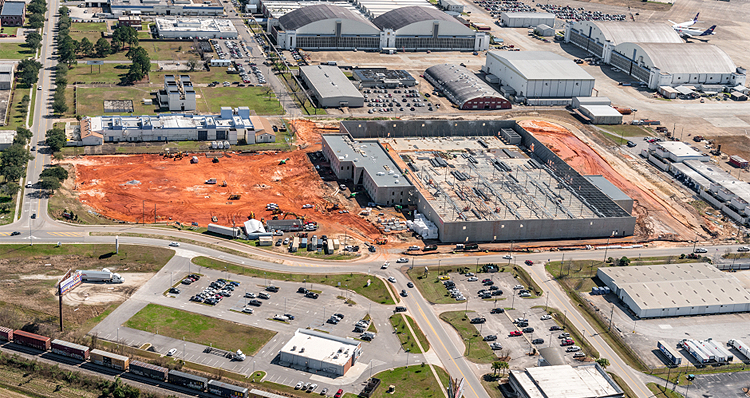 Continental Aerospace Technologies
Continental will enhance its capabilities with its new Blue Marlin facility.
Continental Aerospace Technologies is in the business of providing piston aircraft engines and components, but the company owes its success to its human factor. "This is the strongest team I've been a part of," Executive Vice President of Global Operations Michael Skolnik declares.
"We're firing on all cylinders and pushing towards the future," he continues. "Our engineering team is continually innovating and developing products, our operations team is delivering quality products to the market and helping improve customer satisfaction, and we're building a world class customer service team with 24-7 support across the globe."
The company started operations in 1905 in Muskegon, Mich., and over the years developed many engines before moving to its Mobile, Ala., location in 1966. Since then, Continental has acquired the assets of Thielert Aircraft Engines, now currently Technify Motors GmbH located in Germany, adding certified Jet-A powered engines to its portfolio.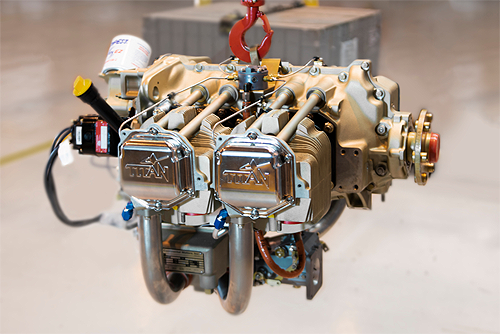 Continental has also acquired Maintenance, Repair, and Overhaul (MRO) facilities to service piston and PT6 turbine engines. This operation also includes an avionics and interiors services. Most recently, Continental purchased the assets of Danbury Aerospace, a leader in PMA parts which Continental continues to invest to better serve its customers.
Today, the company has operations on three continents (representatives on all continents) and a global supply chain. "We've substantially grown over the past several years through a number of acquisitions and new products," Skolnik says, noting that he oversees the operations for its 45-acre location with 11 buildings at the Mobile Aeroplex at Brookley in Mobile, as well as its operations in Germany.
But the company is about to make a move to Blue Marlin, a new greenfield manufacturing plant that will span 283,000 square feet. "We're essentially moving right next door," Skolnik says, noting that the new facility will be adjacent to its previous space. ContinentalAeroInfo
"That is scheduled to be completed in June," he adds. "There are a lot of positive changes happening here at the company not only in our products/facilities but also in our team and culture."
Enhanced Flexibility
Continental has invested $75 million into the Blue Marlin facility, with the goal of improving the quality of its engines, products and customer service. One way that it will do that, Skolnik says, is by providing more flexibility.
"We designed and are building this entire facility off the concept which we call 'Triple A,' which is any product, any mix, any day," he describes, noting that the company had long needed an upgrade of equipment and processes.
"We're investing $45 million in new capital equipment to leapfrog into the future," Skolnik says, adding that Continental's operations needed to be more flexible for the introduction of new innovations, products and future growth. "The new layout of the factory is going to give us the foundation of the Triple A concept."
The roles of its employees also will evolve. "I tell everybody, 'No matter what position you have, your role is going to change so we all have to be ready to adapt to what the needs are,'" he says. "When we move, we will be much more efficient than we are today, allowing us to provide a better service and product to our customers."
The company also has been in the process of adding team leaders across its manufacturing labor force. "We've implemented nearly 20 new team leader positions over the past year and we're not finished yet," he says, adding that this will nurture a culture of empowerment and engagement at the team level.
Continental will start transitioning into the new facility this summer. However, "We need to keep current operations running while we transition and ramp up the new site," he says, noting that this has required the firm to move its operations in a diligent and methodical process.
Product Pride
Continental services clients around the world with products that range from spare parts to engines. "Some of our biggest customers are the most famous aircraft manufacturers such as Cirrus Aircraft, Cessna, Beechcraft, Mooney and Piper Aircraft. As an Original Equipment Manufacturers [OEM], we supply these aircraft manufacturers and we have done so for many years!" Skolnik says, noting that the relationship with these clients spans over multiple decades.
Its partner for distribution is Aviall, a Boeing company. "They help get our customers back in the air by having over 14 stocking locations around the globe and providing 24-hour AOG service," he says. "Aviall brings into the equation their expertise in logistics and their ability to stock parts close to the customers and making sure that the parts they need are available almost immediately. This is a crucial service to all those that rely on their aircraft to generate revenue (flight schools, aerial work companies). Customer satisfaction for parts availability end delivery has considerably risen since Aviall became our partner."
Continental also recently introduced new products at the SUN 'n FUN International Fly-In and Expo in April. These consisted of Continental Prime™, its new engine line that will represent "a huge opportunity" for the company, Skolnik says.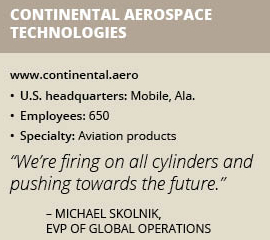 "This is a line of certified piston engines that directly replaces our competition's engines on new and existing airframes," he says, noting that some of Continental's airframe manufacturers have already decided to replace their current engine with a Prime™ engine.
"This will increase our spare parts sales, in parallel to our engine volume, helping grow Continental's position in the market," he says, noting that the line includes many different engine configurations. "It's going to set us up to provide even more engine options and parts to customers that have not had the option to fly a Continental powered aircraft."
The Right Path
Continental is coping with challenges in its industry, including recruiting skilled labor. To cope, "We've had to change our hiring strategy over the past 12 to 18 months," Skolnik reports.
This included switching the company's focus from finding people with specific skill sets and experience to hiring those with the right mindset and behaviors. "We want to build the right culture, so to do that, we've got to make sure we're bringing in the right team members with the right frame of mind," he says.
Continental, he notes, can teach them the skill sets that they need. So far, "That has proved to be very effective," he reports. "We've found some team members with no machining experience who are now excellent production team members."
Skolnik adds that the company is not alone with this challenge. "I've talked to other business leaders and they struggle with the same thing," he says. "But I think we've found that investing in our team members is the best path forward for our customers."
Quality Checkpoints
Providing a quality product is a major focus for Continental. "Traditionally, a lot of manufacturers do end-of-line inspection," Skolnik says. But the company did not find that to be an effective approach.
Instead, Continental has provided training to its team members and put processes in place that allow it to manage quality at the work station level. If a worker encounters a problem, they turn on an Andon light and production immediately stops.
"Whether it be a quality issue or a process problem, it needs to be addressed immediately," Skolnik says. "We're building a culture of stopping if you have a problem. We've also got a very strong quality management system in place as well."
Many of its sub-assemblies and final assemblies also undergo a test process to validate functionality. "It's another quality checkpoint for our product lines," he says.
Continental also implemented lean manufacturing practices in its operations. "We're still very early in our journey," he says, noting that the company created a structure that empowered its employees and added team leaders to drive the process.
"They're ensuring the team members have what they need," Skolnik says. "We're working hard every day to raise the bar across the board."
Continental aims to continue raising that bar after it moves into Blue Marlin. While the improved technology will make processes better from a repeatability standpoint, "There is a lot of manual work that will be performed by the machine tool," he says. "It's only going to take our safety and quality to the next level."
Winning Together
Continental has nurtured strong relationships with its vendors. "As we grow, our supply base grows as well," Skolnik says, noting that the company has recently made a number of changes within its supply chain team in Mobile.
These changes have not only helped facilitate growth but also build strong partnerships with its supply base. "We win together," he says. "We're working really hard with our suppliers to continue to build that partnership across the board."
Although many are based in North America, "We've got a number of suppliers that are global that support this operation," he says, noting that Continental recently formed a partnership. with I.T.F. Group Corp, which is one of the world's leading washing companies.
The two firms have partnered on a special assembly machine for Continental's cylinder assemblies. "They've got a very strong engineering team that has developed similar solutions in other industries and applications," he says, explaining that I.T.F. created a cost-effective solution for Continental while meeting its safety, quality and production standards.
I.T.F.'s design includes multiple unique features to help with error proofing during the assembly operations. "There's going to be a number of error proofing features in the equipment, tooling and work station to ensure quality at the process."
Continental has also partnered with RedViking, which is supplying automated guided vehicles (AGVs) for its Future State Assembly line. Currently, Continental is using mechanical build stands on a set of casters that are manually pushed throughout its assembly process.
But in its Future State line, "We will have automated guided vehicles transporting the engines from station to station," he says, noting that the AGVs will provide many benefits, including much improved safety and ergonomics.
"The current engine build stands are extremely heavy and cumbersome," Skolnik says, adding that the AGVs will automatically rotate and move the engine to the best, most ergonomic height and position for Continental's team members throughout the assembly process. "For example, the team member doesn't have to manually crank the engine over to install the sump or other accessories, the AGVs will do this automatically."
The AGVs also boost quality levels at each station. Because the vehicles will be tied into the company's manufacturing execution software system, they will not allow the engine to continue in process until all operations have been successfully completed.
"It forces in-station quality ," he says, noting that RedViking is well known for the flexibility and quality of its AGVs. "This is part of their core competency."
Continental Pride
Skolnik joined Continental 12 years ago. "This is my fifth role at the company," he says, noting that longevity and professional growth is common in its staff.
"We have a number of team members with more than 50 years of seniority," he says, but notes that it has brought in new perspectives as well. "We've been able to bring in a lot of new talent throughout different parts of the organization."
Skolnik is proud of the company's team and how it has grown over the years. "Watching the level of engagement improve over time is very enlightening," he adds.
"A lot of people ask me what keeps me motivated," he says. "That's what keeps me motivated; seeing the positive change in the culture that comes from the support of our parent company and having a company vision and core values we live and are committed to, every day."
He also enjoys seeing the implementation of the team structure, empowering the team members, and the rising level of engagement in and at the process. "That's really what I'm most proud of," he declares. "That did not exist for many years at Continental, and these are the changes we're embarking on today. Our teams are focusing on collaboration because together we can do so much more."
Skolnik predicts growth ahead for Continental as it makes the move to its new facility. "I see a lot of positives from efficiency in the operation," he says, noting that the company will add new products and bring more volume into its factories.
"I see a very bright future for Continental and everyone who works here," he says, adding that the company plans to continue its year of change with a refreshed logo and look, as well as a new name. "It is an absolute change across the board that reinforces our position as a leader and innovator in general aviation. New logo, new ambitions, new engines."
Sidebar — Flying High
Continental Aerospace Technologies has several accomplishments in the field of aviation products. For example, "Our aircraft piston engine leadership stretches from the A-70 radial engine, which established a new level of smoothness and reliability, to the engines for the Voyager aircraft, which successfully circumnavigated the globe without refueling," it says.
"Whenever breakthroughs were made, we were there," the company continues. "From the Piper Cub to the setting of world altitude records for manned piston aircraft, [Continental] has led the way."
The firm was the first to introduce the horizontally opposed cylinder configuration to help increase aircraft speeds and introduce fuel injection and turbo-charging in general aviation aircraft. "We delivered cutting-edge technology with our Full Authority Electronic Controls and service system to piston-powered general aviation aircraft," it says.
Continental also has a competitive edge with its diversity. "Best of all, we deliver all of this to you with a complete set of product choices at competitive prices," it says. "We are [Continental] and we're proud to continue a rich tradition of excellence."