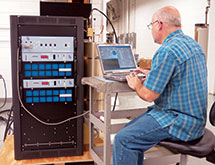 Continental Electronics Corp.
Continental Electronics Corp. (CEC) has seen a lot change in the past 68 years. The Dallas-based company is a leading specialty manufacturer of advanced radio frequency transmission equipment. It serves customers in the commercial broadcast, defense, government and scientific industries and has developed an expertise in high-power advanced scientific and industrial applications. However, that is not where it got its start.
In 1936 CEC's founder Mr. J.O. Weldon, built the first 500kW shortwave transmitter. After founding CEC in 1946 the company continued to produce high-power shortwave systems and expanded into AM and FM broadcast transmitters for commercial broadcasting. The company also began providing defense technology, such as high-power low-frequency transmitters used by the U.S. Navy to communicate with its submarine fleet, as well as S-Band transmitters for the U.S. Army Nuclear Effects Laboratory. It then got into scientific industries, working with clients such as MIT to produce the HF 2.5 MW Transmitter, which, among its many notable achievements, bounced signals off Venus in 1958, man's first contact with another planet. All the while, however, the company maintained its standing as a high-volume manufacturer of commercial broadcast products. The company's sales manager, Mike Troje, says that over time CEC continued to broaden its market focus and never allowed itself to become solely reliant on one particular market segment.
"At times in our history, we have been a high-volume manufacturer but not so today," Troje says. "Today, we're primarily a specialty company producing smaller quantities of higher-power products tailored for a specific project. At this time we are doing more high-power custom designs for scientific and industrial applications. Our approach to market diversity has served us very well."
Furthering Science
A good example of this is CEC's current project with the Jet Propulsion Laboratory (JPL). CEC is designing new amplifiers for all of JPL's NASA Deep Space Network (DSN) sites around the world. This means that when JPL communicates with its Mars Rovers or other deep space assets, it will be done using CEC equipment. Troje says this type of complex, low-volume, long-interval work has worked to the company's benefit as much of the traditional broadcast industry has experienced retraction in recent years.
"We simply never focused on just one particular market.  We kept our market focus diverse for our products and solutions," Troje says. "Right now if you talk to companies providing transmission products to the U.S. television industry, most of them are having a really hard time.
"There was a U.S. government mandated conversion to digital television a couple of years ago and it created a manufacturing bubble that then burst when the mandate finished," Troje continues. "There are companies that have been severely impacted as a result of the lack of opportunities in this market today. We understand the challenge that there will be peaks and valleys in any of our market segments. Our goal has always been to be diverse enough to ride through these peaks and valleys and be in a position to provide our customers in all our markets with a consistent level of exceptional support. We continue and are fully committed to support and supply products to our traditional broadcast customers, as our business remains healthy because of the diversity we created over the years in other markets. We know that it is likely that the markets will shift again and what all our customers can expect from Continental is the same consistent level of support that we have always provided."
As Troje puts it, the company may not have the "ability to say we've done everything, but we do have the ability to say that we can," and that's because of the extensive engineering talent found at CEC. The company's president, Dan Dickey, also served as vice president of engineering at CEC, and many on the management team have strong engineering backgrounds.
Troje says the in-house expertise is reflected in its manufacturing process, as well. "Because much of what we do is custom-designed, we have our own in-house machine shops where we do our metal fabrications and custom manufacturing," Troje says. "It helps us keep our costs down and to focus on the business."
CEC invested in its manufacturing capabilities with the purchase of a new Weideman machine. The computer-driven equipment is a cutout machine that is fed directly from its mechanical design software. Investing in new equipment and keeping up with the latest technology allows CEC to keep pace with its customers' diverse needs and work on innovative solutions for the future. Troje says that nuclear fusion is a technology that's on the horizon.
Looking Forward
"There are several projects going on around the world with a focus on providing energy and trying to find new fuels and new ways to be energy efficient," Troje says. "We have several projects that we're working on right now that have to do with plasma energy; in other words, nuclear fusion. We are building amplifiers for people who are trying to make nuclear fusion a reality – to try to get more energy out of a power source."
In addition to its work in the scientific and energy markets, the company works on a variety of defense projects that it, unsurprisingly, cannot discuss. But Troje says CEC's longstanding relationships with the defense world and other sectors are sure to continue into the future.
"This is a company that is still viable and strong after many decades," he says. "There are some in this industry that started after us that have been either spun off, closed or are close to closing. While others have been struggling, we've been able to grow, and that's one of the reasons I'm glad to be working here. We keep looking forward, focusing on the future."