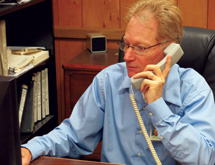 Continental Electronics Corp.
Very few electronics-related manufacturing companies can claim to still be making the same product for more than 70 years. While the technology inside of the radio frequency (RF) broadcast equipment manufactured by Continental Electronics Corp. has certainly changed to meet the needs of the 21st century, the basic function and need for the equipment has not.
"It's a market that's been pretty resilient," President and CEO Dan Dickey says. "There's still a demand for high-powered radio equipment in a number of market segments. It's amazing that demand is still pretty strong after 70 years."
The Dallas-based company manufactures high-definition and analog FM broadcast transmitters, as well as shortwave, low frequency and very low frequency transmitters. Continental Electronics' equipment is used in commercial broadcasting as well as the industrial, government and military sectors.
Continental Electronics has a long history of innovation dating back to 1936, when founder James O. Weldon built the first 500-kilowatt transmitter. The company built the first 1-megawatt transmitter in the early 1950s for the Voice of America, and developed the first 2-megawatt transmitter in the early 1970s for Radio Belgrade.
Beyond commercial broadcasting, the company's equipment is used for applications including military voice and data communications, navigation and time/frequency standards broadcasts. Continental Electronics in recent years also purchased a company that manufactures the transmitters used by the National Weather Service's Weather Radio notification system.
Scientific applications for the company's RF transmitters include uses on radio telescopes such as the one at the Arecibo Observatory in Puerto Rico. The telescope – the world's largest single-dish radio telescope – was used to map the moon in preparation for lunar landings.
Continental Electronics in 2010 was awarded a subcontract from NASA to design, manufacture, test and integrate a prototype transmitter subsystem for NASA's Deep Space Network (DSN). The new microwave transmitter will be four times as powerful as those currently in use, and will be used with the DSN's 34-meter antennas in Spain, Australia and California to phase out older, larger antennas. The new transmitter will reduce the space agency's operating costs by enabling smaller dish antennas to communicate over the distances that previously would have required the much larger antennas.
The NASA project exemplifies Continental Electronics' ability to meet complex customer specifications. "What we do best is to take our customers' problem and develop a product that will solve that problem," Dickey says.
Manufacturing Capabilities
The company manufactures its systems in a 140,000-square-foot facility in Dallas, which it recently expanded in 2012. The facility includes fabrication capabilities as well as a machine shop and welding and painting areas, Director of Manufacturing Richard Key says.
Many of the company's systems are designed and modified specifically to each customer's specification. For example, FM radio transmitters are programmed to the specific frequency needed by broadcasters. The company also has an electrical substation on site, giving it the ability to test its equipment for customers.
The company maintains an inventory of standard products and replacement parts, giving it the ability to meet customer needs rapidly. For custom projects, Continental Electronics takes a just-in-time approach to inventory management, and works with suppliers to forecast the need for items that require long lead times, such as vacuum tubes.
Continental Electronics uses a number of lean manufacturing methods to enhance productivity and quality. The company records a number of quality metrics including quantity of parts built versus the number rejected, and records and documents any errors. The company is ISO 9001 certified.
Manufacturing employees are also cross-trained in different manufacturing areas. Safety in particular is a major focus point for training, as it produces and tests systems that require thousands of volts of electricity to operate. "Safety is the number one thing we train people on," Dickey says.
Long-term Success
Dickey credits much of Continental Electronics' recent focus on efficiency to Lone Star Investment Advisors, a Dallas-based private equity firm that purchased the company in October 2008.
Lone Star guided the company through the recession through an emphasis on lean manufacturing and Six Sigma methodologies. The company employs John McGuire, a lean and six sigma veteran of 25 years, to work with its portfolio companies to maximize efficiency and enable growth. Continental Electronics, under Dickey's leadership, has been very open and receptive to implementing lean in recent years. The use of these methods has led to an increase in orders every year since 2009.
"This company would not be in as strong position today if not for Lone Star," Dickey says. "They have a long-term view of the business world and a good system for looking at where the company has been in the past and where it could be in the future."