Keeping an open ear and an open mind for customer needs is a talent found in few companies. However, Control Devices LLC of St. Louis is an expert at using these abilities when designing, manufacturing and testing each of its products.
Established in 1963, the company manufactures engineered flow control devices for air, gas and liquid systems. The markets they serve include fire suppression, air compressors, pressure washers, vehicle systems, float valves and specialty gas and pneumatic valves. According to CEO?Tom Stadtmueller, the company's success stems from "our capability to meet the needs of our customers."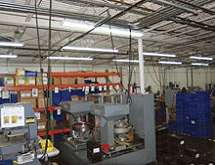 Stadtmueller says Control Devices' knowledgeable staff designs and builds specialized flow control valves that contributes to much of the company's success. "It starts up front with our sales organization that can understand and interpret the needs of our customers to deliver a high-quality finished product at a very competitive price," he says.
Some of the company's clients include Black & Decker, Ingersoll Rand and Briggs & Stratton. The company's products are distributed to companies throughout the United States as well as internationally to China, India, parts of Europe and Australia.
Keeping Customers in Mind
Many proprietary products are developed in conjunction with customer-owned designs. "We have a very seasoned engineering group that knows technically how to design flow control solutions," Stadtmueller says. "These engineers tailor-make all products to our customers' requirements." He adds that parts must fully conform to the specifications or drawings to achieve Six Sigma quality. Design capabilities are assisted by SolidWorks, 3-D CAD and AutoCAD software.
This high level of care and quality also factors into Control Devices' manufacturing operations. The manufacturing engineering staff has extensive experience with machine automation and programming. The engineering department includes a complete model shop with lathe and CNC equipment for sample production. Stadtmueller adds that machining operations are completed in-house as well as with the help of outside suppliers.
Because all operations – design, manufacturing and testing – are conducted within its facilities, Control Devices' employees are cross-trained to perform multiple assembly pro­cesses. "We can move a staff member from a manufacturing operation to a testing operation whenever needed," Stadtmueller says.
Control Devices' staff is fully equipped to monitor quality control, it says. A test lab engineer dedicated to product testing works within an extensive laboratory setup that includes a large capacity flow bench, an environmental chamber and custom-testing capabilities.
The testing equipment is also designed, built and maintained by the company to test the valve under the most rigorous conditions to which the product will be exposed during its actual use. Additionally, the company is ISO 9001:2008-certified, has Underwriters Laboratories and European conformity (CE) certifications for some products as well as American Society of Mechanical Engineers certification for its safety valves. Several of the manufacturer's float valves have also been awarded NSF certification.
Control Devices has recently converted some manual labor operations into automated final assembly and test methods that further reduce costs for the client. "The key to increasing productivity is through additional automation," Stadtmueller says. There are plans to automate additional manufacturing processes in the future.
A prime example of Control Device's ingenuity is the company's redesign solution for a client's minimum pressure check valve. These design modifications lowered manufacturing costs of this valve by 65 percent. One way costs were lowered was from reduced material use. Converting the unit from a machined bar stock component to a die cast body minimized the volume of raw material required.
Another cost-saving measure was the use of alternate materials. Transitioning from the use of nickel-plated steel to aluminum eliminated an expensive plating process and reduced the part weight with a lower-cost raw material. Additionally, integrating I/O fittings into the cast body reduced part count, lowered component cost and labor associated with fittings, and eliminated potential leak paths.
In September 2008 Control Devices acquired St. Louis-based Hunter Fritz, which brought expanded global sourcing via its Shanghai, China, sourcing operation. On Jan. 5, 2010, the company purchased the assets of Robert Manufacturing Co., a float-valve manufacturer based in Rancho Cucamonga, Calif. This operation will eventually relocate to Control Device's St. Louis production facilities.
Control Devices' future holds much potential for growth, according to Stadtmueller. "We will continue to stay very close to our customers and gain new customers by being cognizant of costs, control materials, labor and overhead costs to stay competitive," he says.