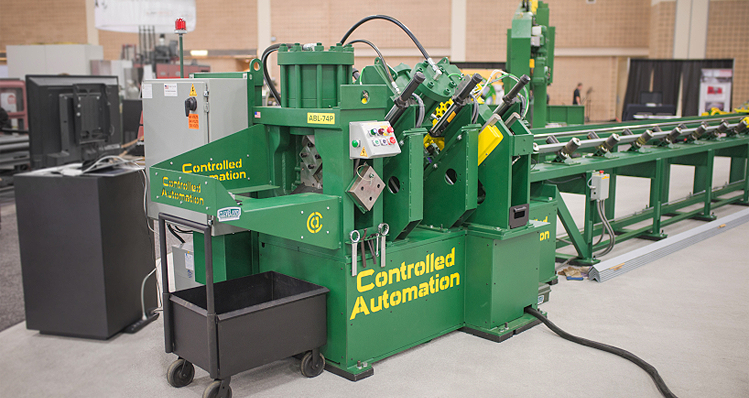 Controlled Automation creates solutions to meet its clients' specific needs.
When clients come to Controlled Automation with a problem, they can count on the company to provide a custom solution to meet their specific needs. "We're diversified enough where we can tackle a lot of things [that] other manufacturers cannot," Vice President of Sales and Marketing Kris Sikes declares.
Many of its competitors will offer clients an "off-the-shelf" solution, but Controlled Automation is willing to re-engineer and automate other firms' machines to meet their specific needs. "We have less constraints on software and less constraints on engineering," he says.
Sikes notes that its three founders incorporated the company in 1986. The trio brought their engineering, software and sales experience to Controlled Automation, which initially specialized in implementing its controls in software for various pieces of fabricating equipment.
This included punch, drill and angle processing lines. "What we did automated a lot of these manual machines," Sikes describes. "Over time, we started putting controls a lot of people's equipment."
That experience, he notes, enabled Controlled Automation to learn what manufacturers were doing right and doing wrong on the products. With that expertise, "We decided to make our own equipment," he says.
On Its Own
When Controlled Automation set out to make its own products, it focused on serving its core group of customers, which were structural steel fabricators. "We branched from there, doing plasma cutting machines," Sikes says.
Today, Controlled Automation also offers drill lines, plate machines, angle and punch lines, and saws. "We've got thousands of installations in the United States for our equipment," he says.
But the company also has not stopped retrofitting other companies' equipment. "We will automate a little bit further than the other manufacturers will," he says. "We're one of the only U.S. manufacturers that do all of these things."
It also is one of a few in the industry that makes all of its products in the United States. "The idea is to take the raw metal and make it into a machine all here in house where we have total control over the production," he says.
Many of its competitors, he notes, will have other sources create their software. "We also do it all in house," Sikes says. "It's all operated on a Windows PC control."
Standing Out
Controlled Automation stands as a leader in its market when it comes to technology. "All of the largest structural steel fabricators in the world use our products," Sikes says, noting that these include Herrick, Hirschfeld Industries and W&W Steel.
This also sets it apart from other manufacturers that make more products than Controlled Automation. "We don't have the most machines out in the market, [but] we have customers that do 50,000 tons plus per year," he says.
Sikes adds that the company shares some of the same challenges of its clients, which include finding skilled labor. To cope, "We're trying to automate ourselves as we're automating our customers," he says. "Structural fabricators are extremely busy right now, whether it's people who make trailers or ambulances."
Controlled Automation also copes by constantly hiring new software technicians, machinists and welders. "We're trying to expand as much as possible," Sikes says.
Doing the Heavy Lifting
Controlled Automation has been busy when it comes to developing new products. For example, the company recently launched a new system that will help its clients with their labor shortages. "We're making it easier for the employees that they hire," Sikes says. "Our equipment does a lot of the heavy thinking for them."
Usually, he explains, when fitters and wielders work to attach components to a structural steel beam, they have to refer to drawings that tell them where the components go. "What we've developed is a laser marking system that processes that information directly onto the pieces," he says.
"Fitters and welders that have our equipment can just go to the part," Sikes says, explaining that the markings tell them exactly where those parts go. "They just go over and weld the piece to the part. We're putting in all the equipment to make it easier for the not-so-skilled labor to be hired."
Laser marking also makes workers more efficient. "You're taking hours and hours of time from your fit-up in the shops," he says. "You also take out the human error in a lot of these operations."
Product Perks
Controlled Automation also has its VersaClean Shot Blast System, which is one of the most efficient and reliable shot blast machines in the world. The company has a co-branding agreement on the machine with SciTeeX, one of Europe's largest manufacturers of surface preparation and finishing equipment.
One of the benefits of the machine is that it can process material profile lengths up to 48 inches wide and 18 inches high, and plates up to 60 inches wide. But another advantage, Sikes says,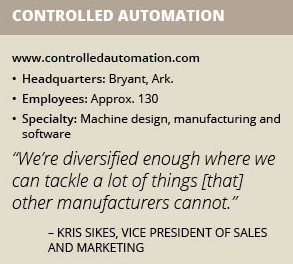 is that owners of the machine do not have to have a pit in their shops.
Most fabricators, he explains, usually have to dig a pit for cleaning their products. "The VersaClean doesn't have to have a pit on the floor," Sikes says. "It sweeps the shot in a different process."
Although Controlled Automation will introduce the product at a structural steel show soon, the first one is set to be installed this April.
Controlled Automation also focuses on updating its machines. "Just about every product we have has had some new technology added to it," Sikes says, noting that the company has done this with the help of Hypertherm Inc.
"With their XPR System, we've been able to develop some new capabilities ourselves, such as laser scanning of parts and pieces," he says. "It allows us to get more accuracy and allows for a faster part production."
Areas of Focus
Controlled Automation places a strong focus on quality, which is why it rigorously tests its equipment. "Everything is started up and run here before it leaves through the doors," Sikes says, noting that this is especially appreciated by its customers who work in harsh environments.
When some clients first open their shops, "Some of them have dirt floors," he says, noting that the machines have to be built to endure the harsh environments, as well as last a long time. "We've got machines out there that are still running after 30 years in a harsh environment."
Another area of focus for Controlled Automation, he notes, is managing its inventory. Currently, "We're implementing a new ERP system that should be online halfway through this year," Sikes says, noting that it will represent a step forward for the company.
"All of our inventory is kept in-house," he continues, noting that the company often serves machines that are at least three decades old.
Controlled Automation also concentrates on maintaining strong relationships with its vendors that provide it with these parts. These include Hypertherm, "which supplies us with all our plasma-cutting components," Sikes says.
"What also differentiates us is we try to use off-the-shelf components," he continues, noting that if its clients can easily track down parts needed for their machines. "[Even if they're not from us], they're parts you can usually find in a Grainger catalog.
"That's something customers appreciate," he asserts. "It's something off that shelf, and that includes even the computer controls." For example, if a computer breaks, one can be purchased locally.
Ready to Help
Sikes is proud of Controlled Automation and how it has met its goal of keeping its products American-made. "The biggest push right now is 'buy American,'" he says. "We like that, but we are also trying to grow outside the United States."
The goal, he explains, is for Controlled Automation to gain more market share overseas. "We would also like to build and grow here in the United States," he says, noting that the company has achieved strong awareness in its market.
"Ninety-five percent of the structural steel fabricators know our equipment," he says. "But we're trying to branch into other industries that do metal or plate cutting, whether those are guys who make smoked grills or race cars. That's what we're after right now."
Sikes sees a strong future ahead for Controlled Automation, which plans to add more products. "There's a lot being developed from our side of things, especially in robotics and technology," he says.
"There are really going to be some big game changers in the next decade for how things are done in automation," he predicts. "With the struggle of finding skilled labor, we are poised to be in a perfect, opportune position to help with those problems."
Sidebar — A Revolutionary Machine
One source of pride for Controlled Automation is its Revolution Coper Thermal Processing System, the only system capable of processing copes, cut-to-length AISC-approved bolt-hole connections. It also can mark, scribe and fully cut shapes up to 48 inches wide and capacities up to 1,000 pounds per foot.
"The Controlled Automation Revolution machine comes standard with laser scanning to provide more than 60 percent faster processing than probing machines," the company says. "For even greater productivity, the Revolution also has an automatic tool-changer to switch from high-definition plasma to an oxy-fuel torch station to process thicker material beyond plasma capabilities.
"This is the one machine manufactured for steel and metal fabricators to process all of your structural shapes," Controlled Automation says, noting it is very unique in its utilization of a cartesian-style design instead of a generic robot.
"There are several benefits to thermally cutting structural shapes with our system," the company says, noting that the Revolution can process structural shapes faster and in fewer movements.
Sometimes, it notes, the machine can process in as little as two compared to other generic robots that have to move seven axes of motion for the same amount of processing. "This simplified robotic motion reduces cable wear and increases the longevity of the overall machine," Controlled Automation says.
"The incorporation of laser scanning also improves overall processing time in comparison with other designs requiring continuous probing of material when processing," it continues. "While the speeds are much greater than other machines, the capabilities are also greater with the incorporation of an automatic tool-changer to provide additional options such as oxy-fuel cutting for heavy members and difficult shapes such 'rat holes.'"