A global leader
Celebrating its 50th anniversary in January 2016, niche specialist designer, producer and worldwide distributor of pre-coated metals Cooper Coated Coil has developed a strong reputation for its high quality niche coating capabilities in the housewares and other niche manufacturing markets
Known as Custom Coil Coaters until the founder of the business sold the company, Cooper Coated Coil (CCC) has built a reputation across the globe as market leaders within the non-stick coatings industry since its inception almost 50 years ago. Now known by its acronym CCC, its customers produce over 45 million pieces of bakeware from metal coils coated at its site in Wolverhampton each year. Based at its site since 2009 after major investment in a new process line, the company has been operating as a one-stop-shop for the past six years, with all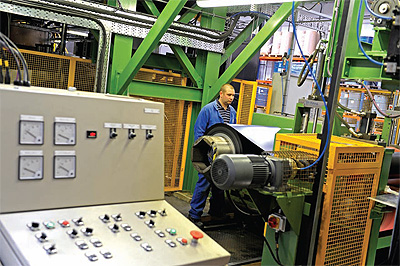 manufacturing capabilities and support functions operating under one roof; these include sales, logistics, research and development and processing.
Since becoming a member of Arc Specialist Engineering in 2013, Managing Director of Cooper Coated Coil Kevin Tranter says the company benefits from having a focused parent company that offers freedom, responsibility and accountability: "Before Arc, we had two owners over the last 50 years that were public company groups; it is different with Arc as each autonomous business unit has freedom to make their own decisions and manage a team to deliver top line sales, profit and cash flow. It is like football, over a season you have to win enough games to win the premiership; it's a game of results and we are no different." This manner of working is clearly proving fruitful for CCC, with the company reaching annual sales of £24 million currently. Although an impressive number for a 70 employee strong niche organisation, Kevin's strategic vision for the company is to reach £30 million and beyond over the next three to five years.
A world-renowned specialist in the application of non-stick coatings, CCC's products are divided into houseware and industrial segments. "We are dominant in housewares and have been for many years; we are the specialists in the industry and were the first to put non-stick coatings onto steel coils to produce bakeware in the 1980s. Today we are still the largest single producer of metal-coated coils, with houseware taking up 75 per cent of our business supplying the western world's bakeware manufacturers. Meanwhile, our industrial business is centred around putting down a coating that goes on a metal printing plate for newspapers, one of which is based in the UK and three in Europe."
Within the houseware segment, customers include major retailers such as Dunelm and William Sonoma as well as blue-chip grocers such as ASDA, Tesco, J. Sainsbury's and Morrison's. Products are also delivered to locations such as the US, Europe and into the Far East; items are also exported into China where its material is used in the manufacture of domestic steam irons.
Although the company faces competition from Chinese spray coating companies, Kevin is confident that CCC's long-term experience, modern facilities and flexibility will ensure it maintains a competitive edge. "Our Chinese competitors tend to buy steel, press the bakeware piece and then spray it; however, if you spray an irregularly shaped object you won't Coilget all of the spray on the item, which means the paint is then released into the atmosphere. In comparison to this, we produce a pre-painted metal strip that is then sold to our customers, which means they buy the steel already painted and press it into shape. Our customers don't have to worry about painting or environmental constraints or regulations," explains Kevin.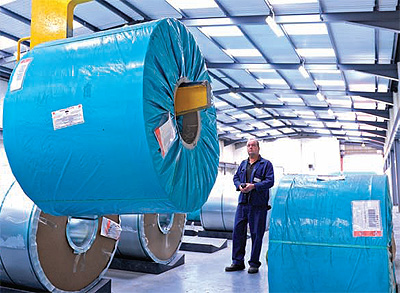 "Our process involves placing a wet coating onto a metal coil and transporting it into an oven to dry-off the solvent and cure the coating onto the metal. The solvent laden air that has been left over is then cleaned by an oxidiser so what is released from our plant through our chimney is clean air," he adds. "The oxidiser that is currently in use was brought in 2011 and is still the most energy efficient in the market as it takes the solvent laden air and destroys the VOCs. It has been so successful that our local authority, which would normally demand an annual emissions survey, has allowed us to have a test every three years instead of annually."
Key to delivering high quality products in an environmentally friendly and modern environment is the company's well-equipped facility. This includes a one-metre wide coil coating line that is capable of handling coil weights up to 12 tonnes, two rotary coil slitting lines and three cut to length lines. For the operation of the two rotary coil slitting lines, the company puts a wide coil on and slits it down to a number of strands as it usually coats the order in a bulk wide coil. This way of working means CCC can produce large amounts of coil and then break the master coil down so the customers receive their coil in the required size in the quickest time possible. Thanks to improvements in efficiency over the years, CCC aims to deliver the products to the customer in 21 to 28 days from the date of order.
Keen to continue CCC's success story, Kevin will be focusing on sourcing loyal and competent staff to work at the factory while also developing the skills of current staff over the coming years. "We want to make our package as attractive as possible so we can gain what is fast becoming a scarce source, people. In addition to this, we want to grow, particularly in different sectors, so really it is a matter of more growth, more people and more employment," Kevin concludes.
Cooper Coated Coil
Products: Functional coatings for the baking products market