On coil
A member of Arc Specialist Engineering since 2013, niche specialist designer, producer and worldwide distributor of pre-coated metals Cooper Coated Coil is renowned for its high quality niche coating capabilities in the housewares and other niche manufacturing markets
Known as Custom Coil Coaters until the founder of the business sold the company, Cooper Coated Coil (CCC) has built a reputation across the globe as market leaders within the non-stick coatings industry since its inception almost 50 years ago. Now known by its acronym CCC, its customers produce over 45 million pieces of bakeware from metal coils coated at its site in Wolverhampton each year. Based at its site since 2009 after major investment in a new process line, the company has been operating as a one-stop-shop for the past six years, with all manufacturing capabilities and support functions operating under one roof.


"CCC has been around since 1966 and is a specialist coil coater, which means we apply paint to steel and aluminium coils in a continuous process. The coil coating industry is global and normally operated by the major steel and aluminium manufacturers in the world, however we are niche specialists in the design, production and distribution of pre-painted metal Coilfor the domestic bakeware, domestic appliances, houseware, and certain other niche industrial manufacturing sectors. What we essentially do is buy steel or aluminium coils and paint them; our real forte is non-stick coating, so we put coatings like Teflon and other liquid organic coatings onto a moving metal surface," begins Kevin Tranter, Managing Director of Cooper Coated Coil.
With a globally established reputation as a specialist in the application of non-stick coatings for these niche markets, the company's customers include major retailers such as John Lewis and William Sonoma as well as blue-chip grocers such as ASDA, Tesco, J. Sainsbury's and Morrison's. "William Sonoma is the most prestigious kitchenware store in the world and is based in the US, however our products are also delivered across Europe and into the Far East. We export into China; it is here that our material is used in the manufacture of domestic steam irons for the likes of Morphy Richards in the UK or Hamilton Beach for the US market," highlights Kevin.
Despite facing competition from Chinese spray coating companies, CCC is confident in its ability to deliver efficient, cost-effective and environmentally friendly coating solutions to customers. Key to providing these benefits is the company's modern and well-equipped facility, which features a one-metre wide coil coating line that is capable of handling coil weights of up to 12 tonnes; two rotary coil slitting lines and three cut to length lines, as Kevin explains: "For the operation of the two rotary coil slitting lines, we put a wide coil on and slit it down to a number of strands because we usually coat the order in a bulk wide coil. This means we can produce large amounts of coil and then break that master coil down so our customers receive their coil in the size they require in the quickest time possible.
"To further enhance our flexibility and capability to deliver in short lead times, we have two slitting and three cut to length lines; this means we can supply coil or sheets to our customers depending on their level of automation on presses. Because of our efficiency, we aim to deliver the product to the customer in 14 to 21 days from the date of order."
The equipment used by the company at its site is relatively young, with its main coating line acquired approximately seven years ago as part of a £5 million investment in the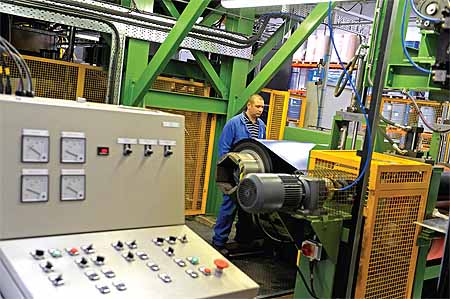 site. On top of this, the company invested in a state-of-the-art environmental control system three years ago as a way to treat the leftover solvent from the solvent based coatings. "Another way we deliver environmentally friendly solutions is through painting the steel as opposed to spraying it on a spray coating line, as some of our competitors do. With our process we get around 95 per cent of the product onto the steel, while our Chinese competitors lose approximately 40 per cent to the local atmosphere through spraying," states Kevin.
Benefiting from being part of the autonomous and non-corporate Arc Specialist Engineering group, CCC is able to operate in an independent manner, making it easier for the company to respond to market trends and customer requests. This manner of working is clearly proving fruitful for CCC, with the company reaching annual sales of £24 million currently. Although an impressive number for a 70 strong niche organisation, Kevin's strategic vision for the company is to reach £30 million and beyond over the next three to five years.
Key to this vision is an increase on consumer facing work at locations such as the BBC Good Food Show at the NEC in Birmingham, which the company exhibited at in November 2015. "Our consumer facing company brand is called Glidex, which enables us to talk to and educate consumers on the quality difference between our products and those made in the Far East. A lot of well known brands import products in the bakeware arena from China and evidence from r laboratory show these products have a lower quality standard, while ours also have a longer lifetime. We want to reach out to consumers and show them the benefits of our products," concludes Kevin.
Cooper Coated Coil
Products/Services: Functional coatings for the baking products market