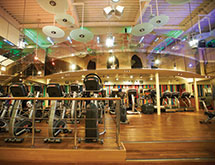 The StairMaster and Star Trac fitness equipment brands have helped people improve their fitness and lives for more than 20 years. However, at the height of the "Great Recession" in 2009 to 2011, it was the brands themselves that desperately needed to get into shape.
Michael Bruno, a veteran of the bicycle and fitness equipment manufacturing industry, saw an opportunity to improve the StairMaster brand in 2009, when he acquired it from Nautilus Inc. Bruno at the time established Core Health and Fitness Inc. as the new corporate owner and operator of StairMaster. The company also acquired the rights to manufacture and sell Schwinn indoor cycling bikes to the commercial fitness market from Nautilus, which at the time was beginning to focus its marketing efforts entirely on home fitness equipment.
The following year, Core Health and Fitness acquired the Star Trac brand. "We had already taken a struggling brand, StairMaster, and turned it around very quickly," says Dustin Grosz, COO of the Vancouver, Wash.-based company. "We repeated that success with the Star Trac brand, which was in need of a financial turnaround."
Today, the company manufactures, markets and owns the StairMaster and Star Trac brands and holds the commercial market licenses the Schwinn, Spinning and Nautilus brands. The company acquired the Nautilus license in July 2014 along with the former Nautilus manufacturing facility in Independence, Va.
The Star Trac and StairMaster brands were initially run as separate entities following their acquisition. "We had great brands, but didn't have any systems to unite them at the very beginning," adds Grosz, a former executive for Bowflex Inc. – Nautilus' corporate parent – who joined the company in 2009 and consolidated the businesses in 2011.
Operational Flexibility
The commercial fitness market makes up the bulk of Core Health and Fitness' business. The company's customers include large chains such as Equinox, L.A. Fitness, Anytime Fitness and 24 Hour Fitness, as well as YMCAs, hotels, universities, high schools and park districts. Core Health and Fitness operates distribution centers in Virginia and California serving the United States, and in the Netherlands, China and Brazil serving 65 international markets. The company also maintains a sales and service presence in the United Kingdom, Germany and Spain.
All of Core Health and Fitness' customers can expect a high level of service. The company's ability to provide this service allowed its once-troubled brands to turn around their business, Grosz says.
"Our brands are immediately recognizable, but service in our view needs to be our biggest differentiator," he adds. "Our focus is on building an infrastructure with systems and processes that allow us to best support our customers, who are demanding when it comes to warranty expectations and turnaround times."
The company uses Salesforce's customer relationship management (CRM) software platform and is launching EcoFit network wireless devices to communicate with and gain visibility into equipment on customer sites. The EcoFit networked device will notify the club operator and Core Health and Fitness when equipment needs maintenance, and also tracks usage. "In the past, the industry was very reactionary," Grosz says. "We now have the ability to utilize a much more proactive system that allows us to see what's going on in the club so we can work best with customers to keep equipment running 99 percent of the time."
The equipment manufactured and marketed by Core Health and Fitness also operates on an open platform that allows customers to configure them as they see fit, as opposed to a closed or proprietary platform. Machines can be configured for use – via Bluetooth device – with multiple mobile fitness apps including Mapmyfitness and Fitbit. "We have very few customers to whom we provide 100 percent of the equipment they run in their club," he adds. "We created our products to work in an open platform scenario, which allows operators to use them in any way they need."
The company's machines can also accommodate multiple smartphone or tablet devices for viewing during workouts. "A lot of companies are focused on entertainment into their products, but the way ours is set up allows operators to use the products they're most familiar with, which will show up on our screen," Grosz says.
Core Health and Fitness' focus on service and user flexibility has earned it a number of accolades from its customers. The company in 2014 won "Vendor of the Year" awards from Gold's Gym and GoodLife Fitness, Canada's largest fitness club operator.
A Varied Approach
Core Health and Fitness' manufacturing operations include fabrication, welding, powder coating and assembly. The company partners with other manufacturers for components and injection molding operations.
Products are manufactured based on demand and sales forecasts, which are tracked through the use of material requirements planning (MRP) software. All machines are checked for quality along each step of the manufacturing and assembly process.
The company is influenced by several different operational philosophies. "We have multiple principles we view as necessary to improve our business," Grosz says, citing lean and Six Sigma as examples. "We don't feel that just one philosophy completely fits what we do, so we try to take variations of those and apply them to our operations to achieve desired results."
Core Health and Fitness regularly refreshes its product lines and adds complementary products annually. The company also continues to seek new growth opportunities.
"We're always looking at different acquisition possibilities," Grosz says. "We're looking to acquire companies and brands that can improve our supply chain and our product line, or bring us into a different market category such as medical and rehab."