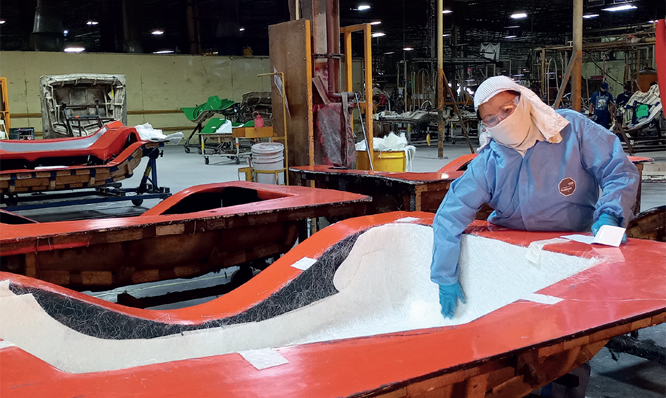 Core Molding Technologies
Breaking the mold
After persevering thru a manufacturing turnaround and a challenging year in 2020 associated with COVID concerns, Core Molding Technologies is proving itself as a sustainable and innovative provider of engineered plastic solutions capable of evolving with the times
Innovation, technology, efficiency, collaboration and quality – these principles have played a key role in the rise and continued success of Core Molding Technologies, a leading manufacturer of engineered plastic solutions produced from sheet molding compound, fiber reinforced plastics and specialized thermosets and thermoplastics.
Originally, a division of commercial truck manufacturer Navistar, Core has grown over the years through business development and acquisitions, and now benefits from 40 years of manufacturing expertise and industry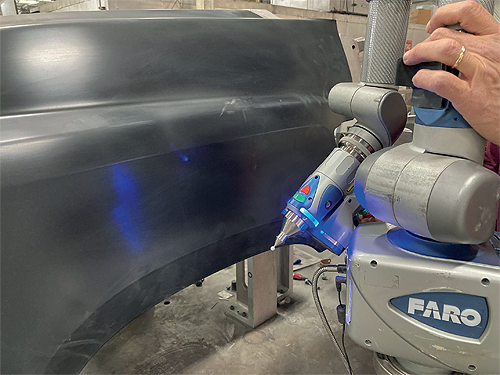 knowledge. With a specialized understanding of cosmetic surfaces, as well as structural components, the company's depth of msolutions – from open mold to close mold, bonding, assembly and finishing, and low to high volume – allows it to be the only source its customers need.
"At Core, we understand design for manufacturability and how to improve our customers' products," explains Executive Vice President of Sales and Marketing J. Chris Highfield. "Our development process involves collaborating with our customers' engineering groups, discussing their interests and working out what they want from the product. We then match the performance criteria against the best solution Core can offer among several ntechnologies. We often talk about ways we can improve the design of a solution by combining or removing parts in order to provide the best total cost solution without sacrificing performance.
"A truly collaborative effort, we are lucky to have partners that we go to market with that help improve our supply chain and increase the value of our products. We also have a dedicated project management office (PMO) that launches programs and oversees timelines and fulfilment. This seamlessly co-operative approach to business is a real differentiator for us."
In 2021, Core serves a variety of industries, including the industrial, construction, transportation, utilities, power sports and automotive sectors. An important niche for the business lies in large format engineered plastics, such as fiberglass components, low-pressure injection molding, structural foam, structural web, thermoplastic and thermoset technologies. As a specialist in the molding, bonding, assembly and finishing of these sizable components, Core's products find their way into major body panels for cars, trucks, commercial vehicles, watercraft, ATVs, UTVs, building products and utility parts.
Understandably, such a sophisticated design and manufacturing operation requires a significant network of supporting infrastructure. At present, Core boasts seven facilities across North America – four in the US, two in Mexico, and one in Canada.
"Our geographical footprint is generally the result of either companies we have purchased that complement our business and happen to be in a certain customer geographic area or a facility that was purpose-built in order to service a particular customer or region," Chris states. "One of the logistical challenges that goes along with manufacturing large format parts like hoods or fenders is cube out vs weight out, so shipping density and logistics become incredibly important. Consequently, when we build or purchase a new facility, we look at our customers' consumption point to make sure we can maximize value including minimizing freight and logistics costs."
Employing over 1200 employees across more than 1.5 million square feet of manufacturing space, Core's facilities utilize some of the latest technologies, including Single Minute Exchange of Dies (SMED), Fiix Maintenance tracking, Lean 6S, Kaizen and value engineering processes aimed at optimizing efficiency and quality, while minimizing downtime. Alongside robust quality systems for cosmetic parts, the company also has a R&D function responsible for the development of many proprietary materials. According to Chris, an active investment plan ensures that these sites and processes remain cutting-edge year after year.
"We tend to make larger investments when they may directly benefit a customer, but maintenance, capacity increases, cost reduction and technology upgrades are regular practice," Chris reports. "At the moment, labor can be very difficult to obtain, and with our parts being so big, we are having to look at material handling and improve how efficiently we move parts, while keeping our workers safe. Whether the answer is robots or material handling improvements, it is something we continually invest.
"Similarly, we develop our own raw materials for SMC products and compound the actual charge for fiberglass parts, so we always make sure we have the most efficient material formulations and products in order to meet the market's stringent requirements," Chris adds. "Currently, we are installing a new 5500-ton D-LFT press at our Matamoros, Mexico facility, as well as numerous robotic and material handling systems across the organization. From the material technology side, we are making several material advancements from in-molding metals and films, as well as combining carbon fiber with traditional glass material to improve strength, reduce weight and enhance overall performance."
As important to Core as its technology and equipment is the company's people. A staunch believer in the idea that the strength of a business depends upon a diverse, skilled, and high-performing workforce, Core places great emphasis on communicating its strategy with employees and sets measurable objectives that can be easily understood within the context of the firm's wider success. In addition to an organizational development
function that, among other initiatives, offers sponsorships for an annual leadership training program, the Core Leadership Team passes out holiday lunches to its workforce each Christmas as well as numerous employee engagement and participation activities.
"Our CEO, David Duvall, has been in the position two years now and throughout that time, he has been very focused on the culture side of the business," Chris reveals. "So many companies just focus on profit and loss and costing structures, neglecting personnel and culture. Dave, however, is a great culture leader and drives high expectations throughout the business. He hired a new Executive Vice President of HR and we are installing new training programs in conjunction with an enhanced internal employee training & development leader. We want to promote employee development and make a conscious effort to ensure all our staff is in a position to be successful, because we will not be successful if they are not.
"In short, our vision at Core is built around five pillars: an integrity-based winning culture, customer loyalty, operational excellence, material science & process innovation, and conversion expertise. We ensure that everyone across the organization can see those goals and understand our objectives. It means everyone in the company feels connected. This emphasis on the importance of people is reflected in how employees rate us and review us as a valued employer on Glassdoor."
Harnessing the skills of its workforce and the capabilities of its manufacturing sites, Core is looking forward to a number of major projects in 2021. From a development standpoint, the electric vehicle (EV) market is set to present the company with a host of opportunities in the coming years and Core has already begun work on composites for various EV automobiles, light trucks and heavy trucks. "Whether it's a car or a truck, there are some changing requirements for parts that cannot be overlooked. Namely, the part needs to be lightweight, durable and there has to be a pleasing aesthetic element to it," Chris remarks. "Engineered plastics and composites meet all these requirements. With composites, you can mold in multiple features, whereas with steel or aluminum you may need to stamp multiple pieces and then weld or mechanical fasten which can be quite costly and difficult to service and maintain. "The EV market is growing and they rely heavily on the unique performance characteristics of composites. Of course, there are alternatives like carbon fiber, but it is typically ten times the cost of standard engineered plastic. Still, we are currently working on several opportunities where we integrate a mix of carbon fiber with traditional engineered plastic materials to create an improved material, gaining the best attributes of each. Where needed, it has the potential to create a 'best of both worlds' situation."
The growing EV sector will remain a priority for Core for the foreseeable future. In 2021, the company will be working with several large OEMs, including many EV startups, to produce prototypes and complete initial validation.
Hydrogen-powered vehicles are also likely to play a role as more and more manufacturers aim for alternative fuel compatibility. Whatever the intended end-market, Core will continue to deliver solutions that offer improved strength, reduced weight, better weatherability and superior overall performance. Having taken a proactive approach during the Covid-19 pandemic, including initiating a company-wide policy defining measures necessary to keep staff safe, Core had a solid performance in 2020, when many companies were failing. The plan is that now, in 2021, with vaccines rolling out across the world and the worst of the virus behind it, Core can capitalize on its recent success and use it as a catapult for long-term growth.
"We have several 'hard' objectives that include goals such as financial return, employee retention, and Glassdoor ratings, which will act as a guide as we move forward," Chris declares. "In the short-term, we are driving to win a major award for customer satisfaction because those are areas that we care about and in which I think we excel. "In the longer term, we have big aspirations for growth thru both organic and inorganic initiatives as well as thru acquisitions. We will continue to seek customers that place an emphasis on value and differentiation, and potential acquisition targets of like-minded companies to complement our business. These will support of our goal of meeting our long-term strategic growth objectives including enhancing our shareholder value."
Core Molding Technologies
Products: Engineered plastics solutions
www.coremt.com