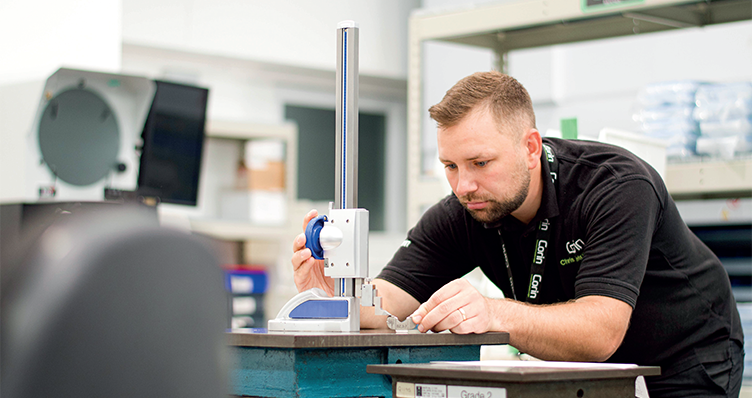 Going lean
A new era is dawning at Corin Group, as the medical devices producer invests in its UK base, and initiates the roll-out of a Lean manufacturing conversion
Since its inception, Corin Group (Corin) has led the way in orthopedic innovation – providing a faster, positive, and more assured return to quality of life for people all over the world. A specialist in the manufacture of clinically proven medical products for the hip and knee, ankle and shoulder, the company has undertaken several mergers throughout its history, adding a depth of experience to the Corin brand. As a dynamic, global business, now posting steady present-day growth through organic sales and acquisitions, Corin's mission is clear: to revolutionize orthopedics.
Terje Hanssen, Chief Operating Officer at Corin Group (Corin), is under no illusions about the importance of the company's work. "We're a medical device provider, whose ultimate goal is to make people's lives better, and to provide hospitals with effective, efficient products," he says. "We have a great product range, particularly for the hip and knee. Our Unity Knee product range, together with our Apex Knee System are two fine examples. For the hip, we're particularly strong across the cups that we use for the head of the product, while our MetaFix and Paragon are standout, innovative and clinically proven products for the stem."
What differentiates Corin is the strategy to develop enabling technologies that fuel the hip and knee implant business. "We constantly innovate our pipeline, and we've now got some fantastic new products coming through, including new technology for the stems and knee," Terje continues. "Our surgeons have used Corin devices for many years, and they've shown loyalty to our brand. We actively work with those surgeons to develop new products, and as a result we have a very high success rate with our patients. We're now exploring and developing fresh manufacturing techniques and processes to make our range more efficient to produce in the future."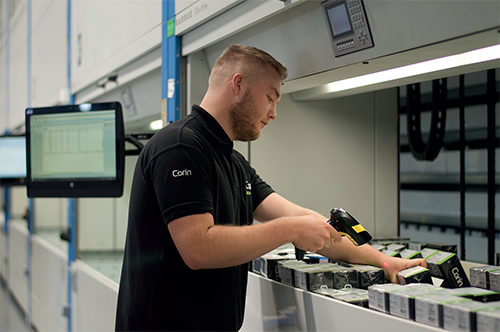 Future vision
Alongside its range of orthopedic implants, Corin is also a specialist in the development of replacement technology to aid surgeons and improve patient outcomes. To this end, the company recently launched two new tools. The first, CorinRegistry, is a cloud-based, clinical data analytics platform, designed to support surgeons to make informed and improved clinical decisions for their patient. The second is the company's cloud based optimized positioning system (OPSInsight), an advanced planning innovation which offers a dynamic assessment of a patient's hip function to improve hip replacement success rates.
"In both cases, we engage with a surgeon using a combination of this data and other clinical tools such as CT scans, to help them to analyze how to move and personalize the surgery for a given patient," Terje explains. "For the knee, we also offer a robotic assistance knee replacement, where we actually deploy robots to help surgeons be more effective in their surgeries."
In recent months, Corin has been actively engaged in migrating a greater portion of its manufacturing capabilities to the UK, centralizing operations within its Cirencester base. "It's already a great location, with a fantastic array of talent," Terje declares. "Nonetheless, we believed that the site could be even better utilized if we took some of our externally procured and sourced products and gravitated those to the UK. We want Cirencester to be the core operating center for our global functions and manufacturing, and we've invested in a lot of assets to be able to manufacture for the global lead in the future."
The site, which boasts an 80,000-square-foot manufacturing footprint, spread across four separate buildings, is the core of Corin's orthopedic success. "One of our processes at Cirencester is to produce hip stems from metal bars, in order to fit into a patient's body," Terje indicates. "As part of that, we'll do milling, reclining, linishing, and polishing. We'll remove the excess. We also carry out passivation, cleaning, and send the product out to a partner for sterilization."
As Corin places greater emphasis on its UK manufacturing and distribution, Terje anticipates an influx of new technology at Cirencester. "Particularly with regards to linishing, we already have excellent manual capabilities, thanks to the talent and the people that we have onboard," he reflects. "We complement that with robot-assisted technology, another asset that we've had on-site for several years, but wasn't always effective. Thanks to a series of programs we've recently put in place, that's set to change.
"Moving forward, we're confident that approximately 70-to-80 percent of our volume is going to go towards new technology, robots and programs, helping us get more throughput across the facility," Terje comments. "At the same time, it remains crucial for us to have manual capabilities: it's a good quality check area, and because we're talking about products that are going into patients' bodies, we need to make sure that we have people physically checking the products. Combining this with robotics, we're able to do more."
Corin's pursuit of throughput is one element of a broader pivot within the company, as it looks to embrace Lean manufacturing. As a vocal proponent of Lean, Terje is particularly enthusiastic about the journey, which is set to kick-off later this year. "Our Lean strategy is very clear: we're going to start with the basics, focusing on three simple things: daily management, standard work, and visual controls," he outlines. "Having run companies for 25 years, I'm a personal believer that if you do those three things correctly, you'll get success in any Lean conversion. Once we've mastered them, only then will we look to bring in other elements, such as SMED and build quality. After that, we'll target internal training on delivery, cash, inventory, and cost control, that's how we'll drive the company forward."
Terje's vision for Corin is derived from a philosophy that views Lean, above all else, as a process. "I'm a very Lean-oriented person," he admits. "There's a common attitude among people within the industry that Lean is a toolbox, from which you can just pull out any number of tools. I've worked for organizations where that's the thinking: they'll make use of everything available under the Lean and Six Sigma umbrella, but then as soon as it's done, they'll stop.
"But in my opinion, Lean isn't any single thing that you can 'do'," he counters. "To execute a Lean conversion successfully, it needs to be continuous: not just a thing you did, but something you do every day, and instill within the culture. That's why we're focusing on the basics first, and why doing them well is so important. It will provide us with a strong foundation, allowing us to sustain results as we incorporate more and more elements of Lean. Personally, it's a development I'm extremely passionate about, and it's my goal to build Lean into Corin over the coming years."
Like all businesses, Corin was rocked by the arrival of Covid-19 in early 2020. Nevertheless, despite its challenges, the pandemic has also proved an opportunity for learning, and has shed light on the importance of building a reliable roster of suppliers. "Corin isn't the biggest player in orthopedic medical devices, and therefore being in the constrained supply chain environment of Covid-19 presents a challenge," Terje concedes. "Thankfully, our suppliers and partners are more than willing to engage with us as an up-and-coming company. In particular, we're trying to integrate with them in different ways, with greater transparency and more interaction."
Valued partners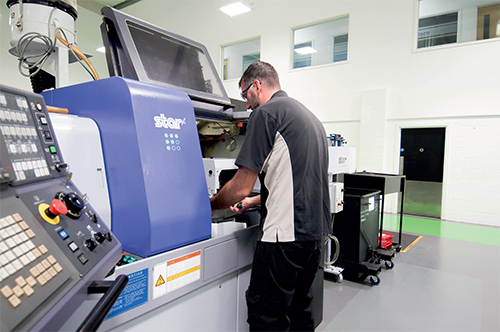 For Terje, it's a point that once again comes back to Lean. "At Corin, there's certain core competencies that we both want and need to have in-house," he says. "On the other hand, there are also competencies that we'd prefer our partners to carry out on our behalf. For instance, coating the products is not something that we deem as a core competence at this current point in time, although that's not to say that it never will be. Instead, we trust in our partner's capabilities, and we'd prefer it if they were able to take care of that.
"The same is true of product sterilization," Terje continues. "We're producing medical devices, and it's a requirement that they undergo gamma irradiation. Once again, that's a situation in which it makes more sense for us to look towards a professional partner. They're part of our supply chain end-to-end, and we need to work with them to be predictable on lead time, and to reduce cycle times together."
Taking a brief aside from discussion of the factory floor, Terje is keen to underline Corin's prosperous company culture. "We're an equal opportunity employer," he tells us. "We're proud of the fact that our operations management team has a 50-50 male and female split, which is quite atypical within the industry. Similarly, currently 60 percent of our employees in Operations are promoted from within, and we will increase this to over 80 percent. We have great talent in the organization, and it's down to their efforts that we're now building Cirencester into our key central operational hub, set to export our products right across the globe."
As Corin looks to build on its success, the company's strategy is clear. "Our future lies in our ability to create the best product and technology, at the right quality, at the optimum price point, and with great people," Terje insists. "To do that, we need to be able to support changes in demand with greater agility. It's a journey we're already starting to embrace. Our challenge now is to generate more velocity in what we do by working with suppliers and partners that share our attitude and mindset."
Corin Group
www.coringroup.com
Products: Orthopedic medical devices